We should all listen to the Voice of the Customer (VoC) in this customer centric market to improve our business operations.  VoC isn't just for your valued external customers, but also your valued internal customers, your employees or associates.
What is more important than listening to your customer? Without customers there is no operation or business, is there?
When you receive VoC input, review the input and use Pareto's 80/20 principle to prioritize your VoC replies.
Now, implement these customer ideas, tell your customers and become a better company.
So, what exactly does VoC capture?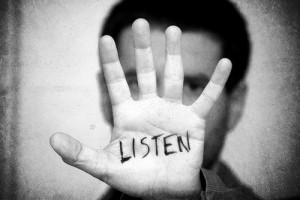 Voice of the Customer (VOC) 
The needs and wants of your customers
The relative importance of features and benefits associated with your product
The expectations and promises that are both fulfilled and unfulfilled by your product or service
What your customers need for increased satisfaction.
Voice of the Customer is a term that describes your customer's feedback about their experiences with and expectations for your products or services. Qualtrics VOC is a multi-source information tool that focuses on customer needs, expectations, and product improvement.
Gathering Voice of the Customer Information
Direct interviews of customers (site intercepts, personal interviews, focus groups, customer feedback forms, or structured online surveys)
Indirect interviews with your representatives (sales people or customer service representatives) who interface with the customer and report on their needs.
The voice of the customer is best heard as an ongoing conversation. The key to creating an effective VOC program is to gather and use information in a timely way that helps you to improve. Organizations often have multiple touch points with the customer that occur all across the organization, including sales, support, warranty, and accounting interactions.
Don't forget that different customer groups may exist, each having one or more voices that can be aired to reflect experiences at the different points of contact.
Why Conduct Voice of The Customer Research?
Customize your products, services, add-ons and features to meet the needs and wants of your customers
No one becomes an industry leader without listening to the customer. Quality (customer perceived) is the leading driver of business success
Maximize your company's profit. Higher market share companies have higher profits
Improve Customers' Satisfaction
Identify and prioritize voiced needs and wants
Prioritize issues and development
Solicit and evaluate new concepts, ideas, and solutions
Report your new developments to help them
When your customers share their voice in real-time with you and your organization, they expect you to listen, act, and report back to them.
The goal is to go beyond the customer's expectations.
There is even software, like "Qualtrics Cutting Edge VOC" and iPerceptions.