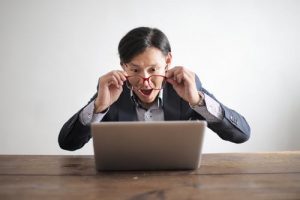 No matter how much you try, negative publicity will always crop up in your company's engagements. Only a handful of thriving firms have made it to the top without the element of negative online reputation.
Harmful online damage can be slight, mild, or severe, depending on the issue in question. Whichever it is, online reputation repair should begin immediately to avoid further damage to your online presence.
 Online Reputation Repair Action Plan
1. Access the damage
How far have you fallen from grace? How much is out in the press? Be careful not to downplay the negative vibe because it can snowball if not quickly and rightly fixed. When the publicity of the problem is what you consider "strong" you'll work harder to resolve it and regain your glory.
2. Own up your mistake
Apologize immediately to save your online image. Write an apology letter and post it on the firm's website. And for the subsequent communications for the time of online reputation repair, refer to this apology letter.  In your apology letter, own up your error in a brief, genuine, and straightforward manner.
Bear in mind the future of your firm as you reply to the public. Remember to say the steps you've taken to rectify the mistake.
3. Devise a regain-control-plan
You'll need control of what is posted on the firm's social media platforms, websites, and other avenues. The restoration process is successful when you regularly provide updates. Use all the communication platforms available to you.
During online reputation repair, it is crucial to set out a strategy to regain your brand name. As such, consider the following:
The team to track comments and reviews
If the firm is a large business, then a member of the customer service section or the marketing department should be in charge of social media. The department has the social media trend records and knows how best to reply.
Decide whether to respond or snob the feedback
Respond to one-star comments in a polite, friendly tone. Appreciate their gesture to get back to you, listen to the claim, and make a commitment to follow the issue and get a solution. A proactive response can save further damage.
At times you might receive strong opinions and questions that need further consultation before giving a response. On such occasions, it is imperative to get advice from the firm's higher management personnel.
Who will give the feedback?
Depending on the gravity of the negative feedback, the social media department may feel inadequate to address an issue. At such times the company's appointed spokesperson or the CEO may be the appropriate person to do so.
Nuggets for Online Engagements
1. Avoid online arguments
Any mudslinging posted online remains online for a long time, thus impacting negatively on the firm's future business. Accept strong criticism, wisely because dealing with it unprofessionally further deteriorates the situation.
2. Establish an online reputation management team
Even when your establishment is a small business, handling the reputation issues can be intrusive for you. As such, you can become subjective and lose the bigger picture. Hiring someone to do the work can be worth the investment in the long run.
3. Turn the complaint into future compliments
When scores of customers raise complaints about your product, take time to turn it inside out. Could there be an opportunity for growth? Do you need to improve or refresh a product?
4. Consider engaging the client offline
On some occasions, it is advisable to disengage with the dissatisfied client beyond the internet. Depending on the issue in question, you can pay a visit on-site to personally access or call to negotiate.
A client who's given such personalized attention is likely to provide you with repeat business and bring more influence to customers in the future.
Use your discretion to decide cases that call for a one-on-one address.