Digital Transformations has set forth a change in leadership thinking, which is now changing the rules of competition.
For several decades, Corporate Strategy Development has been founded upon the notion of Strategic Focus.  In fact, Michael Porter, known as the Father of Modern Strategy, wrote in 1980 that Strategy targets either Cost Leadership, Differentiation, or Focus.
However, with the rise of emerging technologies (such as Big Data, Analytics, and Machine Learning), companies are now breaking from the focus-oriented strategic mindset and now instead seeking to adopt a Pan-Industrial Strategy.
As the name suggests, Pan-Industry Strategy is the strategy of competing in multiple industries.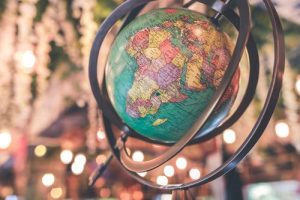 Best-selling author Richard D'Aveni in his book "The Pan-Industrial Revolution" contends that the advent of industrial-sized 3-D printing will have a far-reaching impact that most corporate and governmental leaders have yet to anticipate.
In his book he sheds light on two broad trends behind this takeoff.
The first is the increasing substitution of 3-D printing (an example of what is known as "additive manufacturing") for traditional assembly lines. This technology greatly reduces manufacturers' economies of scale but makes production faster and allows firms to cater to ever-changing consumer tastes and business requirements.The second trend is the growth of individual manufacturing firms, which he argues will come to span many industrial sectors. In part, that's also the result of additive manufacturing, which will allow companies to make products physically near their customers while controlling the process from distant headquarters.
The Digital Revolution across business landscape has necessitated companies to integrate Digital Technology into all areas of business, resulting in fundamental changes on how businesses operate and how they deliver value to customers.
Big Data, Analytics, Cloud-based Mobility, 3-D printing, Robotics, Robotic Process Automation (RPA), Internet of Things (IoT), Machine Learning (ML), and other emerging Digital Technologies are combining to make complexity manageable and generate economies of scope.
Entering multiple industries will no longer be a drag on operations.  It will bring Competitive Advantage and make companies adopt a Pan-Industrial Strategy:
A Pan-Industrial company may look like a conglomerate on the outside, but it will run quite differently.
It will be driven by a software platform that monitors, facilitates, and optimizes operations, from product development to customer delivery, across a disparate product line.
A Pan-Industrial approach has the following 4 core advantages: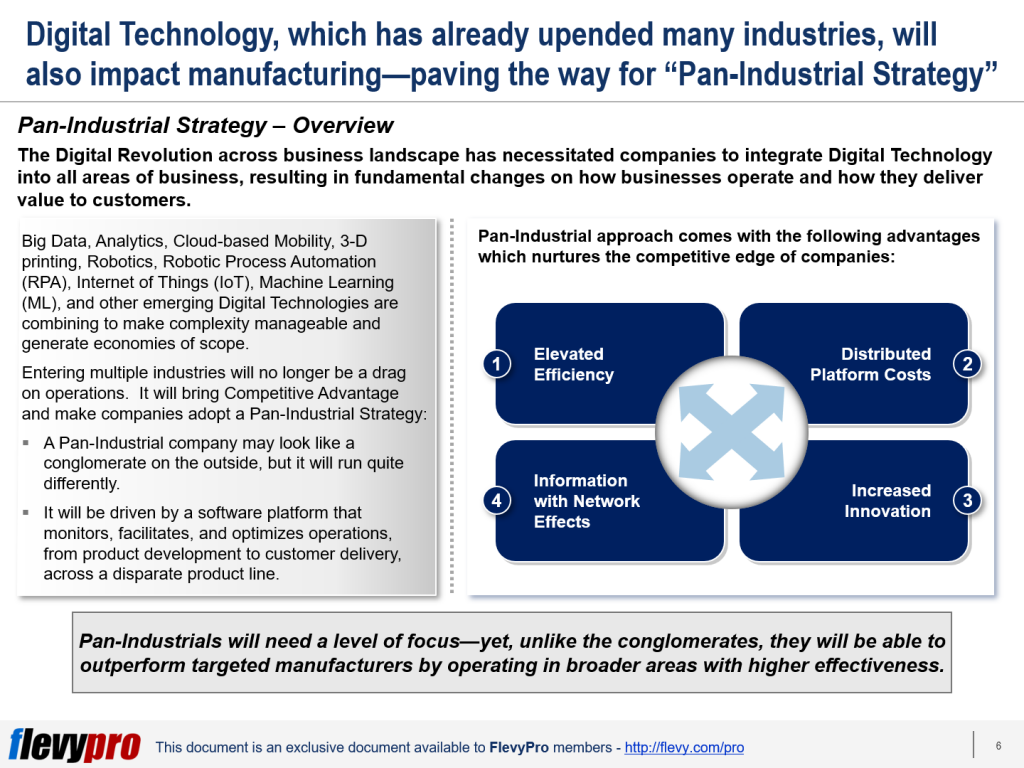 Brief Outline
Elevated Efficiency – Advanced Cloud-based digital assets will set the Pan-Industrial companies to operate with higher rate of efficacy to maximise their ROI and quickly identify and pursue new opportunities
Distributed Platform Costs – While the upfront and loaded costs for digitization might look sizable, Pan-Industrials will handle it far more efficiently than their less diverse peers
Increased Innovation – Pan-Industrials are poised for higher rate of innovation as they overcome the traditional innovation barriers through their own structural capabilities and operational approaches
Information with Network Effects –  The Digital Asset or Platform Centricity will transform the Pan-Industrialist into a power house of Information Network
Once they develop a reliable, feature-rich platform to handle their own activities, Pan-Industrials will gradually bring outside suppliers, distributors, and customers directly onto their platform.  The more companies join, the greater the knowledge, and this Network Effect will give Pan-Industrials a powerful advantage over smaller rival platforms.
Interested in gaining more understanding of these 5 steps to successful  Pan-Industrial Strategy?  You can learn more and download an editable PowerPoint about Manufacturing: Pan-Industrial Strategy here on the Flevy documents marketplace.
Are you a Management Consultant?
You can download this and hundreds of other consulting frameworks and consulting training guides from the FlevyPro library.