Reorganization becomes essential at some stage in the lifecycle of any organization.  In order to emerge triumphant through this tumultuous challenge, it is necessary that the focus remains on the challenges impeding the organization, thorough Strategic Planning to tackle the challenges, and prioritizing strategic initiatives to deliver effective Business Transformation.  Strategic Restructuring has the capability to deliver these results.
When the word "Restructuring" pops up, the foremost idea that comes to mind is achieving Cost Reduction by minimizing payroll costs—predominantly by cutting back on the headcount.
Scores of organizations have suffered because, in the melee of headcount reduction, the most competent employees quickly found opportunities elsewhere, leaving inappropriately competent employees behind, resulting in a crippled organization.
The purpose of Restructuring is to make the organization profitable, efficient, and effective.  Headcount reduction should be a consequence of the Restructuring initiative and not the prime objective.
To avoid an outcome that debilitates the organization as a result of Restructuring, it is absolutely essential to keep an eye on the Critical Success Factors (CSFs) while the organization moves through the 4 phases of Strategic Restructuring.  Strategic Restructuring's 5 CSFs include:
Strategic Focus
Continuous Communication
Participative Focus
Positions before People
Focus on Competency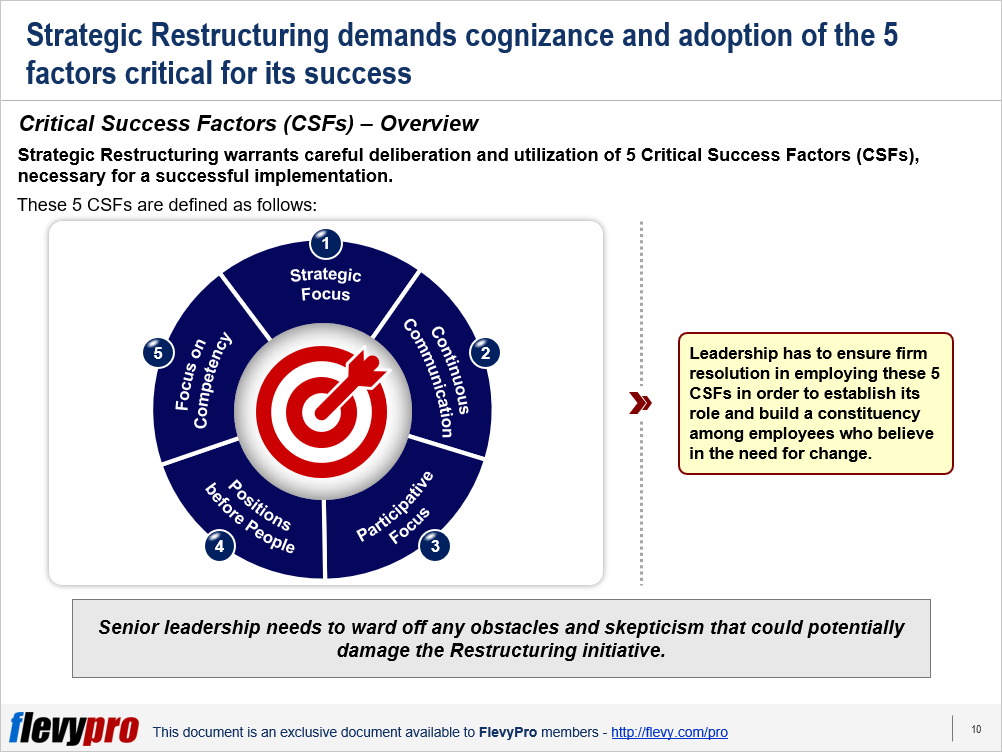 Experts suggest envisioning a "Future State" for the organization, to be achieved through a robust Strategy that includes Change Management, implemented by the most competent employees who are redeployed.  The rest of the employees either severe ties voluntarily or are laid off—ideally with a good severance package or a job placement, with the organization's help, somewhere else.
Leadership has to ensure firm resolution in employing these Critical Success Factors in order to establish its role and build a constituency among employees who believe in the need for change.  Let's dig deeper into the 5 CSFs of Strategic Restructuring.
1. Continuous Communication
Communication is a decisive factor in Strategic Restructuring. Pitfall in this factor is the "need to know" approach.  Top-level leadership should be communicating with the whole organization quite frequently.
Immediate and full disclosure of information builds trust in the management's actions.
Repetition is key in getting the message across. Believing that enunciating once is enough, will be erroneous on the leadership's part.
2. Participative Focus
Redesign of structure is a bottoms-up job because the information and expertise are dispersed throughout the organization.
Employees in the thick of the action are in the best position to undertake this effort.
The management develops the organizational framework and keeps apprising the employees regarding the overall strategy in order to keep the direction true.
A participative approach to Restructuring assists in building employee morale and engagement levels.
Interested in learning more about the Restructuring's Critical Success Factors, Transformation Phases, and a Case Study on Restructuring?"  You can download an editable PowerPoint on Strategic Restructuring: Critical Success Factors on the Flevy documents marketplace.
Do You Find Value in This Framework?
You can download in-depth presentations on this and hundreds of similar business frameworks from the FlevyPro Library.  FlevyPro is trusted and utilized by 1000s of management consultants and corporate executives. Here's what some have to say:
"My FlevyPro subscription provides me with the most popular frameworks and decks in demand in today's market. They not only augment my existing consulting and coaching offerings and delivery, but also keep me abreast of the latest trends, inspire new products and service offerings for my practice, and educate me in a fraction of the time and money of other solutions. I strongly recommend FlevyPro to any consultant serious about success."

– Bill Branson, Founder at Strategic Business Architects
"As a niche strategic consulting firm, Flevy and FlevyPro frameworks and documents are an on-going reference to help us structure our findings and recommendations to our clients as well as improve their clarity, strength, and visual power. For us, it is an invaluable resource to increase our impact and value."

– David Coloma, Consulting Area Manager at Cynertia Consulting
"FlevyPro has been a brilliant resource for me, as an independent growth consultant, to access a vast knowledge bank of presentations to support my work with clients. In terms of RoI, the value I received from the very first presentation I downloaded paid for my subscription many times over! The quality of the decks available allows me to punch way above my weight – it's like having the resources of a Big 4 consultancy at your fingertips at a microscopic fraction of the overhead."

– Roderick Cameron, Founding Partner at SGFE Ltd