Strategic Cost Reduction Primer: A Systematic Approach to Transforming Costs
Featured Best Practice on Cost Reduction Assessment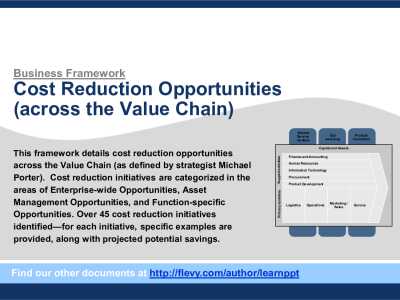 24-slide PowerPoint presentation
Though there are multiple levers to maximizing an organization's profitability, costs are the most directly controllable by any organization. Profitability is being challenged by increased costs, stagnated revenue growth, and increased capital costs in today's economic climate. Therefore, a
[read more]
Cost Optimization Programs are hard to manage, sustain, and often tend to fall short of delivering the promised value.  The failure could be attributed to many reasons—inclu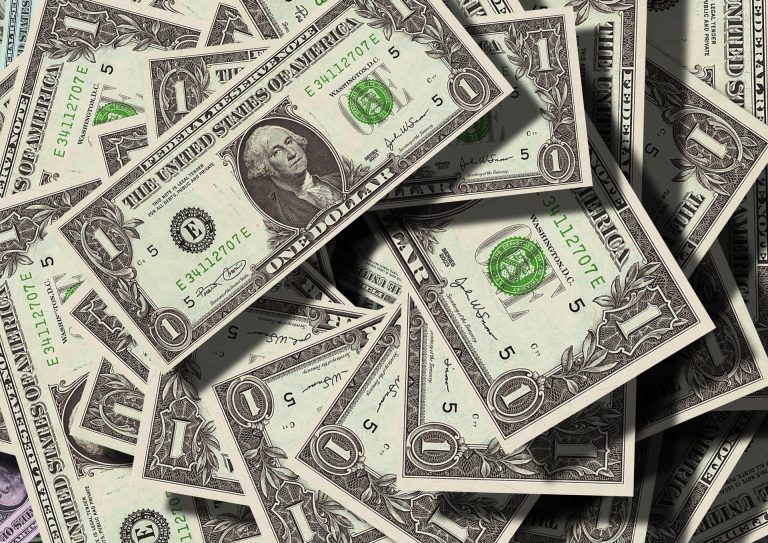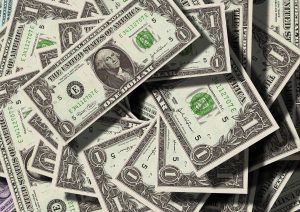 ding lack of clearly delineated objectives, failure to account for operational difficulties, internal resistance to change, trying to cut corners from everywhere, not paying attention to planning optimal utilization of resources; lack of direction, accountability, and management agreement.
However, the tremendous pace of technological disruption, today, offers new opportunities to transform enterprises by eliminating complexities, transforming the strategy and cost disciplines, streamlining operational capabilities, and consistently innovating.
Alongside transformation of organizational cost bases, leadership should focus on value rather than costs.  Cost optimization plans need to consider achieving the more strategic, long-term options.  These long-term options include pulling out from unworkable markets, business model innovation, robotic automation, or streamlining processes.  These cost initiatives necessitate revisiting the strategy, costs, and, the way they align.
A robust 5-phased cost optimization framework helps businesses sustain competitive relevance and maximize their potential.  These steps provide a more informed, systematic, and sustainable approach to Strategic Cost Reduction:
Start with the Corporate Strategy
Align Costs to Strategy
Be Transformational and Aspirational
Demonstrate Leadership Support
Create a Culture of Cost Management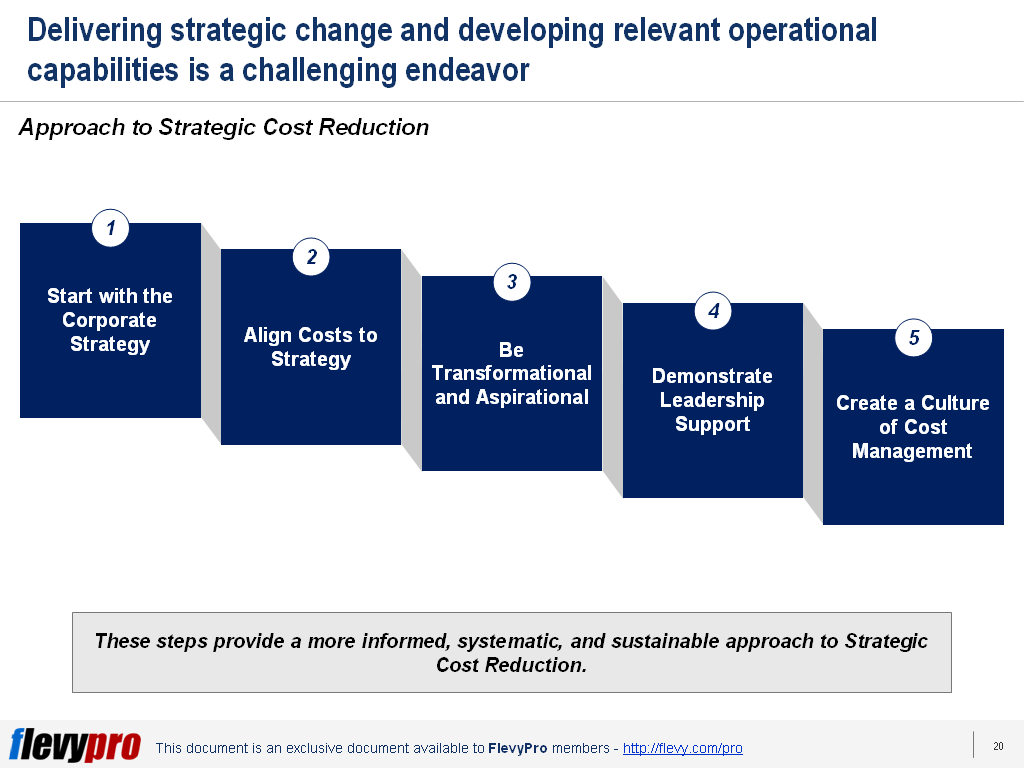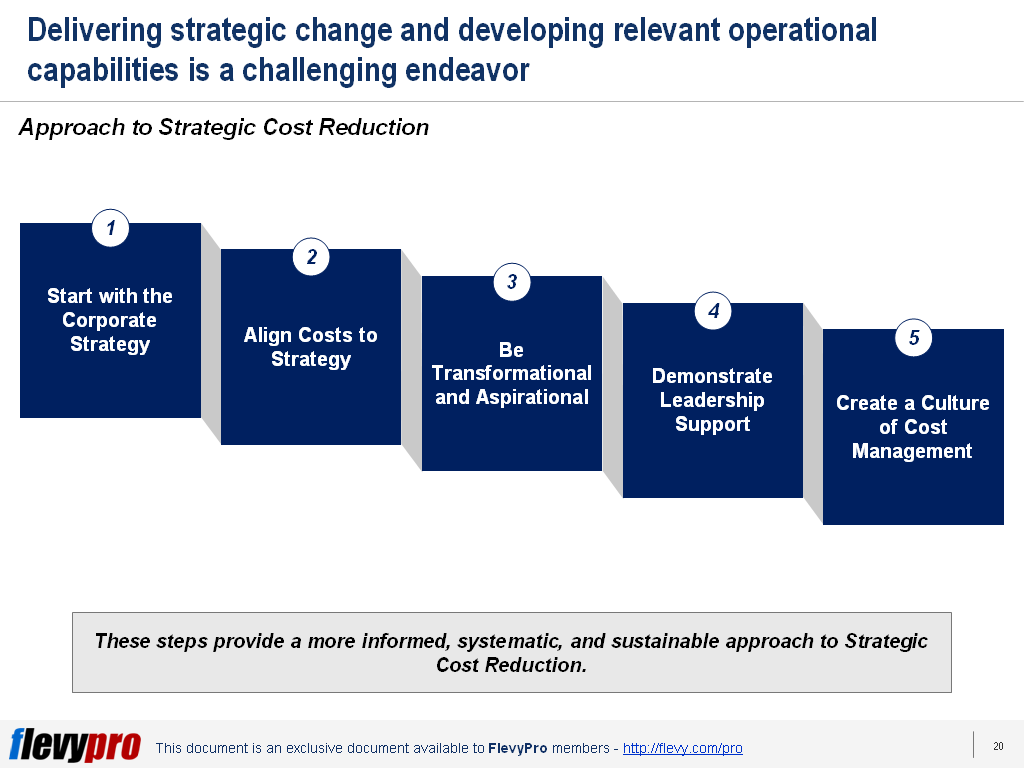 Let's talk 3 of the phases in detail.
Start with the Corporate Strategy
The first phase emphasizes on having a clear view of the Corporate Strategy and ensure that it is consistently understood across the organization.  The commencement of strategic cost reduction endeavor demands developing a thorough understanding of the business strategy, operating model, and the investment on and revenues from the operations.
The phase encompasses examining the expenditures and revenues of the business, evaluating the sustainability of the existing ventures; and contemplating the effects of disruption, changing customer needs, and competition from startups.  There is also a need to comprehend the interfaces between different units and their associated costs, instead of merely utilizing industry benchmarks to gauge the viability of costs.
Align Costs to Strategy
The second phase signifies differentiating the strategically critical good costs from the non-essential bad costs.  It involves segregating the good costs from the bad costs (avoidable expenditures), making informed decisions to improve the good costs, clearly articulating the current skill inventory and knowing the few critical competencies crucial to meet customer expectations and remain profitable.
The phase demands distinguishing high-value priorities for investments, directing investments on creating winning capabilities, and developing plans to minimize bad costs.  This can be done by undertaking organization-wide cost analysis to understand the type of projects being executed, their value, the expenditure critical to run the business, the transformation and automation opportunities, and how to realize the potential for improved savings.
Demonstrate Leadership Support
The next phase of the strategic cost reduction approach requires from the senior management to set the strategic direction and demonstrate Leadership support and buy-in.  Leaders should treat the cost optimization program as a strategic business transformation initiative.  They need to assign dedicated resources to the endeavor, guide teams, devote time, set governance and oversight mechanisms, and engage employees across the organization.  It is critical for the leaders to develop ways to encourage organization-wide sense of ownership and partnership.
Interested in learning more about how to implement Strategic Cost Reduction?  You can download an editable PowerPoint on Strategic Cost Reduction Primer here on the Flevy documents marketplace.
Do You Find Value in This Framework?
You can download in-depth presentations on this and hundreds of similar business frameworks from the FlevyPro Library. FlevyPro is trusted and utilized by 1000s of management consultants and corporate executives. Here's what some have to say:
"My FlevyPro subscription provides me with the most popular frameworks and decks in demand in today's market. They not only augment my existing consulting and coaching offerings and delivery, but also keep me abreast of the latest trends, inspire new products and service offerings for my practice, and educate me in a fraction of the time and money of other solutions. I strongly recommend FlevyPro to any consultant serious about success."

– Bill Branson, Founder at Strategic Business Architects
"As a niche strategic consulting firm, Flevy and FlevyPro frameworks and documents are an on-going reference to help us structure our findings and recommendations to our clients as well as improve their clarity, strength, and visual power. For us, it is an invaluable resource to increase our impact and value."

– David Coloma, Consulting Area Manager at Cynertia Consulting
"As a small business owner, the resource material available from FlevyPro has proven to be invaluable. The ability to search for material on demand based our project events and client requirements was great for me and proved very beneficial to my clients. Importantly, being able to easily edit and tailor the material for specific purposes helped us to make presentations, knowledge sharing, and toolkit development, which formed part of the overall program collateral. While FlevyPro contains resource material that any consultancy, project or delivery firm must have, it is an essential part of a small firm or independent consultant's toolbox."

– Michael Duff, Managing Director at Change Strategy (UK)
"FlevyPro has been a brilliant resource for me, as an independent growth consultant, to access a vast knowledge bank of presentations to support my work with clients. In terms of RoI, the value I received from the very first presentation I downloaded paid for my subscription many times over! The quality of the decks available allows me to punch way above my weight – it's like having the resources of a Big 4 consultancy at your fingertips at a microscopic fraction of the overhead."

– Roderick Cameron, Founding Partner at SGFE Ltd
"Several times a month, I browse FlevyPro for presentations relevant to the job challenge I have (I am a consultant). When the subject requires it, I explore further and buy from the Flevy Marketplace. On all occasions, I read them, analyze them. I take the most relevant and applicable ideas for my work; and, of course, all this translates to my and my clients' benefits."

– Omar Hernán Montes Parra, CEO at Quantum SFE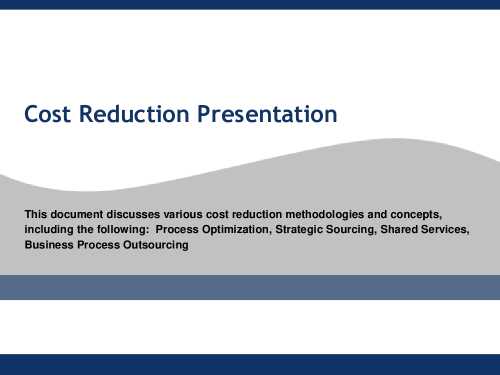 33-slide PowerPoint presentation
This document discusses various cost reduction methodologies and concepts, including the following: Process Optimization, Strategic Sourcing, Shared Services, Business Process Outsourcing.
Readers of This Article Are Interested in These Resources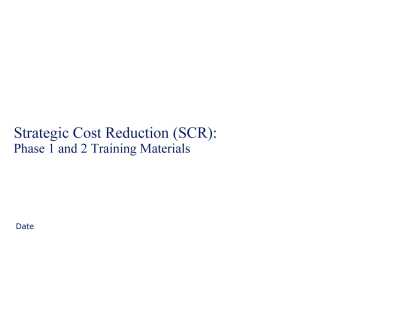 97-slide PowerPoint presentation
This presentation is a training document about strategic cost reduction (SCR) used by a major consulting firm in a cost reduction project. The main objectives of the presentation is - Provide context on our relationship with Client X - Share our point of view on SCR - Review our SCR
[read more]
131-slide PowerPoint presentation

36-slide PowerPoint presentation
About Mark Bridges
Mark Bridges is a Senior Director of Strategy at Flevy. Flevy is your go-to resource for best practices in business management, covering management topics from
Strategic Planning
to
Operational Excellence
to
Digital Transformation
(
view full list here
). Learn how the Fortune 100 and global consulting firms do it. Improve the growth and efficiency of your organization by leveraging Flevy's library of best practice methodologies and templates. Prior to Flevy, Mark worked as an Associate at McKinsey & Co. and holds an MBA from the Booth School of Business at the University of Chicago. You can
connect with Mark on LinkedIn here.
Top 10 Recommended Documents on Cost Reduction Assessment
24-slide PowerPoint presentation
33-slide PowerPoint presentation
This document discusses various cost reduction methodologies and concepts, including the following: Process Optimization, Strategic Sourcing, Shared Services, Business Process Outsourcing.
97-slide PowerPoint presentation
131-slide PowerPoint presentation
36-slide PowerPoint presentation
123-slide PowerPoint presentation
20-slide PowerPoint presentation
21-slide PowerPoint presentation
Fit for Growth is a strategic approach to Cost Management. Our company connects our costs with our strategy so that we can invest resources in what truly differentiates us from the competition. The Fit for Growth approach helps our company realign existing resources to reach a
25-slide PowerPoint presentation
23-slide PowerPoint presentation

» View more resources Cost Reduction Assessment here.
» View the Top 100 Best Practices on Flevy.