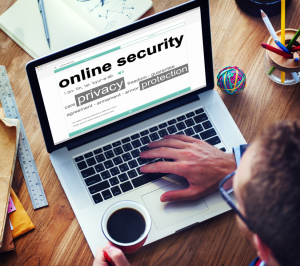 It's difficult to imagine life without the internet. It is essential for a variety of everyday functions ranging from online shopping and banking to communication and conducting business. While it is true that there are hazards associated with using the web both at home and at work, it isn't necessary to give up the convenience of WiFi to stay safe online. Implementing the strategies listed below can make the internet safer for consumers and commercial users alike.
General Online Safety
WiFi connectivity is certainly convenient for both consumer and business users. But is WiFi safe? It's a fact that wired Ethernet connections are inherently more secure than WiFi networks. However, the following best practices maximize online safety for all users.
Install Regular Software Updates: Keeping operating systems, browsers and applications up to date on computers and mobile devices is crucial to maintaining online safety. Many OS and software programs can be set to update automatically.
Use Strong Passwords: The best passwords include random combinations of numbers, letters and special characters, and are at least 10 to 12 characters long. Unique passwords should be used for every device and profile. Don't worry about memorizing all those secure passwords. A password manager collects passwords into a single vault, requiring users to remember only a single master password.
Require Two-Factor Authentication: Two-factor authenticationprovides an extra layer of protection in case hackers obtain one or more of your passwords. With two-factor authentication in place, a code or text is sent to users' mobile devices or email addresses that must be verified before the password is honored.
Enable Remote Wiping: A stolen or lost laptop or mobile device is vulnerable to hackers and identity thieves. Remote wiping allows users to wipe out everything on a computer or mobile device, returning the lost or stolen device to factory settings.
Back Up Critical Data Files: Ransomware is increasingly common. While some very lucky users may be able to regain access to their files without paying a ransom, this is extremely rare. Even paying the ransom isn't a guarantee that files will be returned, or returned without spyware or malware infections. With backups in place on a machine not connected to the Internet or in the cloud, victims of ransomware can disconnect infected machines and safely ignore ransom demands.
Securing Home Internet Networks
Securing home WiFi internet networks requires taking relatively simple but essential steps. First, change the default name and administrator password to the router. Opt for the strongest security possible: WiFi Protected Access (WPA2) is more secure than Wired Equivalent Privacy (WEP), although some older routers may only have WEP capability. Limit access to the router to known devices through assigned Media Access Control (MAC) addresses. Finally, home users should install basic internet safety measures such as antivirus and anti-malware software plus a firewall, and keep them updated.
Safe Surfing at Work
An essential element of keeping commercial networks secure is ensuring that only authorized users have access. Performing a vulnerability scan can expose unauthorized users along with forgotten and possibly obsolete devices that are connected to the network. Similarly, disabling universal plug and play (UPnP), blocking open Telnet ports, and ghosting network attached storage (NAS) devices will limit your business' potential exposure to hostile access.
Maintaining Internet Safety at Work and at Home
In the 21st Century, the internet has become an essential element of home life and conducting business. Maintaining online safety requires implementing basic security measures such as using strong passwords, updating software regularly and backing up critical data. Home users should use the strongest WiFi encryption possible and limit access to the network through assigned MAC addresses. Commercial users can increase the security of their networks through performing vulnerability scans, disabling UPnP, blocking open Telnet ports and ghosting NAS devices. While implementing these security measures requires effort, doing so can significantly reduce the risk of unauthorized access to critical files for both consumer and commercial users.