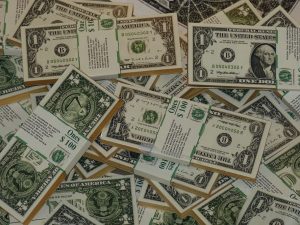 Staying ahead of the curve in the retail sector is nothing short of an ordeal.
A fundamental element in beating competition entails developing capabilities critical for the future.  To this end, it is critical for organizations to reinvest the savings achieved through IT Cost Management into building those critical capabilities.  Before finalizing the areas to invest in, retailers need to adopt a market-focused approach, where they need to distinguish the trends emerging across industries that have the potential to deliver value for the business.
Five key trends are transforming the Retail industry.  Three of these trends focus on the customer, while the other 2 aim at perfecting the implementation capabilities.  In developing a robust Retail Strategy, we should fully evaluate these trends and deliberate on potential implications on our business.  These are the areas where market leaders in the retail sector are concentrating on in terms of making targeted investments:
Business Intelligence
Next-Generation In-store Technologies
Cross-Channel Integration
Supplier Collaboration
Pricing/ Markdown Optimization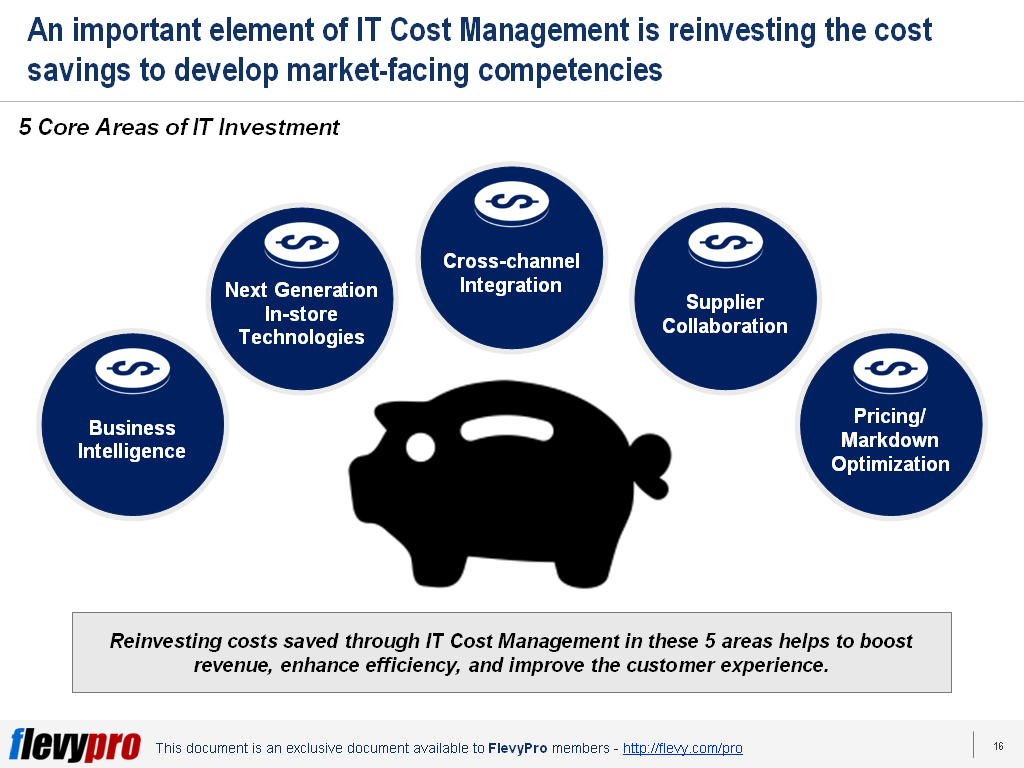 Reinvesting costs saved in these 5 areas helps to boost revenue, enhance efficiency, and improve the customer experience.
Let's, now, discuss the first 3 areas.
Business Intelligence
Business Intelligence comprises the capabilities, know-how, systems, tools, excellence, threats, and procedures employed to assist an enterprise develop a thorough understanding of market performance and commercial environment.
Like other sectors, retailers are making huge investments in developing capabilities and applications to gather, consolidate, and analyze the data required to carefully evaluate customer activities, spending tendencies.  These advanced analytics tools and capabilities assist the retailers interpret the impact of their business decisions—e.g., pricing, promotions, and new product launch—identify customers' changing behaviors, and tailor their offerings to fulfill their customers' requirements.
Next-Generation In-store Technologies
Latest hardware and software POS solutions are another area to invest in IT to stay ahead in the retail game.  Retailers can use these advanced POS systems—e.g., wireless POS/portable terminals, kiosks, and self-checkout terminals—to increase revenues and decrease expenses during the customer point of sale process.
These next-generation systems facilitate in decreasing customer transaction times, integrating new customer management abilities—e.g., loyalty programs and personalization features, and driving operational efficiencies.
Cross-Channel Integration
Cross-channel integration involves the integration of customer transaction channels onto one platform—for instance, it entails the blending of operations-related applications and cross-channel interaction systems.
Cross-channel integration goes beyond creation of a common brand identity and look and feel.  By enhancing retail, supply chain, and back-office systems across the value chain—from merchandising and POS systems to business intelligence tools—integration across channels allows retailers to offer consistent online and in-store pricing, inventory visibility across channels, advanced in-store kiosks, and mobile commerce solutions.  This also helps in objectively developing a consistent customer experience across all interaction channels—web, physical stores, call centers, and catalogs.
Interested in learning more about the 5 key trends transforming the retail sector?  You can download an editable PowerPoint on Retail Strategy: IT Investment here on the Flevy documents marketplace.
Are You a Management Consultant?
You can download this and hundreds of other consulting frameworks and consulting training guides from the FlevyPro library.