Editor's Note:  With over 700 clients, ISOQualitas is the leading providing of Product Lifecycle Management (PLM) and Quality Management software for the auto parts manufacturing industry.  Flevy manages the Consulting Partner Program for ISOQualitas. If you a consulting firm interested in participating in our program, please contact us at [email protected].  
* * * *
As indicated in the Editor's Note, ISOQualitas is a strategic partner of ours and we manage their Consulting Partner Program.  The purpose of this article is to highlight is just some of the new consulting engagements that a firm can offer a client using ISOQualitas.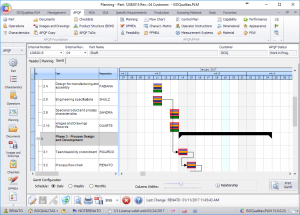 To provide a brief introduction, ISOQualitas is the leading providing of Product Lifecycle Management (PLM) and Quality Management software for the auto parts manufacturing industry.  Their flagship product is ISOQualitas.PLM.  It is a comprehensive and integrated software that optimizes all Product Lifecycle Management activities, from the Advanced Product Quality Planning (APQP), through the Process Production Part Approval (PPAP), and all the way to manufacturing, according to the requirements and standards of the automotive industry.   ISOQualitas.PLM allows  the auto parts manufacturer to fully comply with all quality management standards set by regulatory bodies and automotive manufacturers, as well as derive significant process and cost efficiencies.
One of the main benefits to joining the ISOQualitas Consulting Partner Program is the opportunity to offer more consulting services to your existing and new clients who have implemented ISOQualitas.  Below, we have compiled a short list of potential consulting opportunities.
Download the ISOQualitas.PLM brochure here.
ISOQualitas.PLM features span 5 core process areas: Product Development, Manufacturing Process, Process Validation & Approval, Production, and Product Performance & Feedback.
Implementing ISOQualitas.PLM and Change Management
ISOQualitas.PLM is relatively straightforward and easy to use.  Users with quality management/product lifecycle knowledge in general and automotive quality processes in particular will quickly understand the language and the aim of the software and how and where information is stored and organized.  However, going from a manual process (such as from spreadsheets and word processors) to ISOQualitas.PLM will require significant changes in how a company processes work: a shift from time-consuming manual repetitive administrative tasks (which the software will largely eliminate) to a job where users analyze to drive improvements to quality management.
Consultants can play a major role in helping companies implement process changes and translate the results they see in the software to quality process improvement.
Document Development and Continuous Improvement
During system implementation client data normally contained in a large number of spreadsheets will be migrated into ISOQualitas' database.  This transition need to be managed carefully to ensure accuracy, consistency, and data integrity.
Consultants can be engaged to review information contained in those reports and to work with the client's multifunctional teams to create the templates for records and reports they will need.
Train Clients in the Quality Concepts Contained in ISOQualitas.PLM
The quality concepts contained in the AIAG reference manuals are vast and sometimes quite complex.  Companies require constant specific "Core Tools" training (in APQP, PPAP, FMEA, MSA e SPC) to ensure these concepts become an integral part of their engineering quality culture and practice.
Consultants have an opportunity to provide training and refresher courses on "Core Tools" for existing and new employees.
ISOQualitas.PLM Training
Consultants that develop an in-depth knowledge of ISOQualitas.PLM software and are qualified can provide training and refresher courses to clients as needed.
Compliance to the new IATF 16949: 2016 Norm
A new norm (IATF 16949) was issued in October 2016 replacing ISO/TS 16949: 2009.  There are significant differences between these two norms and auto parts supplies will need to make quite a few changes to their quality processes to obtain certification in the new norm by year-end 2018.  There are many opportunities for consultants to help companies transition and comply with the new norm in the next few years.
An expert consultant can use ISOQualitas.PLM to help companies make the transition to the new norm.
Support for Corrective Actions to Audit Non-Conformity
Many clients still approach us to license our software following an audit because ISOQualitas.PLM eliminates many the most common audit non-compliance issues caused by data inconsistency.
Consultants have an opportunity to approach and work with companies to solve their audit non-compliance issues, and to offer a tool (ISOQualitas.PLM) as part of the solution.
Support to New Industry Entrants
The automotive sector is large and there are many opportunities for new entrants, and having to adjust their processes, documents, procedures, reports and quality management to the specific automotive industry requirements represents an entry barrier.  ISOQualitas.PLM helps reduce that barrier because it contains all the industry requirements and the means to meet such requirements in one package.
Consultants have an opportunity to work with new industry entrants to help them transition and meet industry requirements.
Do you have any questions?
We are actively looking for US- and Canada-based consultants who work with auto parts manufacturers to partner with us. ISOQualitas provides an opportunity for our consulting partners to:
Create recurring, passive income by offering ISOQualitas software to clients.
Offer additional consulting services to clients. This includes but not limited the examples listed in this article..
Receive new client referrals through Flevy and ISOQualitas.
For information about our Consulting Partner Program and see a demo of ISOQualitas.PLM, please email us at [email protected].