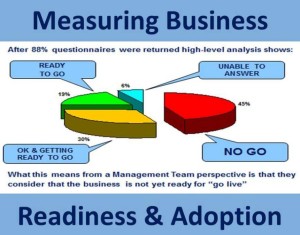 What is Business Readiness and Adoption?
Would you talk to someone who isn't paying attention?
Would you make a movie if you didn't know who would watch it?
So why do projects often deliver to a Business that isn't ready to receive or adopt!
Business Readiness and Adoption is a measure of preparation. A business that is ready will have made all the preparations necessary to accept the deliverables of a project and begin operating them. So, in effect, anything that involves a change to ways of working requires measurement to see if a business is ready for go-live.
Project deliverables will be a combination of the following (not an exhaustive list):
New products.
New services.
New organisation structures.
New processes.
New systems.
New infrastructure.
In projects to measure Business Readiness/Adoption I have previously used (but not restricted to) the following measurement areas:
Leadership.
Business Area Readiness.
Implementation Planning.
Stakeholder Management & Communication.
Process & Procedures Readiness.
Business Benefits.
Data.
Departmental Roles & Responsibilities (impact on individuals).
Education & Training.
Business Reporting.
Testing.
These areas are all qualitative and were measured through a simple questionnaire containing previously agreed (with Key Stakeholders) questions and a numerical scoring scale e.g. 1 = Definitely no or Not At All or Low Priority to 5 = Definitely Yes or Completely or Extremely High Priority (dependent on the question). Some organisations have favoured a 1 to 3 scale and others a 1 to 4 scale.
Examples of questions used:
LEADERSHIP
What level of importance is the project vs business as usual?
What level of importance are you able to give the project vs business as usual?
IMPLEMENTATION PLANNING
How aware is your area of control of the key project deadlines/milestones?
Has consideration been given to business impact of cut over and go live?
STAKEHOLDER MANAGEMENT & COMMUNICATION
Do you know enough about the project to be able to communicate what it will mean to your Business Area?
Is it clear where to go or who to speak to if you have questions, concerns or comments about any aspect of the project?
DEPARTMENTAL ROLES & RESPONSIBILITIES
How well planned is the transition of people to new roles?
How clearly are the pending role changes understood?
Questionnaires were sent out on a cyclical basis (normally monthly) to the same group of stakeholders and the results were compiled and measured against previous results to track movement (static, up or down) in any of the key areas. Analysis was done on the results and commentary provided to the stakeholder group in the form of a presentation which was normally done f2f during stakeholder meetings and also sent out to the Steering Group and Sponsor for information. If there was a static or downward trend from previous scores then this indicated an area of concern although sometimes there was a valid reason for this. If it was deemed an area of concern then specific actions/change interventions were put in place to address them, the results of which would hopefully reverse the trend and show up in subsequent results. In addition to this before the initial questionnaire was sent out the stakeholder group would be asked to agree an overall target score which was what they considered should be achieved to indicate business readiness and subsequent go-live. All scores were tracked against this overall score.
I have to say that this is a very simple (if not somewhat crude) way of measuring the readiness of a business for the change and there are more sophisticated tools out there but for me and the organisations I have used it in… it worked.