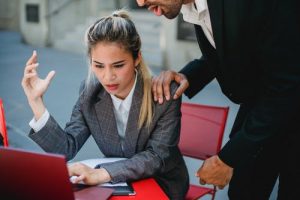 Change management is guiding employees through change to increase engagement and reduce resistance. The process can be challenging for both managers and employees, but it has resulted in higher employee engagement levels and improved performance.
This article will cover strategies for how a company can engage with its employees by managing change.
There are three strategies that a company can use to increase employee engagement and enhance change management:
Open communication
Psychological safety
Increased personal responsibility
Open communication involves sharing information about what is changing and why it is changing with employees.
Psychological safety concerns the idea of employees feeling safe when sharing their opinions openly, without fear of retribution.
Finally, increased personal responsibility includes training managers to lead by example and employees taking ownership over their roles in the changes that occur within the organization.
Here are some tips for using these strategies to increase employee engagement during a time of change.
Ask Questions
Ask employees what questions they have and make sure they understand the reasons behind any changes. Having a clear understanding of why something is changing can help to reduce resistance and increase engagement.
Many employees are willing to embrace change if they understand why something changes. However, they are more likely to resist the change if they do not know why that is, leading to a decrease in morale and productivity.
Create a Personal Connection
When employees feel personally connected to an issue, they are more likely to engage with it, even if it involves change. Therefore, a company could explain how changes will benefit employees from a financial or personal development standpoint.
For example, suppose the organization is changing its health care benefits plan. In that case, it could explain how the new plan will benefit employees from a financial standpoint and a health and wellness perspective.
Explain Why Change Is Needed
Studies have shown that employees are more willing to accept change when they understand that it is being implemented for reasons beyond just "the bottom line." Employees can become disengaged if they believe that their company is only interested in making money and does not care about its employees.
Employees are more likely to embrace change if they understand that it will benefit the business and themselves personally.
Hold One on Ones
Inform employees about what is changing and why during one on ones with managers. Managers should focus on the benefits of the changes while explaining to them so that employees can see a positive outcome instead of just a negative impact. In addition, it will help managers lead by example and show employees that managers care about the changes.
Don't Assume
When everyone favors something, it may seem like a change management tactic. However, this is not always the case, and managers should make sure that employees understand why the changes are happening and how they will benefit from them.
By asking questions and providing clarification when needed, managers can increase employee engagement during a time of transition.
Beware of Resistance
Sometimes an expression of agreement through words can be deceptive because someone will say anything to end the meeting (and avoid conflict). It is especially true when asking people to volunteer for extra work — they do not want confrontation, so keep an eye out for signs of resistance even if all the signals show agreement.
Once a business has a clear picture of why change management is needed, it is time to create an action plan that outlines who will be involved and how employees can be engaged throughout the process. The three strategies mentioned earlier in this article are good starting points for engagement: open communication, psychological safety, and increased personal responsibility.
How these strategies look will depend heavily on what type of changes occur within a company or organization. However, here are some general tips that can be customized to fit most scenarios:
Create channels of communication through which employees can feel free to voice opinions and ask questions about upcoming changes.
Be transparent and honest. Employees appreciate honesty and transparency over false promises and poor excuses.
Lead by example — if an employer asks employees to volunteer for extra work, they should be willing to do the same themselves.
Keep the lines of communication open at all times; no good deed goes unpunished (i.e., don't wait until it is too late).
Be timely in responses; this shows respect for other people's time and feelings.
If possible, try not to stick people with more work than they feel comfortable performing.
Conclusion
Changing an organization can be difficult because people naturally resist change. However, it doesn't have to be as painful as employees fear it if effective strategies and techniques are used. By following these steps for increasing employee engagement through changes made at the organizational level, it is possible to ensure that this transition period goes smoothly.