How Do We Understand Consumer Behavior and Undertake Behavioral Transformation? Know 3 Bs of Behavioral Change
Featured Best Practice on Consumer Behavior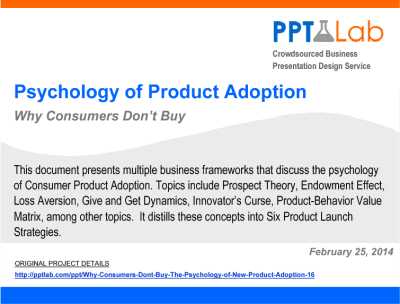 46-slide PowerPoint presentation
Some innovations are truly spectacular, but consumers are slow or just refuse to adopt. In fact, over 70% of all new products fail in the marketplace--and innovative, new products fail at an even higher rate. Why is this the case? And, how do companies overcome this? This document discusses
[read more]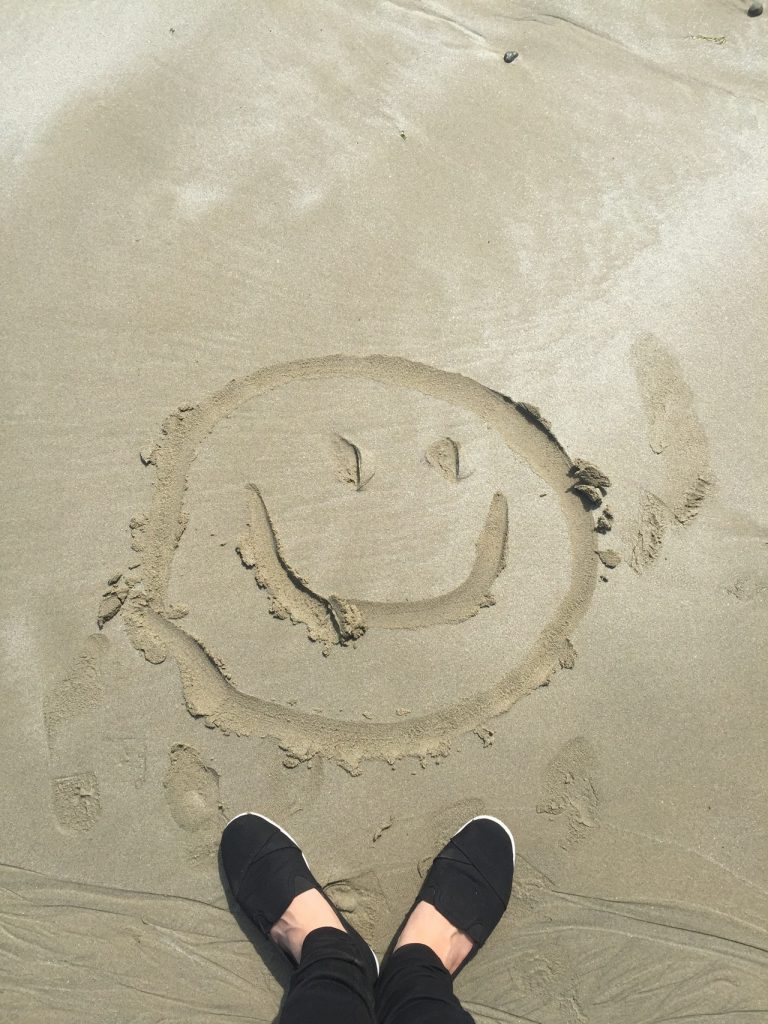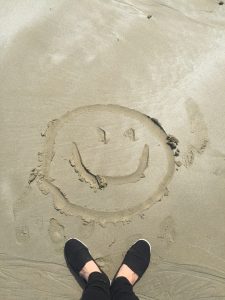 Product managers, marketers, and designers are often confused as to what they should do to increase the chances of customers' engagement and uptake of their offering.  Changing individuals' behavior to enhance engagement, productivity, innovation, and happiness isn't straightforward.
It takes a lot of effort, time, and resources to execute initiatives aimed at transforming behaviors and Organizational Culture.  However, most people aren't interested in changing and like the status quo to prevail.  This is where Behavioral Economics can help to know how customers behave, interpret their decision-making methods, and create solutions targeting those behaviors.
Product designers and marketers aspiring to drive acceptance of their products can make use of the 3 Bs of Behavioral Change to change understand consumer behavior. The 3 Bs of Behavioral Change classify the 3 elements essential to change behaviors, i.e.:
Behavior
Barriers
Benefits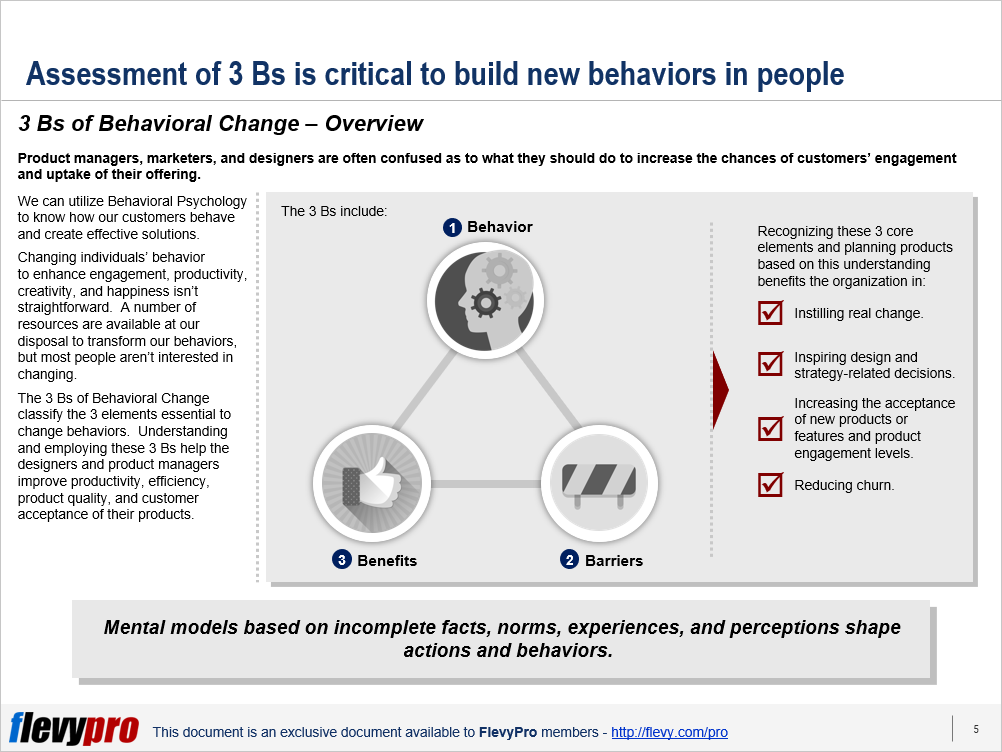 Understanding and employing these 3 Bs helps the designers and product managers instill change, inspire design and strategy-related decisions, increase the acceptance of new products / features and product engagement levels, and build new behaviors in people.
Let's discuss the first 2 elements in detail.
Behavior
People have an inherent tendency to maintain the status quo.  Behavioral change necessitates:
Identifying individuals' existing attitudes.
Assessing and tackling psychological biases affecting individuals' decisions.
Carefully tracking behaviors that need to be changed.
Ascertaining the most important desired behavior and exact action that is imperative to drive results.
Getting the buy-in from all stakeholders on the key behavior.
Deciding if the behavior should be permanent or transient.
Examples of key actions to change behaviors include spending 30 minutes thrice weekly doing cardio exercises and consuming salad at lunch daily to stay healthy.
Barriers
Understanding the barriers in behavior adoption assists in creating effective solutions to improve uptake of key behavior.  The second step to induce behavioral change is to reduce barriers in its adoption.
Every decision that a product user has to make, no matter how negligible, increases resistance in the likelihood of completing a specific behavior.
These actions and decisions an individual has to take in order to achieve the desired behavior create points of friction in embracing key behaviors.  For instance, people often find it difficult to decide when presented with complex choices. They tend to procrastinate or become a victim of decision paralysis.
Removing the points of friction and resistance from any key behavior necessitates documenting and streamlining all decisions. The path of least resistance leads to desired key behaviors.
Examples of barriers include the thought process involved in the decision to select where to have dinner.  This thought process is, in fact, a psychological barrier in actually going out and having dinner.  Likewise, the decision to walk or drive to a restaurant is a logistical barrier and a point of friction that warrants making a decision.
To eliminate these barriers, we can either remove barriers entirely or just simplify the decision.  For instance, elimination of a non-critical, open text field from a sign-up form—that probed the users about their business, which requires significant time to think and answer—can increase page-over-page conversion.  In case choices are helpful for the users and cannot be eliminated, then it is best to simplify the decision process by giving fewer options instead of many, or by suggesting "recommended option" to the users.
Interested in learning more about the details of the 3 Bs of Behavioral Change?  You can download an editable PowerPoint presentation on 3 Bs of Behavioral Change here on the Flevy documents marketplace.
Do You Find Value in This Framework?
You can download in-depth presentations on this and hundreds of similar business frameworks from the FlevyPro Library. FlevyPro is trusted and utilized by 1000s of management consultants and corporate executives. Here's what some have to say:
"My FlevyPro subscription provides me with the most popular frameworks and decks in demand in today's market. They not only augment my existing consulting and coaching offerings and delivery, but also keep me abreast of the latest trends, inspire new products and service offerings for my practice, and educate me in a fraction of the time and money of other solutions. I strongly recommend FlevyPro to any consultant serious about success."

– Bill Branson, Founder at Strategic Business Architects
"As a niche strategic consulting firm, Flevy and FlevyPro frameworks and documents are an on-going reference to help us structure our findings and recommendations to our clients as well as improve their clarity, strength, and visual power. For us, it is an invaluable resource to increase our impact and value."

– David Coloma, Consulting Area Manager at Cynertia Consulting
"As a small business owner, the resource material available from FlevyPro has proven to be invaluable. The ability to search for material on demand based our project events and client requirements was great for me and proved very beneficial to my clients. Importantly, being able to easily edit and tailor the material for specific purposes helped us to make presentations, knowledge sharing, and toolkit development, which formed part of the overall program collateral. While FlevyPro contains resource material that any consultancy, project or delivery firm must have, it is an essential part of a small firm or independent consultant's toolbox."

– Michael Duff, Managing Director at Change Strategy (UK)
"FlevyPro has been a brilliant resource for me, as an independent growth consultant, to access a vast knowledge bank of presentations to support my work with clients. In terms of RoI, the value I received from the very first presentation I downloaded paid for my subscription many times over! The quality of the decks available allows me to punch way above my weight – it's like having the resources of a Big 4 consultancy at your fingertips at a microscopic fraction of the overhead."

– Roderick Cameron, Founding Partner at SGFE Ltd
"Several times a month, I browse FlevyPro for presentations relevant to the job challenge I have (I am a consultant). When the subject requires it, I explore further and buy from the Flevy Marketplace. On all occasions, I read them, analyze them. I take the most relevant and applicable ideas for my work; and, of course, all this translates to my and my clients' benefits."

– Omar Hernán Montes Parra, CEO at Quantum SFE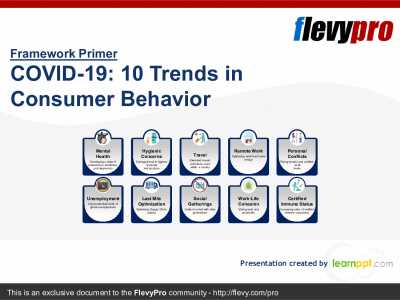 22-slide PowerPoint presentation
COVID-19 has taken the world by a storm. Financial markets, manufacturing, services, and tourism have been hit hard. In fact, it has also changed the way we work, communicate, interact, and shop more than any other disruption in the decade. As a result, there have been key changes in Consumer
[read more]
Readers of This Article Are Interested in These Resources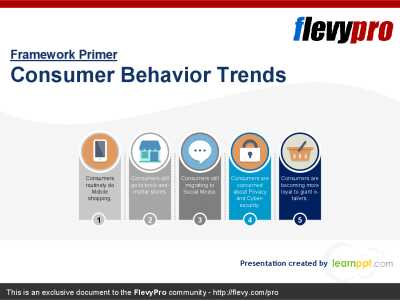 19-slide PowerPoint presentation
Molded by emerging technologies, the shopping behavior of consumers is changing rapidly. Mobile shopping is on the rise. Social Media is increasing in its influence. It may surprise some, but brick-and-mortar is not dead. Based on global annual surveys of 22,000 respondents across 27
[read more]
About Mark Bridges
Mark Bridges is a Senior Director of Strategy at Flevy. Flevy is your go-to resource for best practices in business management, covering management topics from
Strategic Planning
to
Operational Excellence
to
Digital Transformation
(
view full list here
). Learn how the Fortune 100 and global consulting firms do it. Improve the growth and efficiency of your organization by leveraging Flevy's library of best practice methodologies and templates. Prior to Flevy, Mark worked as an Associate at McKinsey & Co. and holds an MBA from the Booth School of Business at the University of Chicago. You can
connect with Mark on LinkedIn here.