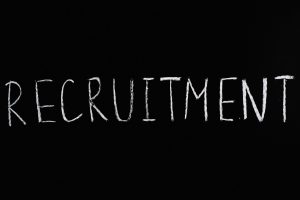 Mediocre people occupying senior leadership positions is one of the chief reasons for the fiasco and humiliation that organizations like Enron and WorldCom faced.  The practice of recruiting average people at the top is omnipresent and often goes unnoticed until the results begin to surface, which is typically too late for any intervention.
Smart people decisions matter a lot in achieving profitability.  Research indicates that a return on average human asset of 5% is typical in many industries.  However, a senior executive selection of 2 standard deviations below the average yields -15% return on asset.  An executive selection with 2 standard deviations above average causes +25% return, which is 5 times the average.  Increased investment in finding and hiring the best senior executives fetches returns to the magnitude of 1000%.
Attracting and selecting the best people for senior leadership positions isn't a small feat.  The future of organizations depend on it.  However, the Human Resource Management function at most organizations fail in getting the right people at the top.  The decision to hire at the senior positions necessitates deliberate effort and commitment.  Identification and onboarding of right people at these levels can create a substantial competitive advantage and profitability for the organizations.  Leading companies invest a lot of time in these decisions and conduct careful assessment of a pool of candidates.  They evaluate the opportunity costs associated with onboarding wrong people at critical senior positions and those associated with performance that could not get delivered due to selection of incompetent individual(s).
To prevent the disasters caused by psychological barriers and biases and to onboard competent executives, organizations need to religiously follow these 8 guiding principles:
Outline requirements
Prepare a large candidate pool
Benchmark rationally
Appraise systematically
Overcome resistance in decision making
Keep the evaluation team small
Finalize the deal in time
Support assimilation of new hires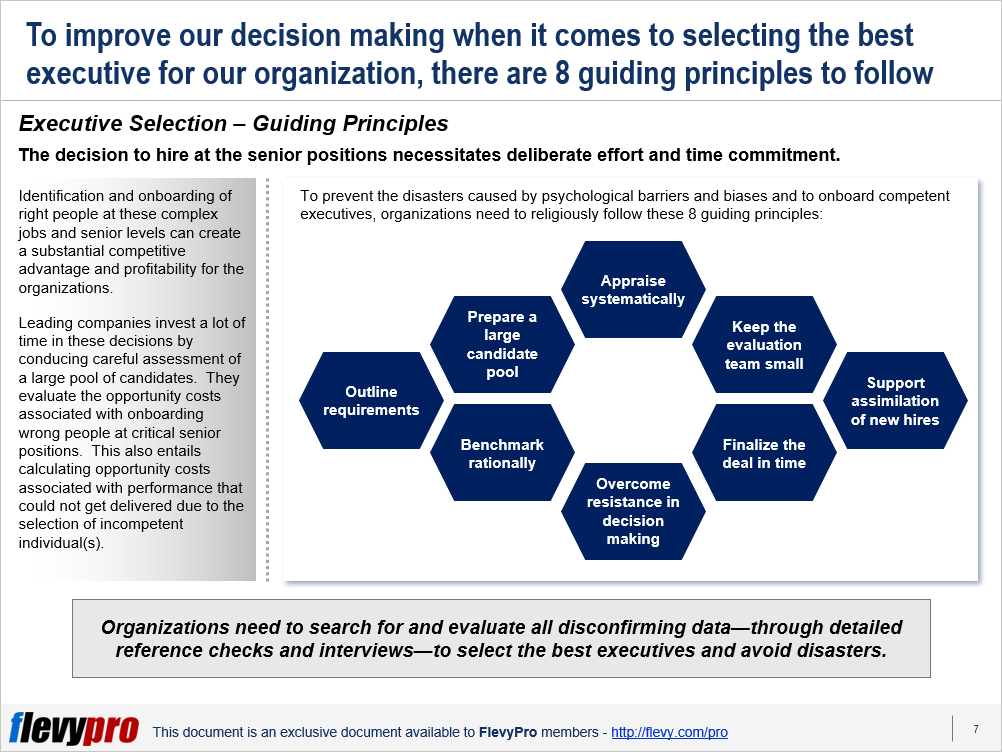 Let's discuss the 4 guiding principles in detail, for now.
Outline requirements
Defining the job requirements clearly before initiating the executive search process is an imperative for finding and appointing the right persons at senior positions.  The board should take out time to hold meetings to sift through the organizational strategic objectives and prioritized initiatives.  The outcome of these sessions help the recruiters develop a list of critical skills and behavioral competencies.
Prepare a large candidate pool
Restricting executive search to specific geographies or industries limits the chances of finding the most suitable candidate(s).  For instance, to hire the country head for a computer hardware firm in Asia, a company may identify all C-level executives at specific large hardware and software providers in the region; target former top executives of all relevant companies; consider senior executives outside the hardware sector; and shortlist about 10-12 top candidates to be interviewed.
Benchmark rationally
Having a fair comparison of shortlisted candidates is possible by creating consistent benchmarks.  This helps all the appraisers to follow a defined approach and rating criteria.  External and internal candidates should be assessed without any biasness.  Likewise, comparison of soft skills—which are obvious to internal candidates but unknown to outsiders—should be done on equal footing.
Appraise systematically
After shortlisting potential candidates, it's time to evaluate their suitability on the required competencies through rigorous interviews using behavioral-based questions.  The evaluation should constitute in-depth reference checking—through the nominees as well as those who have worked with the candidates in the past—internally or through executive search firms.
Interested in learning more about the other guiding principles critical for selection of competent senior executives?  You can download an editable PowerPoint presentation on Executive Selection here on the Flevy documents marketplace.
Do You Find Value in This Framework?
You can download in-depth presentations on this and hundreds of similar business frameworks from the FlevyPro Library. FlevyPro is trusted and utilized by 1000s of management consultants and corporate executives. Here's what some have to say:
"My FlevyPro subscription provides me with the most popular frameworks and decks in demand in today's market. They not only augment my existing consulting and coaching offerings and delivery, but also keep me abreast of the latest trends, inspire new products and service offerings for my practice, and educate me in a fraction of the time and money of other solutions. I strongly recommend FlevyPro to any consultant serious about success."

– Bill Branson, Founder at Strategic Business Architects
"As a niche strategic consulting firm, Flevy and FlevyPro frameworks and documents are an on-going reference to help us structure our findings and recommendations to our clients as well as improve their clarity, strength, and visual power. For us, it is an invaluable resource to increase our impact and value."

– David Coloma, Consulting Area Manager at Cynertia Consulting
"As a small business owner, the resource material available from FlevyPro has proven to be invaluable. The ability to search for material on demand based our project events and client requirements was great for me and proved very beneficial to my clients. Importantly, being able to easily edit and tailor the material for specific purposes helped us to make presentations, knowledge sharing, and toolkit development, which formed part of the overall program collateral. While FlevyPro contains resource material that any consultancy, project or delivery firm must have, it is an essential part of a small firm or independent consultant's toolbox."

– Michael Duff, Managing Director at Change Strategy (UK)
"FlevyPro has been a brilliant resource for me, as an independent growth consultant, to access a vast knowledge bank of presentations to support my work with clients. In terms of RoI, the value I received from the very first presentation I downloaded paid for my subscription many times over! The quality of the decks available allows me to punch way above my weight – it's like having the resources of a Big 4 consultancy at your fingertips at a microscopic fraction of the overhead."

– Roderick Cameron, Founding Partner at SGFE Ltd
"Several times a month, I browse FlevyPro for presentations relevant to the job challenge I have (I am a consultant). When the subject requires it, I explore further and buy from the Flevy Marketplace. On all occasions, I read them, analyze them. I take the most relevant and applicable ideas for my work; and, of course, all this translates to my and my clients' benefits."

– Omar Hernán Montes Parra, CEO at Quantum SFE