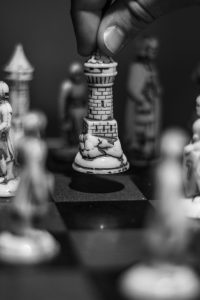 In every organization, there is a consistent need to make timely crucial decisions at all levels.  This is critical more so at the strategic level where senior leaders are anticipated to possess a strong ability to make systematic and integrated choices.  However, this isn't simple and there isn't a straight path to accomplish this either.
A lot of research and thought leadership is available on devising strategy and implementation—but not much on how to become a leader with strong judgment skills. In most cases, Chief Executive Officers have to develop their own on-the-job training programs for executives to sharpen their strategic thinking and judgmental skills.
When making decisions, executives have to make trade-offs, assessing different available options.  Selection of the most viable choice among a handful of options and relinquishing the other options is daunting for executives, as they want to keep all of their options on the table.
Decision-making Acumen is important for executives.  It is critical for the executives, for instance, to have an in-depth analysis of the pros and cons of entering a specific market before they actually present the case to the board.  They need to decide on the regions they should venture into and the strategy on how to do it.
The ability to select right choices makes people to consider the bigger picture and think of long term instead of merely targeting short-term gains.  Executives with Decision Making Acumen are able to say no to the choices that aren't suitable for their organizations.
Developing executives' judgment and decision making capabilities necessitates employing a systematic approach.  Key elements that comprise a systematic approach to developing the executives Decision Making Acumen include:
Grasp on Reality
Strategic Choice Cascade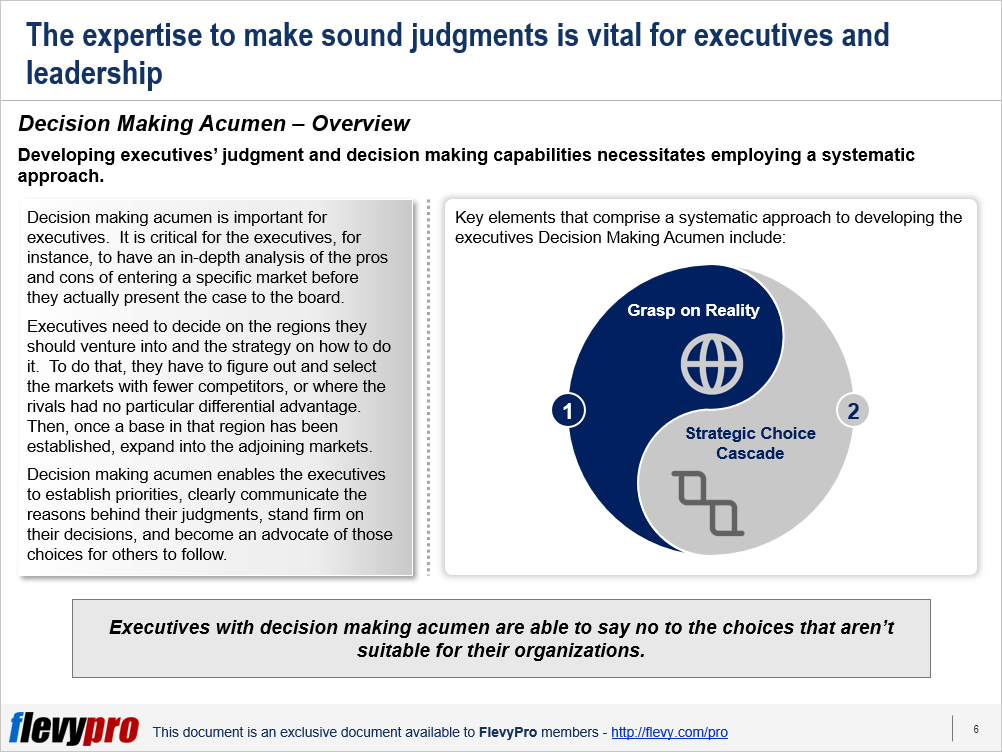 Understanding these 2 elements enables the executives to establish priorities, clearly communicate the reasons behind their judgments, stand firm on their decisions, and become an advocate of those choices for others to follow.
Let's now talk more about how a strong grasp on reality is critical to executives developing decision making acumen.
Grasp on Reality
Executives are often predisposed to see the data that confirms to their preconceived opinions.  This psychological bias leads them to consider their circumstances to be better than they actually are.  The 1st element of the approach stresses on leaving biases and notions out of the decision making process. Executives with Decision Making Acumen make their judgments based on thorough evaluation of the circumstances, keep their own views out of the way, and embrace the reality.
Distraction by preconceived views and not embracing reality leads to failures.  For instance, based on the assumption that it would be simple to expand in economies like Brazil due to Innovation and brand equity in other markets, Proctor and Gamble invested huge sums into overseas distribution of its oral care range there.  The company didn't realize that Colgate had already invested two times what P&G did in distribution and had already developed extensive distribution network there, which resulted in creating immense brand loyalty for its products in Brazil.  This false assumption led P&G to lose millions of dollars in the market and warranted the executives to alter their expansion strategy.
Interested in learning more about the other element of the systematic approach to Decision Making?  You can download an editable PowerPoint on Executive Decision Making Acumen here on the Flevy documents marketplace.
Do You Find Value in This Framework?
You can download in-depth presentations on this and hundreds of similar business frameworks from the FlevyPro Library.  FlevyPro is trusted and utilized by 1000s of management consultants and corporate executives. Here's what some have to say:
"My FlevyPro subscription provides me with the most popular frameworks and decks in demand in today's market.  They not only augment my existing consulting and coaching offerings and delivery, but also keep me abreast of the latest trends, inspire new products and service offerings for my practice, and educate me in a fraction of the time and money of other solutions.  I strongly recommend FlevyPro to any consultant serious about success."

– Bill Branson, Founder at Strategic Business Architects
"As a niche strategic consulting firm, Flevy and FlevyPro frameworks and documents are an on-going reference to help us structure our findings and recommendations to our clients as well as improve their clarity, strength, and visual power.  For us, it is an invaluable resource to increase our impact and value."

– David Coloma, Consulting Area Manager at Cynertia Consulting
"FlevyPro has been a brilliant resource for me, as an independent growth consultant, to access a vast knowledge bank of presentations to support my work with clients.  In terms of RoI, the value I received from the very first presentation I downloaded paid for my subscription many times over!  The quality of the decks available allows me to punch way above my weight – it's like having the resources of a Big 4 consultancy at your fingertips at a microscopic fraction of the overhead."

– Roderick Cameron, Founding Partner at SGFE Ltd