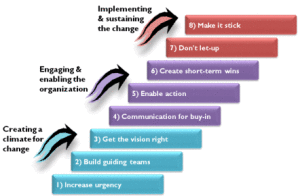 Hot on the heels of my previous posts Change Management vs. Project Management and Change Management – Do You Need to be Certified? which have attracted many views, likes, comments and shares (thanks for all of these), the other raging and ongoing debate here on LinkedIn is about Change Management Methodologies. One such debate called Change Methodology has been ongoing since February 2010.
So once again, this is my view on the subject.
Wikipedia defines methodology as "Methodology is the systematic, theoretical analysis of the methods applied to a field of study. It comprises the theoretical analysis of the body of methods and principles associated with a branch of knowledge. Typically, it encompasses concepts such as paradigm, theoretical model, phases and quantitative or qualitative techniques. A methodology does not set out to provide solutions – it is, therefore, not the same thing as a method. Instead, it offers the theoretical underpinning for understanding which method, set of methods or so called "best practices" can be applied to specific case, for example, to calculate a specific result."
OK, that's pretty clear the so let's start by listing some of the many Change Management Methodologies there are out there (there are many more by the way):
AIM Change Management Methodology
The Change Model of Beckhard and Harris
Bridges' Transition Model
Bullock and Batten's Planned Change Model
Carnall's Change Management Model
Change Leaders Roadmap™ Methodology
Conner Partners' Change Execution Methodology
Cooperrider's Appreciative Inquiry (AI)
Cummings and Worley's Model for Managing Change
Galpin's Wheel of Nine Wedges
Judson's Five-Phase Model
Kotter's Eight-Stage Change Model
LaMarsh Global Managed Change™ Methodology
Lewin's Change Management Model
McKinsey's Seven-Step Model
Nadler and Tushman's Congruence Model
Prosci's ADKAR™ Change Management Methodology
Senge's Systemic Model
Stacey and Shaw's Complex Responsive Processes
Lippit, Watson and Westley Model
Prochaska and DiClemente Model
Kubler-Ross Change Model
Edwin Cornelius Snapshot of Change
Burke & Litwin Model
Weisbord 6 Box Model
Bekchard's Transition Model
All have value in their own way but for me they:
Should only be used by the most advanced and/or seasoned practitioners.
Require deep academic and/or practical knowledge that is then interpreted and executed accurately
Methodologies have their place but should not be used as the "be all and end all" in a change initiative because they sometimes only serve to restrict Change Managers who should not be "shackled" because "change" is an iterative process and needs to be flexible and intuitive. I tend to prefer building bespoke "change approaches" for organisations that I get key stakeholders to sign up to thereby getting that initial buy-in. These approaches are created using aspects of some of the "methodologies" mentioned above and also from my own high-level approach (developed over many years in change) which has a number of component parts which can be either used as-is or be adapted/adopted to suit the needs of the organisation I am working for. I continually update this approach and tool-kit through research and knowledge gained from assignments.
But methodologies are no substitute for an experienced "change agent" because change is:
High risk, complex and dynamic
Often messy and painful
Fraught with problems
Associated with the unpredictable behaviour of people
There are too many consultants peddling their "out of box" methodologies" who just don't "cut it" when it comes to engagement and leadership. No one size fits all so let's not get hung-up on just one way because there are many ways and each has their own strengths and weaknesses.
I think "change agents" tend to get too focused on "methodology" which engenders little innovation and creativity and just exacerbates the problem and creates an army of "change robots" who cannot see further than these methodologies. Personally I think this is one of the main issues that contribute to the low success rate of change initiatives. So methodologies and approaches are all well and good but they need to be executed and delivered by "change agents" that have the "nous" to take and use them is such a way that makes it compelling for an organisation to follow.
Let me add to my statement methodologies "Should only be used by the most advanced and/or seasoned practitioners". While methodology is an important component of Change Management capability it is not the only one, and perhaps not even the most important one. A "change agent" who can make sense of the "noise" using these and other tools is the most important asset.
I read an interesting article published by the Fast Company last year called Cultivating Charisma: How Personal Magnetism Can Help (or Hurt) You at Work by Olivia Fox Cabane (author of "The Charisma Myth"), in which she says "There's no one form of charisma that is good or bad per se. There's only the right form of charisma for the particular situation" and "It's charisma that helps determine which ideas get adopted and how effectively your projects are implemented."
In addition to the above, the following is from a blog by Daryl Conner of Conner Partners in 2012 called "Character and Presence":
"Character & presence separate change technicians who merely submit deliverables and meet timelines from those masterful practitioners who provide valuable insight and wisdom to their clients. We all use some kind of approach or framework to support our work, but our character and presence allow us to leverage these enablers for optimum client impact. Clients need to engage both their heads and hearts before they open themselves to meaningful advisory relationships. Well-constructed methodologies can impress a client's intellect, but it takes a strong character and a trusting presence to speak to someone's heart."
So for me there are three key ingredients for the successful delivery of a "change" initiative
Knowledge and understanding of methodologies.
Building a bespoke approach that fits with an organisations culture and their "way of doing things".
Managed by and experienced/seasoned "change agent".
Talking of ingredients, if you haven't already done so, you may want to ready my article called Chef de Change which took the "attributes of a chef" and changed the wording from Chef specific to Change Manager specific.
And finally:
George Edward Pelham Box (1919 > 2013) — British mathematician and Professor of Statistics at the University of Wisconsin said "Essentially, all models are wrong, but some are useful."
Abraham Harold Maslow (1908 > 1970) — American psychologist who was best known for creating Maslow's hierarchy of needs said "If the only tool you have is a hammer, you tend to see every problem as a nail."