Editor's note: This is part of  30-day challenge series written by Hanane Anouna.   You can follow along and read the full series here.
* * * *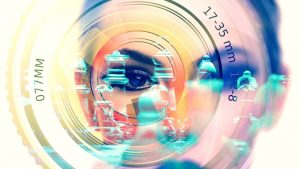 A leader is neither about a title nor about power. It emerges from any educational level and everyone is concerned: the father, the manager, the professor, the doctor or the CEO, etc.
You don't become a leader because you have a great position, a high status, or a fancy title.
You don't become a leader because you have the power to control the lives of other people and decide what they should do or how they should do it.
You become a leader when people trust you for who you are and for what you are doing for them.
A great leader knows how to combine between power and humility, between flexibility and discipline, between challenges and the capacity to reframe them into opportunities to grow resilient. These combinations are the ones that create from ordinary people remarkable leaders , and history gave us great examples like Nelson Mandela and many others.
A great leader have the capacity to create an environment of trust, does not fear talents as he knows how to develop new ones, and new leaders.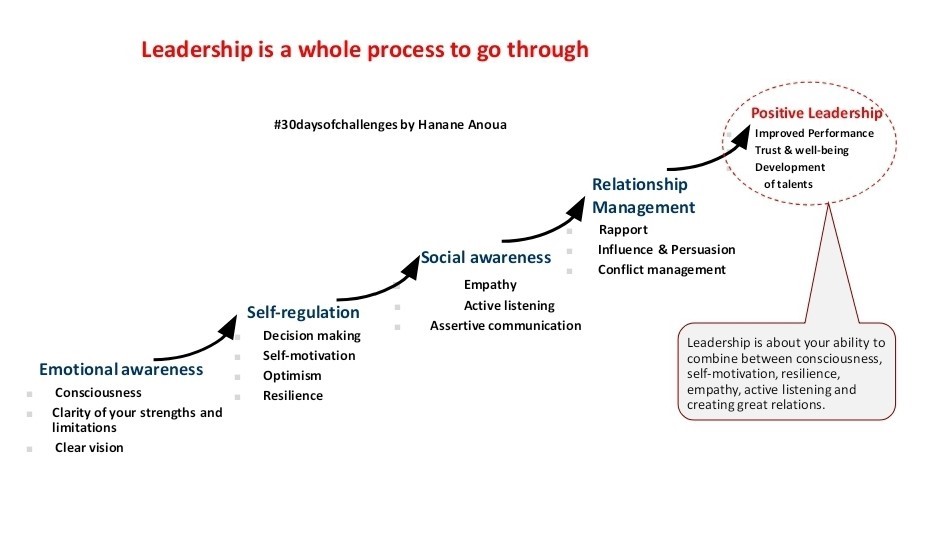 The Difference between a Leader and Manager
A manager has the title as it is granted by the organization, but a leader is a recognition that people give you based on your qualities, your sense of humanity, and your acts within the institution or the organization.
A manager has a role that is limited to the execution of the plans. His main concern is following the rules, the procedures and attaining the expected results.
A leader may have the same constrains, but he goes beyond his position to motivate others, to create trust around him, and to understand the needs of his team. 
How Can You Develop the Leader within You
In order for an egg to become a butterfly, it has to go through four stages. Each one has its importance. The caterpillar represents the start of the change, and then it turns into a chrysalis, which has to go through many struggles to break down and become a bufferfly.
If you try to help the chrysalis breaking the cocoon to get out from it before the process ends, then it will not survive as it has to go through the whole process and this is ow it becomes a butterfly. A lot of struggles have meanings only when we look at the results.
Many examples of leaders did not become leaders in one night as they knew how to turn their inner struggles into beautiful stories of resilience. This does not mean that you need to struggle to become a leader; it just means that there will be always challenges and struggles to overcome as it is part of life. It is not your power or status that will make you overcome them, but your resilience, optimism and many other qualities are the ones that will create your own foot print.
The best example is this pandemic which does not distinguish between the status of people or their power as the only power is your mental strength. What matters is how each one of us will overcome it from within before being able to handle the external effects. 
10 Qualities to Embrace
My aim here is not to release a random compilation of qualities and attributes. I believe that there are some characteristics that we need to focus on before getting into others. Others are interrelated and they need to be developed at the same time.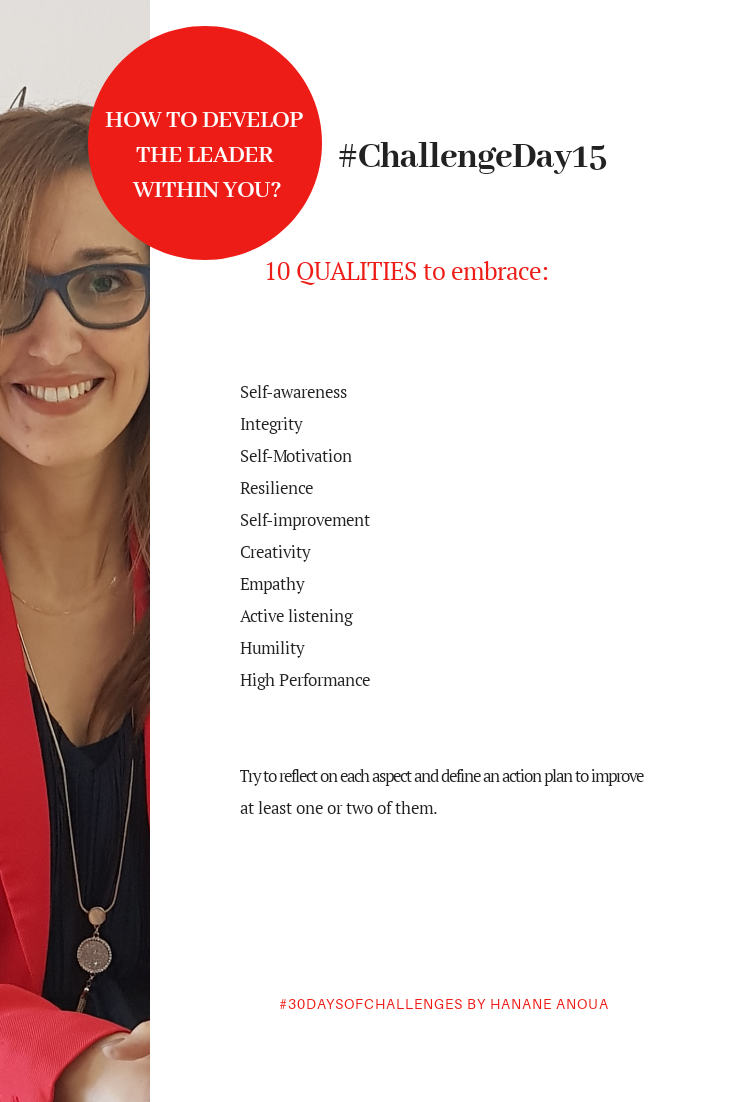 Self-awareness: A leader is someone who knows about his or her strengths, and weaknesses, his values and priorities, his vision and how to cascade it, and make others believe in it. His consciousness can be the core to step into his full potential.
Integrity: Integrity is far limited to honesty. It is the coherence between what you say and how you act. It's the courage to be lined up with your own values. With high level of integrity, you become credible when others believe in your abilities to deliver good results; and you attain trust when you are reliable. Do people trust you? why do you think they trust you?
Self-Motivation: when clarity of thoughts is coupled with trust, then motivation can raise and prosper. Can you feel motivated in an environment where you don't feel trusted? A strong motivation will trigger a set of other personality traits like passion, discipline and perseverance, that's why you need to do what really motivates you.
Resilience: Resilience is not only about accepting your situation and growing positive, but it is the skill that will allow you to bounce back when faced with adversity and turn your crisis into an opportunity. Most people don't grow resilient because they keep looking at the past, worry about people's perception, and don't dare to do what they really want. Do you care about what others think about you?
Self-improvement: how can you develop talents if you are unable to develop your own talents and overcome your own limitations? Self-improvement has never been one-shot action, but a constant process to embrace for the rest of your life, especially in an environment that is growing very fast at all levels. It is no longer a luxury but a must unless you would like to see yourself in the same position for many years, this is if they allow you. If you feel frustrated and bored, what are your future actions to develop your self-worth?
Creativity: creativity involves imagination. As mentioned in the book "the law of success" by Napoleon Hills, it does not involve only "shuffling existing ideas into new concepts, but practicing rebuilding your thinking mechanism."
Empathy: developing empathy can be beneficial to both parties. When you act with kindness, you create a positive environment and you contribute to your well-being. Research proved that both have a direct impact on performance. Be kind to others.
Active listening: you cannot develop proximity if you don't develop active listening. You cannot be aware of all the concerns and obstacles of your team if you don't communicate and listen to them.
Humility: when you are humble, you are more likely to delegate, trust, and empower others so that you can help them achieve their own goals. Humility allows you to be accountable, avoid blaming others, and seek feedback for better serving your team, students or customers. Do you apologize when you make mistakes?
High Performance: People will trust you not only based on the set of qualities discussed above but also based on your performance and results. Can you trust a doctor or a lawyer if you don't get what you agreed on? are your own results apparent to others?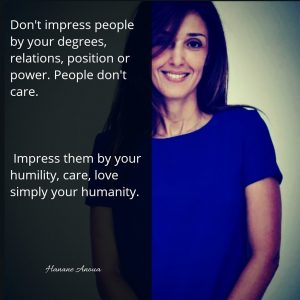 The fastest way to develop the leader within you is to be simply HUMAN, keep FAITH, and hold a great VISION. 
Difficult to comprehend that nowadays respect, for a category of people, is dependent on the status, and the prestige.
People with "higher status" are always treated differently than others. They are prioritized and their issues are handled with care. I don't remember if we studied this module sometimes in the past or maybe my memory betrayed me.
If there is any status to believe in today is the status of the mind.