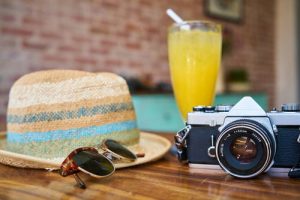 Business travel is almost like a vacation, yet not quite. There you are with your staff somewhere far from the office, with new experiences beckoning you. You're there to work, though. The primary purpose of your trip is to accomplish job-related functions, whether they are attending conferences, holding training sessions, meeting with clients or something else.
Do trips for business and pleasure have to be mutually exclusive? The answer is no. Away from the usual work surroundings, you can take advantage of your time in a new location and include some fun. You may be wondering if it's really necessary to make a business trip enjoyable. After all, it's work, not a vacation. However, there are reasons to include leisure activities. Your efforts can help build morale among team members and create a positive work experience.
Here are a few suggestions for combining work and pleasure during your business trip.
Book a Cruise
If you're planning a team-building or training event and the location is flexible, consider a destination that offers a rich vacation experience when you're off the clock. A cruise ship can offer everything you need for an all-inclusive business trip. Aside from the entertainment, you'll have access to work-friendly amenities, such as:
Conference rooms (some of which include views you can't find elsewhere)
Theaters for keynote presentations or large meetings
Audio/visual equipment
High-speed internet
Printing facilities
Catered dining
When you've finished your business for the day, a cruise ship gives you access to a variety of entertainment options that might not have fit in your budget otherwise. You and your colleagues will have access to nightly production shows, fine dining, live music, casinos and more. It may be worth arranging your schedule to include a daytime shore excursion so you can explore local culture through landmarks, history, shopping and dining. Booking a Bahamas cruise is certainly worth considering for its all-inclusive advantages.
Find a Big City
If participants come from locations around the country, a large city can be a good location for your business trip. Attendees will have access to airports or major highways, making travel plans more accommodating than a smaller city. You will have a range of venue choices in your preferred size, from hotels to conference centers, and it will probably be easier to find the amenities you need. High-speed internet is almost guaranteed no matter where you choose, and printing facilities and office supply stores will be nearby, if not on the venue grounds.
Once your daily business is over, large cities offer a wide choice of dining and entertainment. You might consider purchasing tickets to a show or scheduling a special dinner at a five-star restaurant to pamper your crew. You will probably have several options close to your hotel, making it convenient to walk together rather than arrange for transportation.
You can combine work, fun and education in a business trip. Try looking for ways to build local character into your theme. Consider using time during the day to visit historic sites and landmarks to deepen your understanding of the city's culture. Museums or historical societies may be able to schedule a tour for your group. You can also choose locally owned eating establishments to literally get a flavor of the city's culture.
If you're near a suitable hiking area or national park, a back-to-nature meeting might be in order. Who says you have to meet in an enclosed conference room? If the weather permits, you can take your work outdoors. A change of scenery can be refreshing, and the exercise will counteract the midafternoon slump.
Communicate Your Plans
After you announce a business trip, your staff will have plenty of questions. Where are you going? How long will you be there? What will the weather be like? What materials will you need to bring? Preparing an itinerary will help you answer their questions and give them advance notice of how to prepare. Be sure to provide the itinerary several weeks before the event so your staff will have time to make arrangements.
Details in the itinerary might include:
Travel information: departure and arrival times of flights or motor coaches
Hotel accommodations and amenities
Meeting schedule
Weather forecast
Wardrobe requirements: business casual, dressy attire for dinner, hiking shoes, etc.
Equipment needed: laptops, flash drives, adapters, printed reports
The more information you provide your staff ahead of time, the better. It will put their minds at ease and avoid any surprises.
Bring the Family
For some team members, leaving home is a drawback of business travel. They may have family who need care, or they might just miss them while they're gone. No matter the reason, leaving home might distract them while they're away or deter them from attending a voluntary trip. To mitigate this drawback, you might consider offering them a chance to bring a guest or family.
Accommodating family members requires a bit of planning. Your venue needs to be family-friendly or close to suitable places. Guests will need something to do while your employees are working, and they probably won't have their own transportation. If you're on a cruise ship, this shouldn't be a problem, as they will have entertainment options any time of day or night. Otherwise, be sure to look for hotels near daytime destinations that people of any age can enjoy. Finding a hotel that offers babysitting services is a plus.
You'll also want to center some of your after-hours activities around family-friendly places, so look for nearby restaurants and theaters that offer something for all ages. Rather than filling each day with things to do, though, you may want to consider scheduling time that's free of planned events, giving employees and guests the chance to explore the area independently.
If you allow workers to bring guests along, make sure you communicate what expenses your company will cover and what employees will pay for on their own. You might offer the opportunity to bring guests without footing the bill for extra hotel rooms or meals, or you might give each employee a per-diem allowance. If your company can make it an all-expenses-paid trip, that's great, too. Whatever you do, be sure your team members understand in advance what they need to pay for.
Hand out Goodie Bags
To ramp up excitement about your trip beforehand, you can make up goodie bags for your staff and pass them out early. Fill your bag with items that fit the trip's theme or location. If you're going somewhere tropical, for example, you might include a pair of sunglasses, a bottle of sunscreen and a hat with a sun-blocking brim. For cold-weather destinations, a nice pair of gloves, warm socks and cocoa mix might fit the bill. Your staff will appreciate literature about the destination locale, like brochures featuring local attractions or some area history. A printed itinerary will be helpful, too. Having some swag on hand can build anticipation and get employees thinking about what they'll experience when they get there.
Business trips don't have to be all work and no play. They offer a chance to experience new people, ideas and cultures. A well-planned trip can rejuvenate your workers and increase productivity and morale long after the trip is over.