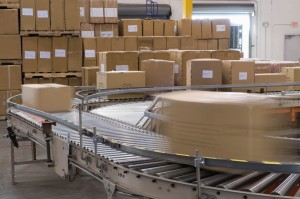 Warehouse and distribution centers should be able to rely on accurate, efficient and reliable data to ensure peak performance. Using the right scales such as warehouse floor scales help in assuring employee safety, reducing costs and speeds up processes. Moreover, accurate weighing will help you comply with the necessary regulations, reduce customer complaints and avoid overloads.
This article will look at seven weighing options that can be incorporated into a warehouse and distribution center.
Conveyor/Belt Scales
You must use these scales when accuracy and speed are essential to profitability. Conveyor or belt scales offer you the ability to improve the processing speed by increasing throughput and reducing lifting. They operate when the conveyor is in motion and can weigh boxes, cans, cartons or unpackaged products like large cuts of meat. If your industrial process requires weighing items in a short time as they pass through, conveyor belt scale is your best bet. These scales are simple to install and can be integrated with label printers, computers and scanners for further control. They can also label products and have integrated wash-down systems that help in ensuring high hygiene standards by wiping surfaces clean for applications such as food preparation.
Bench & Shipping Scales
These scales are suited for weighing smaller packages and are ideal for basic weighing, checkweighing and counting applications. The bench and shipping scales are available in a range of sizes, finishes and capacities. They are designed with a small footprint to maximize the workspace. When you ship parcels, you must have the ability to correctly charge by weight, capture data and integrate the same with the existing system for accurate processing.
Industrial Floor Scales
They are used for easy weighing of loads, heavy boxes and different types of heavy loads. They are commonly used for measuring goods coming in and out or while sorting inventory. You can install this scale system at a central location within the warehouse. They offer high accuracy which reduces the chances of revenue losses. You can use industrial floor scales in several ways depending on how heavy the load is. You can either push the load onto the scales or use a forklift to carry the bundles onto the scale for easier weighing.
Forklift Scales
These scales allow the drivers to lift and weigh the bundled materials on the truck. The drivers can directly take the products to the storage upon delivery instead of having to spend time on weighing them first. Moreover, apart from tracking the weight, the origin and location can also be tracked during transport. This allows you to get real-time data that can be used for billing and inventory management. They are quite compact which makes them suitable for busy industrial environments.
Vehicle Scales
It is important to manage and accurately weigh the inbound and outbound freight accurately so that you can manage your billing and inventory. Installing vehicle scales help in ensuring safety and adherence to legal maximum weight regulations. You can avoid costly fines for overweight vehicles as well as minimize repairs costs of wear and tear caused by excessive loading of vehicles.
Pallet Scales
Pallet scales are specifically designed for weighing pallets or crates and other large objects. Most commonly used in warehouses, factories and other industrial environments, pallet scales are usually integrated with weighing indicators to get real-time, accurate data. They are extremely convenient to use, adaptable, damage resistant, and durable which are built to last.
Digital Weight Indicators
The primary goal of weight indicators is to collect, store and communicate weight data. The advanced digital indicators can use wireless communications to transmit data to back-office systems. This helps in improving management information and control, and produces accurate invoices for all the materials being weighed. You can link these indicators to printers, computers and barcode scanners for integrating into the existing networks. This allows you to effortlessly transfer data and manage it from anywhere in the operation.
Make sure you invest in certified scales, regardless of which scales you buy. They ensure accurate billing by monitoring cargo weights, tracking data and ensuring vehicles are filled to the optimum safe capacity. High-quality scales provide accurate and reliable measurements, last longer and are durable which can function effectively in a heavy-duty environment.