6 Phases of Upskilling Strategy
Featured Business Best Practice: One-Page Project Management Processes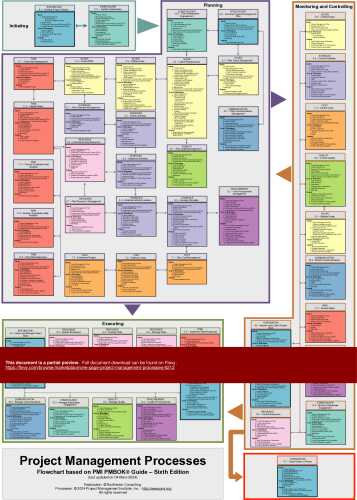 1-page PDF document
PMI did not change the definition of a project or project management in the PMBOK ® Guide - Seventh Edition (published in 2021), but they did change the focus from a process-oriented approach to a principle-centered approach. Unlike previous PMBOK ® Guide updates which replaced older
[read more]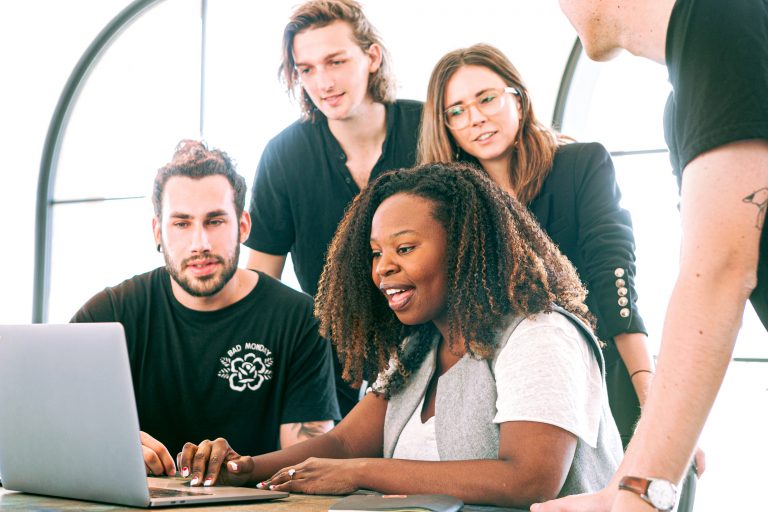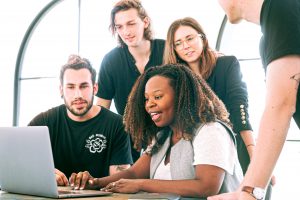 Employees with the right skills make or break an enterprise, create brand impression, represent the company's culture and values.
Disruptive technology is changing the contemporary work environment.  Employees in traditional roles are now feeling insecure and disengaged.  This dissonance threatens to take away the Competitive Advantage of companies.
Employee Engagement has emerged as one of the significant pillars on which the Competitive Advantage, Productivity, and Growth of an organization rests.
Disruptive technology and the resulting Digital Economy have uprooted many of the so-called traditional jobs.  Artificial Intelligence (AI) making diagnosis on medical tests is an example.  Does this mean that the doctors will lose their jobs?  The answer is no.  Doctors will have to train to gain new skills to work with AI.
Many other fields are, likewise, seeing work of employees being taken over by machines.  Does that mean employees will lose jobs?  Yes and no.  There is an urgent need for managements to upgrade employee roles and skills as well as take other steps that make an AI-enabled Workforce.
Upskilling Strategy can create new roles for existing employees leveraging their experience and help engage employees in an otherwise adverse work environment.
Upskilling comprises of acquisition of new and pertinent competencies, made necessary because of the current or emerging work environment.  Upskilling adds to the skills the employee already possesses.  Contemporary examples of Upskilling may be provision of Digital skills, Analytical skills, or Organizational Transformation skills to the employees.
Contrastingly, Reskilling means teaching totally new skills to employees.  Reskilling often mandates sending employees back to college or trade school to obtain a degree or certificate in a new field.
Expanding comprehension regarding how to effectively design and implement Upskilling projects may possibly determine society's Knowledge Assets.  The following 6-phase approach to Upskilling Strategy summarizes the key actions required to ensure effective design and implementation of Upskilling initiatives:
Determine the circumstances and define the project.
Create a skills plan.
Evaluate and guide each employee.
Pair jobs and skills and involve workers.
Pick out trainings and trainers.
Manage the project and examine output.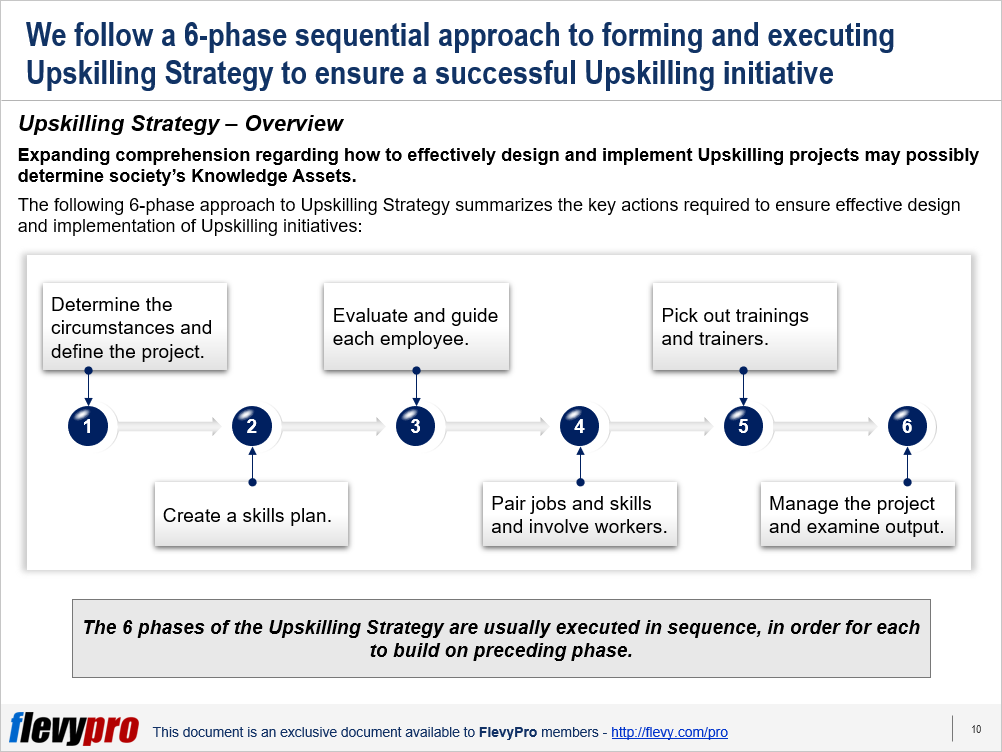 Let us explore some of the phases of the Upskilling Strategy a bit more.
Determine the Circumstances and Define the Project
Each circumstance is exclusive.  For determining what is involved in making an Upskilling Strategy for that particular situation; coordination, decisions, and actions on a number of levels at the same time is essential.
All Upskilling initiatives, whether originated by the local government or a result of a situation faced by a single enterprise, have some shared elements.
Create a Skills Plan
The skills plan should center priorities on the categories of jobs being impacted by the disrupting technologies, personnel extremely at risk, companies that stand to gain the greatest.
Devising a skills plan helps determine jobs that will be affected by new technologies, savings realized because of automation, categories of new skills that will be required, time span for these changes to take place.
Determining above factors helps design the training initiative that focuses on specific strategic training goals.
Evaluate and Guide Each Employee
Change always conjures fears in employees and takes them out of their comfort zones.  A well-thought-out assessment program that incorporates individual counselling and guidance can go a long way towards pacifying employee fears and assisting them move to an improved situation.
Interested in learning more about pitfalls and benefits of Upskilling, costs and ROI of Upskilling initiatives, details of the 6 phases of Upskilling Strategy?  You can download an editable PowerPoint on Upskilling Strategy here on the Flevy documents marketplace.
Do You Find Value in This Framework?
You can download in-depth presentations on this and hundreds of similar business frameworks from the FlevyPro Library.  FlevyPro is trusted and utilized by 1000s of management consultants and corporate executives.  Here's what some have to say:
"My FlevyPro subscription provides me with the most popular frameworks and decks in demand in today's market.  They not only augment my existing consulting and coaching offerings and delivery, but also keep me abreast of the latest trends, inspire new products and service offerings for my practice, and educate me in a fraction of the time and money of other solutions.  I strongly recommend FlevyPro to any consultant serious about success."

– Bill Branson, Founder at Strategic Business Architects
"As a niche strategic consulting firm, Flevy and FlevyPro frameworks and documents are an on-going reference to help us structure our findings and recommendations to our clients as well as improve their clarity, strength, and visual power.  For us, it is an invaluable resource to increase our impact and value."

– David Coloma, Consulting Area Manager at Cynertia Consulting
"FlevyPro has been a brilliant resource for me, as an independent growth consultant, to access a vast knowledge bank of presentations to support my work with clients.  In terms of RoI, the value I received from the very first presentation I downloaded paid for my subscription many times over!  The quality of the decks available allows me to punch way above my weight – it's like having the resources of a Big 4 consultancy at your fingertips at a microscopic fraction of the overhead."

– Roderick Cameron, Founding Partner at SGFE Ltd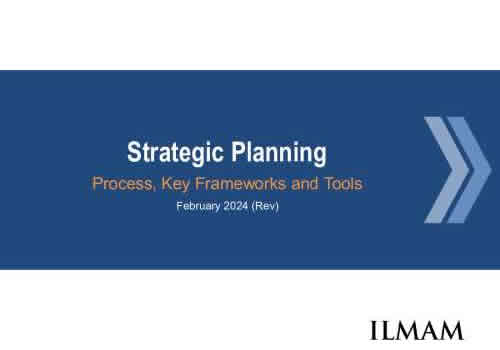 79-slide PowerPoint presentation
This document provides a holistic approach for undertaking strategic planning. While covering the traditional strategic planning approach, the document touches on adaptations that may be used in an unpredictable environment. Contents: 1. Strategic Planning Overview - Key questions and
[read more]
Readers of This Article Are Interested in These Resources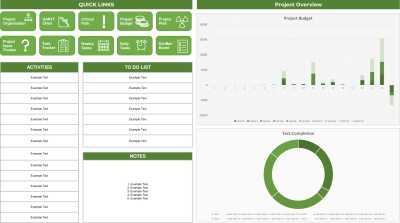 Excel workbook
///////////////////////// Project Management PMO Excel Toolkit / Workbook ///////////////////////// Attention all Project Management Office (PMO) professionals! Are you looking for a world-class solution to streamline your project management processes and enhance your productivity?
[read more]
103-slide PowerPoint presentation

Excel workbook
About Mark Bridges
Mark Bridges is a Senior Director of Strategy at Flevy. Flevy is your go-to resource for best practices in business management, covering management topics from
Strategic Planning
to
Operational Excellence
to
Digital Transformation
(
view full list here
). Learn how the Fortune 100 and global consulting firms do it. Improve the growth and efficiency of your organization by leveraging Flevy's library of best practice methodologies and templates. Prior to Flevy, Mark worked as an Associate at McKinsey & Co. and holds an MBA from the Booth School of Business at the University of Chicago. You can
connect with Mark on LinkedIn here.
Top 10 Recommended Documents
1-page PDF document
79-slide PowerPoint presentation
Excel workbook
103-slide PowerPoint presentation
Excel workbook
1-page PDF document
Excel workbook
3-page PDF document
407-slide PowerPoint presentation
51-slide PowerPoint presentation