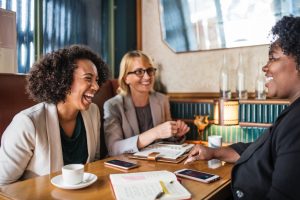 Currently, surveys reveal that 85% of US workers are somewhat or very satisfied with their jobs. This is a good sign, as employee satisfaction is closely tied to their engagement. Management expert Dwight Mihalicz previously explored the powerful impact of employee engagement on things like customer satisfaction, profitability, and productivity. If your employees are disengaged and unhappy, it can definitely affect their behavior, especially when it comes to issues related to turnover, safety, theft, and absenteeism.
So it goes without saying that it's not only important to keep employees satisfied with their jobs, but also engaged and motivated. In this regard, remember that impressing your workers and teammates shouldn't stop after the hiring process, as onboarding goes well beyond an employee's first day. Periodic check-ins are important and should continue for the next 12 to 24 months after welcoming a new team member to ensure that they're happy and engaged in the workplace. This process, though extensive, can be very rewarding, as Special Counsel's article on the '3 Keys to Successful New Hire Onboarding' points out that organizations with a strong onboarding process improve retention by 82% and productivity by 70%. This also sets the foundation for building a team that is happy, engaged, and more importantly, successful, in the long run. So alongside periodic check-ins, here are some of the most cost-effective ways to do that:
Prioritize work-life balance
Work-life balance is one of the key factors that contribute to a healthy work environment. It's been proven to reduce stress and prevent burnout, especially now that chronic stress has become the most common health issue in the workplace.
American Psychological Association assistant executive director David Ballard explains that it's no longer sufficient to focus on benefits to keep the workforce engaged and competitive. "Top employers create an environment where employees feel connected to the organization and have a positive work experience that's part of a rich, fulfilling life," he said.
Make the workplace fun
Offices have a bad rap for being drab and boring, but Ajmal Saleem from Suprex Learning told All Business that you can cheer everyone up by playing some music in the office and letting people put in requests for what they want to hear. "We also have a small basketball hoop so that we can shoot some hoops when we're taking a break," he shared.
If you're handling a remote team, you can create a bond with each other through online games. You can use ones like the Jackbox Party Pack, which includes Fibbage and Monster Seeking Monster. Both fun and engaging, these can also be a great way to cultivate creativity and camaraderie.
Promote horizontally
Companies operating with a limited budget will probably not have a lot of job vacancies, especially in the senior and leadership positions. It is because of this that your employees might feel tempted to move to a bigger company in search of better opportunities.
To counter this, Inc's Tanya Hall suggests creating opportunities to move in another direction — and it doesn't necessarily have to be upwards. It could be lateral opportunities or towards passion projects. Employees could start leading team initiatives or creating special products and projects. Consistently finding a way to help your employees shine would encourage them to work hard and excel in their roles.
Offer budget-friendly (but meaningful) perks
Perks can range from providing healthy cafeteria food and snack machines to wellness facilities and even free desktop music. Providing quality corporate-branded merchandise is also a good idea. You can work with a local printer and have your company's name printed on water bottles, t-shirts, and other useful things your employees can use at work. Another option is to open up your company to clubs that offer to teach valuable life skills, like public speaking and fitness training.