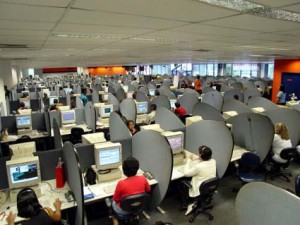 A typical call center will make and receive hundreds or thousands of different calls a day, with each of these calls coming at a price. The cost per call could include thing such as wages for call center staff, per-minute costs or premium number costs on the telephone bill, utilities for the call center itself, and the cost of the equipment and software used in order to make and take calls. Although each standalone cost might not blow the budget, taking hundreds or thousands of calls each day means that the cost soon starts to mount up. We've put together some handy tips to help your call center spend less per call.
Unified Communications
Unified Communications (UC) monitoring solutions can be a great choice for a call center, and just what your business needs in order to keep costs low and morale and productivity high. UC allow for easier collaboration between colleagues, which can be especially useful in a call center environment, where callers may wish to be passed on to a representative who they've spoken to earlier. Along with this, you can also get UC reporting/monitoring solutions which include call recording software. This software can be incredibly useful for call quality monitoring dispute resolution and providing feedback to employees, all of which can lead to quicker, more productive calls that will save you money in the long run.
Use Alternative Communication Methods
One way to cut down the cost per call in your call center is to reduce the amount of calls that you are handling. Many call center representatives will be able to easily work on other communication methods, for example web chat or email services which customers can use in order to quickly get in touch. Using other forms of communication which are less costly when it comes to communicating with your customers can not only help you to get through more interactions in the day, but also make the overall cost of running your call center down. This is because a single representative could handle more interactions at a time when using methods such as instant messaging.
Invest in Training
Many business owners like to keep costs low when it comes to things like training, but when you run a call center, not investing in quality training could actually be costing you money, rather than creating savings in the long run. By investing in good quality training for all of your customer service representatives, you will find that they will be able to handle calls more quickly and efficiently, allowing them to handle a higher volume of calls in a day, therefore reducing the cost per call when it comes to wages. Along with that, highly trained call handlers will run into less problems, meaning there is less of a risk of an issue with a caller costing you more than expected to resolve.
Call centers can be expensive to run, but it's possible to keep the cost per call down as low as possible without compromising on service standards.