Editor's Note: The Natural Evolution of Things is an in-depth is a 5-part series that describes 13 the catalysts of Organizational Change and Competitiveness, based on the theme of Michael Porter's Five Forces. To read the full series, take a look at the author's profile page found here.
* * * *
Survival of the fittest? Natural selection? Quite likely even when it comes to valuable business concepts – exceptional frameworks of immense value, one cannot help but be indebted to Dr. Michael for his 5 Forces which debuted in 1979. It has withstood the test of time – at least for the most part. Allow me to elaborate further.
As we are beginning to appreciate more and more, knowledge as well as many frameworks have a half-life of value which continues to shrink. Michael Porter's framework has withstood this effect better than most. However today, despite the number of growing areas of controversy around his famous framework causing Michael to have to defend his model or at least put it in the proper context from a more economic perspective, it is continued to be utilised and will be utilised but now as just one of many tools, techniques and frameworks for assessing the level of competition within an industry and the associated business strategy development used by organizations and consultants – it is no longer a primary tool, but what appears to be a secondary level tool – but still of significant value.
In addition, if we were to return to 1979, things were a bit different as we all appreciate. In many ways we all existed in a much less complex environment, a much lower level technological state and many organizations were beginning to just stretch their wings or strengthen them to try and become global organizations – reaching out to touch countries – locations around the world that many had never even heard of before. As they did this, they needed help in the form of excellent frameworks to assist them not only in strategy development but critical strategic decision making. It was at this time and in this context that Michael Porter's 5 Forces became an almost indispensable aid to them adding enormous value. The focus was clearly on industry competitiveness as opposed to individual organizational competitiveness. We at Insights Paradigm now think that the focus has shifted as of some years ago because organizations, especially global ones, have gained possibly as much as 80%+ of the insights and understanding they need to compete in their industry even globally. The priority, we believe, is now clearly on 'How do I gain and maintain lasting competitiveness for my organization – ensure that it will be an enduring organization able to stand the test of time, change and turbulence?'
We know that to really develop the best strategies for gaining and maintaining organizational competitiveness or remaining in a leadership position long-term you have to understand your industry – that goes without saying. What we are saying is that with respect to most industries, if not all, even on a global basis, all is known that can be known. Of most particular interest to individual organizational competitiveness are issues such as: who are my competition; what are their true competitive advantages and vulnerabilities; what are the real barriers to entry into our industry – are they increasing or decreasing; what is the risk of new disruptive entrants or use of blue ocean strategies where the risk is that our industry may be redefined? That kind of business intelligence is always essential and generally more available than ever.
But what about now in 2017 some 38 years later after introduction of the 5 Forces? Well we can unequivocally say things have changed in virtually every dimension which affects how an organization needs to think and act. Complexity is the order of the day. Technological innovation is occurring at an exponential rate. New emerging trends, evolving patterns, changing requirements, competitive movements and more – all contributing to turbulence in the operating environment globally is the norm, not the exception.
More fundamentally, while Michael Porter's framework came primarily from an economists viewpoint with a strategic perspective integrated into it, our feeling is that what is now needed is a new framework – a new generation 5 Forces so to speak which takes us not only into the brave new world in which we in our organizations operate today, but well into the future as we indeed attempt to shape that future to our advantage – each and every one of us. This new framework moves away from things 'economic' and brings strictly what might be called a 'strategic leadership view' – that is, a view of what the forces or influencers, the catalysts are that will motivate change in an organization will shape the future of organizations leading them to gain and/or maintain a position of strategic leadership – that is be in the 'winner's circle' at the end of the day after enduring the test of time, change and turbulence or not as their leadership decrees based on key strategic decisions right or wrong.
So, what is it that we at Insights Paradigm believe is a more valuable framework which will allow organizations to conduct future shaping more successfully in this brave new world of volatility and complexity? What is it that we believe should now be utilised relentlessly rather than Michael Porter's 5 Forces, although always available as a supplementary framework? WE have identified what we believe are 13 catalysts of change – factors so powerful and growing in strength that organizations will be forced to respond or literally become extinct. Allow us to show you the 13 Catalysts we believe you need as the leadership team to take a very close look at and assess relative to your organizations position and the level of competitiveness you hope to achieve. We will  then discuss each item briefly: and end on a final note of what we believe is simpler but power vital few 5 Forces which will determine the success of any organisation or not if they choose to ignore them.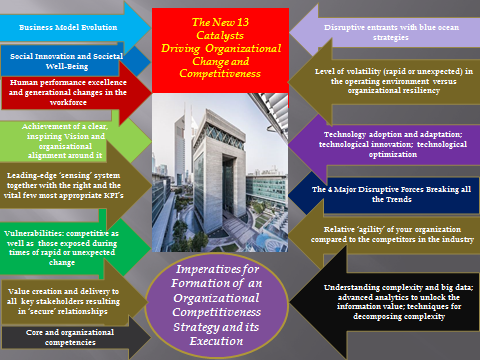 No one ever guaranteed it would be easy, but in fact it is easy. Each of the 13 catalysts shown in the above diagramme are logical, relevant and easy to assess. In terms of their impact on designing the right competitiveness strategy and better ensuring its execution – nothing here is 'rocket science'. In 38 years, since the advent of Michael Porter's 5 Forces we have already agreed at least twice that a few things have changed – some of them exponentially in shear level such as technology and disruptive trends like aging populations and, frankly, the importance of maintaining organisational competitiveness itself into the future. Read 'Strange Rebels: 1979 and the Birth of the 21st Century' by Christian Caryl for some useful insights on 'things changed.'