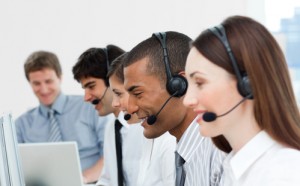 For many companies, improvements in technology over the past few decades haven't improved their customer service. In 1976, a White House study found that only 23 percent of customers were completely satisfied with companies' solutions to their problems, while 44 percent said that solutions companies provided were at least acceptable. Today, the percentage of customers who report merely acceptable solutions remains at 44 percent, while the number who are completely satisfied has fallen to 20 percent, an Arizona State University study found. Some of today's top customer complaints involve poor use of technology to handle service issues. For instance, 75 percent of customers say they are highly annoyed by inability to get a live person on the phone, 68 percent complain about companies hiding their customer service numbers and 66 percent are upset about being repeatedly asked for the same information, Consumer Reports says. Fortunately, smarter use of technology can help your company avoid these types of complaints and deliver better customer service.
Live chat lets your customers talk to a real representative
To avoid complaints from customers who can't get a hold of a live representative on the phone, live chat is proving to be an ideal solution. In fact, research shows that customers who try live chat for customer service prefer it to phone service or other channels. Ninety-two percent of customers report satisfaction after a live-chat session with service representatives, compared to 88 percent of customers who receive phone service, 85 percent who receive service via web form or email and 84 percent who receive service through Facebook. Adding live chat capability to your customer service options can enable your business to deliver higher levels of customer satisfaction.
Cloud contact centers let you offer multiple contact options
While live chat can resolve many customer issues, there remain times when other response channels are needed. For instance, while 49 percent of consumers prefer live chat for assistance with online shopping cart issues, 74 percent would rather speak to a representative on the phone to answer complex financial questions, a Software Advice survey states. Customer channel preferences also vary by demographic, with customer preference for live chat answers to general questions dropping from 56 percent for consumers aged 18 to 34, to 27 percent for those aged 35 and older. To meet the needs of consumers from all backgrounds in all situations, cloud contact centers facilitate omnichannel support that integrates live chat, phone, web self-service, social media and video service.
Omnichannel integration avoids annoying repetition
Omnichannel support can also prevent customer complaints about having to repeat the same thing to multiple representatives in the course of resolving an issue. Cloud contact center solutions provide a central platform where representatives can view all information pertaining to a single customer ticket information regardless of its channel of origin. This enables customer service teams to deliver customers seamlessly integrated support, with one representative picking up the conversation where the previous support channel left off — without the need to pester customers with the same questions all over again.
Social media service protects your brand's reputation
An effective omnichannel customer service solution also requires social media support. Forty-two percent of customers who complain about an issue on a brand's social media channel expect an answer within an hour, and 32 percent expect a response within a half hour, The Social Habit reports. Making sure your customer service solution includes social media support will help ensure that social shares about your brand remain positive.