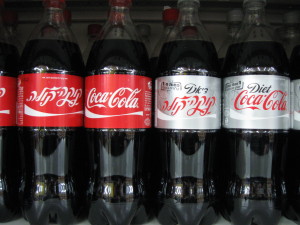 Before I discuss the five strategies to improve your brand, perhaps I should address what it means to improve a brand and why you would want to.  To improve a brand means to increase its value.  The value of a brand can be quantified by the market value of a company (total shares of stock outstanding x the company stock price) minus the value of its assets (these can be found on the company balance sheet).  Using this methodology, the brand Coca-Cola consistently has been considered the world's most valuable brand.  This implies that Coke shareholders are willing to pay a higher premium for Coca-Cola stock relative to its asset value than for any other publically traded stock.  Why would Coca-Cola shareholders do this? Coca-Cola shareholders know that the brand Coca-Cola has intrinsic value.  The value is manifested in attributes such as authenticity, refreshment, originality, consistency and taste.  Consumers choose Coca-Cola billions of times per day because of these attributes.  The more Coca-Cola Company can increase its brand value, the more consumers are likely to consume the Coca-Cola.  More consumption translates into more revenue and more profit.  The higher the profit, the higher the return will be on shareholder value.
So here are my five strategies to improve your brand:
Improve your understanding of what the brand means to those who consume it.  There are a variety of reasons why people choose to drink Coke.  Many people drink Coke because of the way they will be perceived by others.  Others drink Coke because they know they will be accepted.  Some drink Coke for the increase in energy they get.  Still others drink Coke for the refreshment and great taste.  By knowing how your consumers perceive your brand, you will always be in a position to fulfill their expectations.
Innovate your products to meet the needs of your consumers before they are aware of them.  When Nintendo launched the Wii, they created a product that revolutionized the way people played video games.  Nintendo created a product for their consumers they hadn't even dreamt of.  By doing so Nintendo not only delighted avid video game players but they also converted non video game players into Wii players, by the millions.  With games like Wii Sport and Wii Fit, consumers can now entertain themselves for hours and feel good about how they spend their time.
Stay solution focused.  Product engineers and marketers are notorious for creating all kinds of new features for existing products.  If the features don't provide a specific benefit that the consumer wants or needs, they may end up hurting the brand.   Conversely, a feature that meets a need can provide tremendous value to a brand.  The makers of Sharpie delighted their consumers when they finally developed a retractable Sharpie that could be operated with one hand and not dry out.
Pay attention to the details.   There is nothing more exciting for consumers than when they find a product that exceeds their expectations.  That is why I love driving my Acura MDX.  It is an SUV that drives like a car with so much more.  The front seats have an infinite number of electronic adjustments so anyone can find the perfect sitting position.  The instrument panel is simple to read and easy on the eyes making driving in hazardous conditions safe and enjoyable.  The vehicle seats seven comfortably making car pool a breeze.  And, both back row seats fold flat enabling me to haul as much as a mid-size pickup truck.  I could go on and on about the other features of my MDX, but I think I have made my point.
Be consistent and reliable.  When consumers can trust their brand experience will be the same every time, they will value that brand more and more over time.  In thousands of restaurants all around the world, people consume McDonald's burgers and fries millions of times a day.  The fries they eat in the morning taste just like those they eat at night.  The Big Mac they bought in Beijing was delivered to them in the same amount of time as the one they bought in Baton Rouge.  The menu board, the restrooms and the seating area are clean and look the same in every restaurant.  And while McDonald's often does not rank first in taste, they consistently rank first in market share and revenue.  For this consumers reward McDonald's with their patronage.
Stay passionate–OK, I lied.  There are six strategies for building brand value.  The last strategy is to let your passion shine through in everything you do.  Consumers love brands whose owners are as passionate as they are.  That "never rest on your laurels" attitude translates into exciting and superior products that continue to wow and delight consumers.  One of the reasons people love the Apple brand so much is because of the passion expressed by their employees.  Despite being the little guy, Apple enjoys going toe to toe with Microsoft.  As a consequence Mac users revel in being a part of the whole anti-establishment camp and are some of the most loyal consumers on the planet.  As a result, there is no other computer or mobile technology brand like Apple.