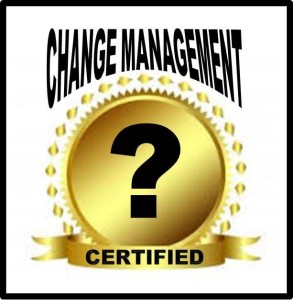 I suppose it depends on which definition you want to use … to be certified as "insane" or "endorsed authoritatively as having met certain requirements?"
If it is the former, having been a Change Manager for many years, I sometimes think you have to be certified as "insane" given everything thing you have to deal with (LOL). However, this discussion is about the latter… "endorsed authoritatively as having met certain requirements."
Over the past year I have taken part in many LinkedIn discussions about certification in the context of Change Management. So, I thought I would try and crystallise what I have said previously into this short article
First of all, let's take the two "professional bodies" currently vying to represent the global change community:
Both these bodies purport to represent the "change agent" community but with ACMP membership standing at around 2,000 and CMI membership in excess of 1,000 (in the absence of any official figures that's an educated guess) I would hardly call that representative when you consider that membership of "change" groups here on LinkedIn exceeds 100,000.
The ACMP is developing what they call "the Standard" which will also come with the Certified Change Management Professional (CCMP) recognition and the CMI are creating their CMBoK but also have accreditation:
ACMP Certification … will create an objective and measureable standard for the application of change management as a professional discipline, but will not certify the relative effectiveness of a "person" as a change manager or change consultant.
CMI Accreditation … the underpinning premise of the Institute's accreditation is to ensure competency is a reflection of what the practitioner does, as well as what they know. This is a key difference which makes the Institute's accreditation a sought-after and valuable credential.
So there are two organisations, supposedly acting with the interests of the global "change" profession, who are on the face of it going about things in two totally different ways. I think this is divisive and not good for our profession.
I believe this incessant push for certification/accreditation is a "self-serving" move by these bodies which is more about revenue (although both say they are "non-profit") as opposed to one that is best for the "change agent" community. Unfortunately we are a diverse and fragmented profession and whilst I applaud these bodies for trying to bring some order and rigour to it I am not sure they are going about it the best way with their different professional programmes.
OK, enough of the ACMP and the CMI.  Let's now take a look at "change certification" in a wider context.
If you do a Google search on "change management certification" you get over 1,000,000 hits. Whilst not all of these will be specific to a certification program if you take just 1% of that figure (11,140) it just gives you an indication of the plethora of Certification Programs there are out there on Change Management. Setting aside Prosci & Kotter (arguably to two best known programmes) and the ACMP and the CMI the following are just a few of the "certification" programmes that came up in my Google search:
I have done what I call a "quick & dirty" piece of analysis of some of these and have found they all contain a similar DNA:
They are typically between 3 to 5 days.
They all seem to have some kind of test/exam at the end … mainly multiple choice.
The training is based on the specific methodologies.
They all cost a fortune.
Again this is my personal opinion but the organisations offering these programmes are purely focused on "revenue creation" (much like the ACMP and the CMI) as opposed to adding value to the change profession.
The question I have is … can a person who has attended one of these programmes and gained their coveted certificate really call themselves a "change" professional and practise change? For me there are two answers to this question:
If they have previous experience under their belt and they are seeking to augment that experience and gain certification then YES. The only reservation I would have here is how long their "experience" is!
If they have had no previous experience and want to practise change and their first step is to gain a certificate then NO. Change is not necessarily something that can be taught. It is intuitive, people-centric and is a "calling".
I remember a comment in one of the discussions I mentioned earlier which someone posted in support of certification which went something like … "so that you can prove to the world that you can do the job (in which case you need a professional accreditation)". Absolutely not! There are many ways to prove that you can do the job such as recognition through references, recommendations and endorsements here on LinkedIn which are from clients, co-workers, team members alike and to me mean more than having a certificate on the wall and letters behind my name.
Going back to my comment about being a "diverse and fragmented profession", to illustrate this, the following are a selection of comments (I have tried to keep these balanced between the "for" and "against") from change professionals in answer to a survey I undertook some while ago here on LinkedIn regarding this very subject:
Exceptional change leaders come from a variety of backgrounds, educations, and careers. The certification does not make the change leader. And certification without experience does not deliver better outcomes.
It certainly wouldn't hurt to have a certification that provides a robust method for validating a practitioner's ability to apply theory and best practices in a measurable way.
I have to wonder if our industry could ever agree on standards that would lead to a widely recognized certification in change management. When I say "widely recognised" I mean by others outside of our profession. Further, do we really need such a certification?
What if the question is "would certification, even of tactical CM, be an improvement to where we are and what the profession can deliver?" I say "yes".
Certification can ensure there are at least some standards to the toolkit that clients will be presented when they want change management. In its early years project management had the same discussions, lack of standards, and problems. Now, when the industry discusses project management it knows what to expect.
How are you going to sell it to organisations? Especially with the current track record of implementing Change Projects? What are you going to tell organisations will be the high value contribution of certification?
So there you have it. This is and will be an ongoing debate I am sure and once again I will use a favourite phrase of mine "horses for courses" … some will see the value of certification which will probably be those just starting out in the professions but others will not which will probably be those of us that have been practising change for a long time and have a "track record" of success that does not require a "certificate" to prove we can deliver.