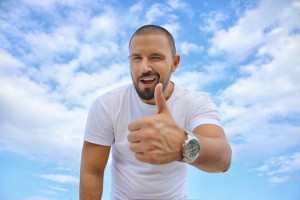 With social media and customer review websites, it's easier than ever for customers to publicly state their opinion of your business dealings. Hopefully, this is a positive thing, and your experiences so far have been nothing but positive. The question in this digital age is how to ensure that your customers are getting the best service you can provide, and with that comes the fact of repeat custom. Customer happiness is one of the keys to a successful business, and no matter which industry you work in, chances are that customer satisfaction is one of the more important elements of your role.
Personalize Your Communication
Of course, the internet means that anyone on the planet can visit your sales page, but just because it has to be tailored to everyone, that doesn't mean that you have to make it bland and lifeless. Adding your own personality, whether it's a true version or a manufactured and designed ideal, will go a long way to making people trust your company. There's a reason that social media posts by major corporations go viral when they display humor and self-awareness; we like being reminded, even subconsciously, that there are faces behind the shiny facades of the mega-business.
Deliver on Your Promises
If you're using a website that guarantees delivery by a set time, then you are able to arrange your life around that delivery. There is nothing worse than waiting in all day, only to find that for reasons beyond the customer's control, their delivery either didn't arrive or delivery was attempted at the wrong time. This isn't going to convince that customer to use your services again. To improve the delivery of your business, you could either screen many delivery services and only employ the most trusted one, or, instead, you could start your own delivery service. If you're looking to do the latter, then you'll have to buy a couple of trailers from a trusted company like ATE trailers, employ delivery drivers and keep track on what's order, out for delivery and delivered.
Do Your Research
Market research works on both sides of a sale. Finding out what potential customers want from your product or service is vital for clarifying your business model and can help you to design your business strategy. In those terms, it is obvious that research can prevent serious loss of money in the opening stages of your business plan. However, just because a sale is made, that doesn't mean you have to stop the research there, as finding out what existing customers felt about your service will tell you a lot about where improvements can be made (and where you're doing the best). These customers are just as important as your future customers, as the ones that have already spent money with you are more likely to return if their experience was without stress or hassle.
Whether you're a legacy business with an existing customer foundation or a brand new start-up looking to break into a new market, by making sure that your customers get the best service from start to finish, you will only help to secure the future of your company.