BENEFITS OF DOCUMENT
Provide a Managerial Grid of Leaders
Provide a Elements of High Performing Leadership
Provide a Six Traits of Leaders
DOCUMENT DESCRIPTION
This product (
Quality Leadership Skills

) is a 30-page Word document, which you can download immediately upon purchase.

Quality Leadership Skills
Leadership Skills for Boosting Performance

Contents
1. What is Leadership ?
2. Six Traits of Leaders
3. Managerial Grid of Leaders
4. Contingency Model of Leadership
5. Elements of High Performing Leadership
6. Leader as Vision Creator
7. Four Characteristics of Goal Setting
8. Leader as Team Builder
9. Leader as Tasks Allocator
10. Steps to Delegate Effectively
11. Leader as People Developer
12. Leader as Motivation Stimulator

Leadership can be described as the process of social influence, which maximizes the efforts of others towards the achievement of a goal. This definition considers a number of elements that are regarded as crucial to the understanding of what leadership is.

Leadership must emanate from social influence and does not stand on power or authority. It must involve the interaction with others who are not only persons who report directly to the leader. Leadership in this definition does not rest on titles, personality traits, or attributes but acknowledges that there are many styles and paths to leadership.

Finally, leadership by this definition includes goals, implying that influence must be directed at achieving an outcome that is intended.

This concept of leadership also embodies visions and goals that leaders articulate and which enable other persons to share and achieve these visions and goals.

Leadership is also described as a state of mind and is the ability to use spirit, vision and character to get people from different backgrounds to work together as a team. Six key traits set leaders apart from other persons. These are:

• Drive
• Desire to lead
• Integrity
• Self Confidence
• Intelligence
• Job relevant knowledge

Drive: Leaders with drive show a high level of effort. These individuals possess a strong desire for achievement. These persons also possess high energy, demonstrate initiative, and they are also filled with determination and persistence to achieve in whatever they do.

Leadership demands that persons who aspire to lead are those who possess the determination and focus to achieve their objectives. Drive is an important characteristic for leaders who must demonstrate their overall competence and commitment.

Desire to lead: Leaders are expected to demonstrate a powerful desire to exert influence and direction to others. These individuals also demonstrate a willingness to assume responsibility for their actions as well as those of the people they lead. A desire to lead should be borne out of a genuine concern for the condition of others and not motivated by selfish aims for power and influence.

Integrity: Leaders are expected to cultivate relationships of trust between themselves and their followers. This must be based on truthfulness and the demonstrated consistency between his words and actions. Importantly integrity in leadership must be demonstrated at all times and not appear to be selective in how this is applied.

Self-Confidence: No follower feels confident with a leader who does not have confidence in his own abilities and character. Leaders must demonstrate a high level of self-confidence that convinces others of the soundness of the visions, goals and decisions that have been adopted. With a self-confident leader the confidence of the team being developed and led would also be enhanced.

Intelligence: This is a critical attribute for leaders as they are required to pull together, analyse and interpret significant volumes of information in their decision making and policy setting. Leaders are also expected to solve problems, create visions, and make the right decisions. Intelligence also extends to emotional intelligence which is also an important part of the arsenal of attributes that leaders must possess.

Job relevant knowledge: Leadership demands a sound knowledge of the company that leaders represent, the industry of which the company is a part, and knowledge of the technical areas as well. With extensive knowledge of the company and industry as well as technical expertise effective leaders are able to make well- informed decisions and understand the benefits and consequences of such decisions taken.

Thank you for your attention.

Regards,

UJ Consulting

Got a question about the product? Email us at [email protected] or ask the author directly by using the "Ask the Author a Question" form. If you cannot view the preview above this document description, go here to view the large preview instead.

Source: Best Practices in Leadership Word: Quality Leadership Skills Word (DOCX) Document, UJ Consulting

ABOUT THE AUTHOR: UJ CONSULTING

UJ Consulting

Untung Juanto ST., MM. Founder of UJ Consulting. He is professionally experienced business and management consultant in several local and multinational companies. [read more] He has an experience in managing an effective and efficient company with various approach methods adapted to different industries because He had a career from the lower management level as Supervisor before finally being at the top management level. His Top Management experience started from the position of General Manager, VP Operation, HR Director and Business Development Director

He completed his undergraduate education majoring in Architecture at Diponegoro University, Semarang, Central Java, Indonesia. After that, He continued to Master of Management level majoring in Human Resource Management with cum laude predicate with a GPA of 3.94 at Mercubuana University, Jakarta, Indonesia.

His last work experience as Deputy President Director at Hutahaean Group in charge of 14 business units engaged in various industries including CPO Production, Oil Palm Plantation, Cassava Plantation, Tapioca flour production, 4 and 5 star hotels, waterparks, golf courses and housing with a total of employees more than 3,000 employees.

His biggest achievement was in 2021 when He served as Deputy President Director at Hutahaean Group Indonesia by increasing the company's revenue from IDR 700 billion to IDR 1.1 trillion (y/y) and increasing the profit margin by more than 20%. Doing a turn around on business units that have lost in the last 5 years become profits. In addition, He have also succeeded in creating an efficient and effective management system by redesigning the Business Process Management (BPM), reviewing Standard Operating Procedures (SOP) and Work Instructions and compiling the appropriate Key Performance Indicator Management (KPIM) to increase employee productivity.

He is currently active as a part-time business and management consultant (online) at Enquire Corp. and Flevy Corp. In addition, He also teach part-time at several universities for courses in strategic management, human resource management, project management, entrepreneurship and business.

UJ Consulting has published 170 additional documents on Flevy.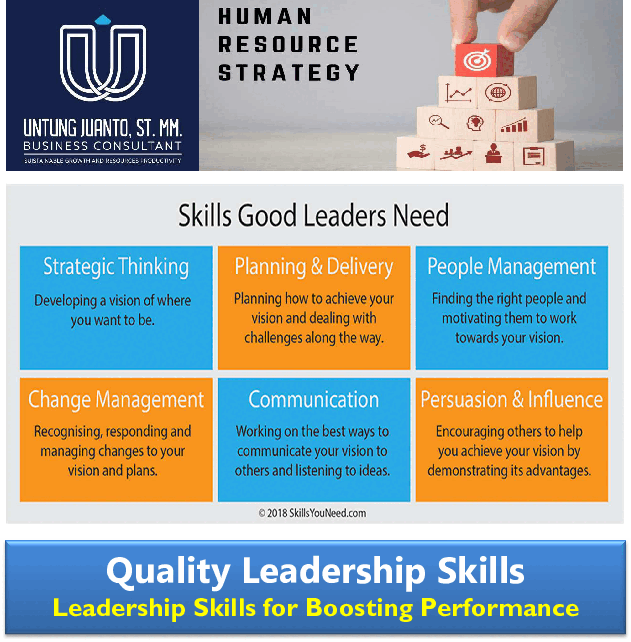 DETAILS
File Size: 397.9 KB
Number of Pages: 30
Related Topic(s): Leadership
This business document is categorized under the function(s): Organization, Change, & HR
It applies to All Industries
Purchase includes lifetime product updates. After your purchase, you will receive an email to download this document.
Initial upload date (first version): Jan 14, 2023
Most recent version published: Jan 18, 2023