Factory Audits are often conducted by companies to confirm whether the supplier is delivering the supplied goods per agreed-upon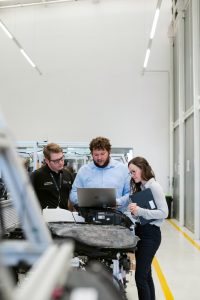 terms and standards (e.g. quality, safety, ethical, environmental, etc.). This has become an important undertaking for companies to continually ensure that it consistently meets it's quality and performance standards. In a time where there is global competitiveness coupled with a disruptive economy, the importance of strengthening Supply Chain Management has become a factor for survival and sustainability.
A Factory Audit is critical before placing the initial order. It is also important for companies to continuously conduct a Factory Audit throughout their relationship with the supplier.
The Importance of Factory Audits
A Factory Audit is a snapshot of a factory at a particular moment in time. Its goal is to verify whether everything the company said about themselves is true. At this time wherein competition has become fierce and consumers more demanding, companies are now pushed to provide the products and services that the market demands. And often, when there are problems, companies realize that these problems are due to suppliers' inability to provide the right product in terms of quality, volume, and time. When this occurs, often it can be costly for companies to switch suppliers.
Before placing an initial order, it is critical that a Factory Audit must be undertaken to validate the details of the proposal. A Factory Audit ensures that the original terms are continuously met and it identifies areas for improvement so that progress can be encouraged over time.
It is possible that your supplier is just trying to win your business. Conducting a Factory Audit will let you know for sure.
What Factory Audit Must Your Company Undertake
There are different types of Factory Audits. Companies must be able to know the type of Factory Audit that is best suitable for them.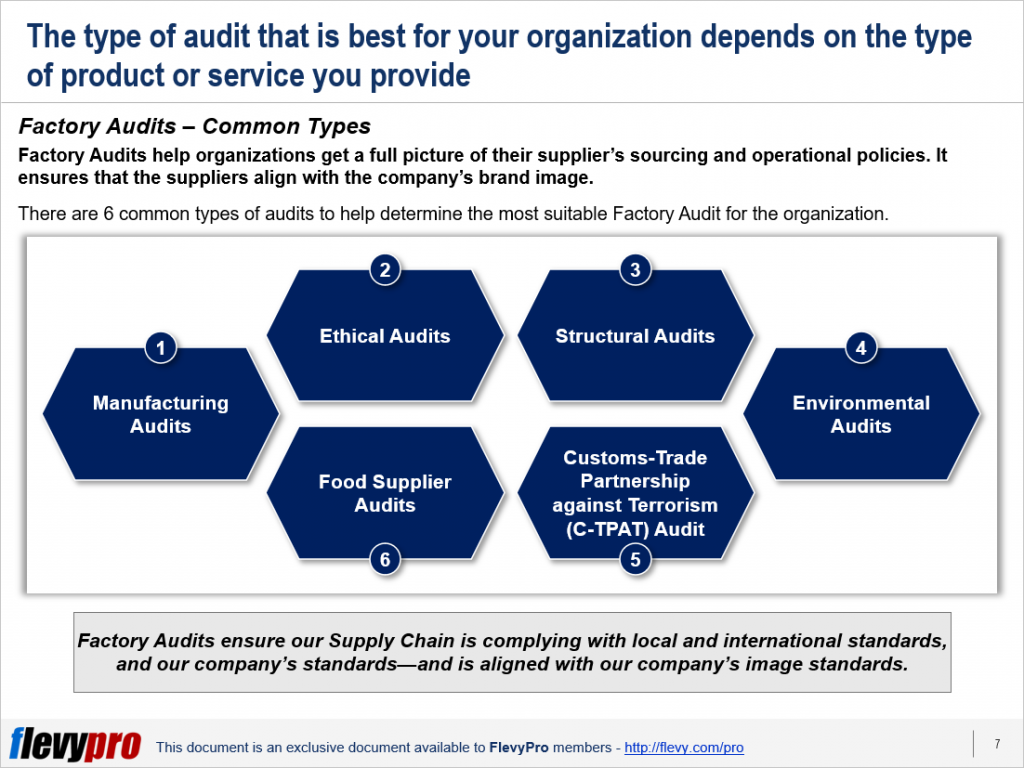 Let us take a look at 2 of the 6 types of Factory Audits.
Manufacturing Audits. The primary purpose of the Manufacturing Audit is to determine if a supplier is capable of producing a product that meets the company's specifications, addressing costly disruptions, and preventing further costly disruptions once production is launched. If a Manufacturing Audit is conducted, it enables the company to align its sourcing policies with that of the supplier's policies. It also allows the company to already identify and mitigate potential quality, operational, and ethical risks at the early stage of production.
Ethical Audits. The Ethical Audits ensures that social accountability is reviewed and that appropriate work conditions are being followed. If this is undertaken, it ensures that the company's Supply Chain has decent working conditions and human rights practices. It is also useful in determining compliance with statutory requirements and prevent unauthorized subcontracting.
The other 4 types of Factory Audits are Structural Audits, Environmental Audits, Customs-Trade Partnership Against Terrorism (C-TPAT) Audit, and Food Supplier Audits. Structural Audits include auditing of structural integrity, fire safety measures, relevant codes, and conditions. Each and every type of Factory Audit has its purpose and benefits. All types of Factory Audits ultimately lead to the goal of protecting the company's image and brand image.
The Revolutionary Transformation of Factory Audits: The Digital Audits
There is a new type of audit system that digitizes the process and plays a vital role in Digital Transformation. This is the Digital Audit. Digital Audit is a new Factory Audit process that evaluates supplier performance in more depth. It is an advanced system that links risk and product quality to inspection outcomes.
With Digital Audits, it has increased the effectiveness of Factory Audits as a risk management tool. It can also tie CSR (Corporate Social Responsibility) oversight to performance indicators that affect buyers' bottom line. With a digitized audit platform, both CSR and product quality factors can already be included in factory inspections. These are the PLUS Factors and many more that can be highly beneficial when it comes to Supply Chain Management.
Interested in gaining more understanding of Supply Chain Factory Audits? You can learn more and download an editable PowerPoint about Supply Chain Management (SCM): Factory  Audits here on the Flevy documents marketplace.
Do You Find Value in This Framework?
You can download in-depth presentations on this and hundreds of similar business frameworks from the FlevyPro Library. FlevyPro is trusted and utilized by 1000s of management consultants and corporate executives. Here's what some have to say:
"My FlevyPro subscription provides me with the most popular frameworks and decks in demand in today's market. They not only augment my existing consulting and coaching offerings and delivery, but also keep me abreast of the latest trends, inspire new products and service offerings for my practice, and educate me in a fraction of the time and money of other solutions. I strongly recommend FlevyPro to any consultant serious about success."

– Bill Branson, Founder at Strategic Business Architects
"As a niche strategic consulting firm, Flevy and FlevyPro frameworks and documents are an on-going reference to help us structure our findings and recommendations to our clients as well as improve their clarity, strength, and visual power. For us, it is an invaluable resource to increase our impact and value."

– David Coloma, Consulting Area Manager at Cynertia Consulting
"As a small business owner, the resource material available from FlevyPro has proven to be invaluable. The ability to search for material on demand based our project events and client requirements was great for me and proved very beneficial to my clients. Importantly, being able to easily edit and tailor the material for specific purposes helped us to make presentations, knowledge sharing, and toolkit development, which formed part of the overall program collateral. While FlevyPro contains resource material that any consultancy, project or delivery firm must have, it is an essential part of a small firm or independent consultant's toolbox."

– Michael Duff, Managing Director at Change Strategy (UK)
"FlevyPro has been a brilliant resource for me, as an independent growth consultant, to access a vast knowledge bank of presentations to support my work with clients. In terms of RoI, the value I received from the very first presentation I downloaded paid for my subscription many times over! The quality of the decks available allows me to punch way above my weight – it's like having the resources of a Big 4 consultancy at your fingertips at a microscopic fraction of the overhead."

– Roderick Cameron, Founding Partner at SGFE Ltd
"Several times a month, I browse FlevyPro for presentations relevant to the job challenge I have (I am a consultant). When the subject requires it, I explore further and buy from the Flevy Marketplace. On all occasions, I read them, analyze them. I take the most relevant and applicable ideas for my work; and, of course, all this translates to my and my clients' benefits."

– Omar Hernán Montes Parra, CEO at Quantum SFE