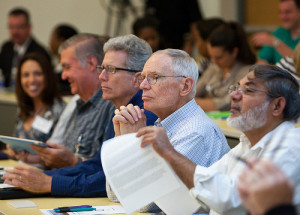 Several training series have recently been published on Flevy  on the management topics of Lean (Operational Excellence) and Organizational Excellence. These training series can be used for internal certification programs in organizations of all sizes.
Lean Shop Floor Training Series – 8 Modules.  This is a Lean training series for beginners.  With this series, you can arm your front line staff with the tools and techniques required to minimize waste by applying and sustaining lean principles and practices.
Lean Leader Training Series – 12 Modules.  This is a Lean training series for Team Leads and Supervisors.  This training series is at a higher standard than the shop floor series.
Lean Champion Training Series – 15 Modules.  This is a Lean training series for Managers and above roles.  These series is at the highest standard among the 3 Lean enterprise series. When a person completes all the 15 modules, she can be awarded a "Lean Champion" certificate by your organization, which is equivalent to a Black Belt.  At this point, she can lead groups of team in successfully developing strategies and implementation of various Lean principles.
Organizational Excellence Workshop (OEF) Framework – 10 modules.  The OEF Framework integrates various excellence models and provides implementation guidelines for the practitioner.
Do you need a review on Operational Excellence or Lean Thinking? Have a look at these resources on Flevy:
About the Training Series Authors
Vishnu Rayapeddi is a management executive with over 26 years of experience in End-to-end Supply Chain Management, Manufacturing Operations Management, Strategic Planning, Business/Operational Excellence, and Process Re-engineering/Improvement.
Dawn Ringrose has been consulting in Organizational Performance since 1984. She is a Certified Organizational Excellence Specialist, Certified Excellence Professional, Registered ISO 9000 Specialist, Assessor of Quality Systems, and Certified Seminar Leader.