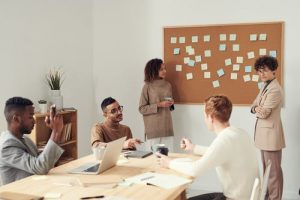 One of the biggest problems with business today is complacency. Here we will explore how a lack of vision can cause complacency and how the combination of the two can cause a business to fail in turn.
What is a vision statement? Your vision statement is your key to avoiding complacency before it starts. An effective vision statement is carefully calculated. By taking the time to calculate your goals and aspirations for your company, you can avoid expensive setbacks in the future.
It's worth noting that your vision statement is a critical component in terms of business practices. As you are about to discover, the more you invest in improving current business practices, the faster your company will grow.
What Is a Vision Statement?
Your company's vision should be clearly outlined in your vision statement. A vision statement is your chance to define the overall goals and aspirations of your business. For example, if you want to build a company that wants to improve the lives of its customers while preserving the environment, you can write a vision statement that reflects those goals.
Alternatively, you might have loftier goals in mind, such as dominating your market while making significant advancements that will bring the world forward as a community.
When it comes to how to write a vision statement, it's best to leave it to the professionals. Jot down your goals and an essential summary of what you want your company vision to be, and let a professional write the official vision statement.
Mission Statement Vs. Vision Statement
At this point, you might be wondering about mission statement vs. vision statement. So what makes a vision statement different from a mission statement? For one thing, your vision statement is concerned primarily with the future, while your mission statement should be designed to address the here and now.
A vision statement is just that, a vision which means it incorporates your aspirations for the future. A mission statement, on the other hand, is built to address the needs of the present. Your mission statement should include immediate and short-term goals along with some direction as to how those goals are to be achieved.
Why Your Vision Should Be Proactive
One thing that you should know is that the ideal vision statement is a proactive one. This means that your vision statement should encourage your team to be proactive in their pursuit of common company goals. In other words, your vision statement should be designed to help decision-makers avoid being reactionary.
With a vision statement that puts an emphasis on being proactive, your employees will be less likely to react to losses and more likely to take preventative measures to avert such losses in the first place.
How Effective Vision Statements Prevent Complacency in a Commercial Organization
A complacent business is a failing business. Without an effective vision statement, employees will have no direction. They will have rules to follow without any goals to direct the flow of progress.
You need a powerful vision statement to inspire your team to do their best and pursue your company goals with utmost tenacity and efficiency. The more compelling your vision statement is, the less complacent your workforce will be. The most effective employees are ones that are passionate in their pursuit of the goals and aspirations outlined in the vision statement of their employer.
Conclusion
In conclusion, companies of all sizes should be investing in anything that can help them master more efficient business practices.
Now that you know more about the importance of having a carefully calculated vision statement, you can appreciate the need to improve business practices and develop a compelling vision statement for your company.
You have the info you need to succeed, the rest is up to you!