Open Corporate Accelerator (OCA)
Featured Business Best Practice: A Comprehensive Guide to Digital Transformation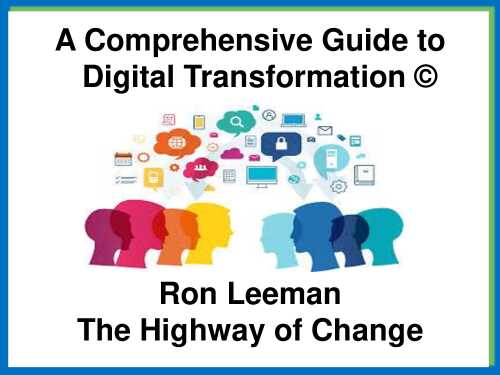 173-slide PowerPoint presentation
This is the "new improved" A Comprehensive Guide to Digital Transformation. What was one 141 slides had now increased to 173 because I have added a number of latest slides to the deck with new approaches, latest thinking additional "benefits" slides, a section on reasons for
[read more]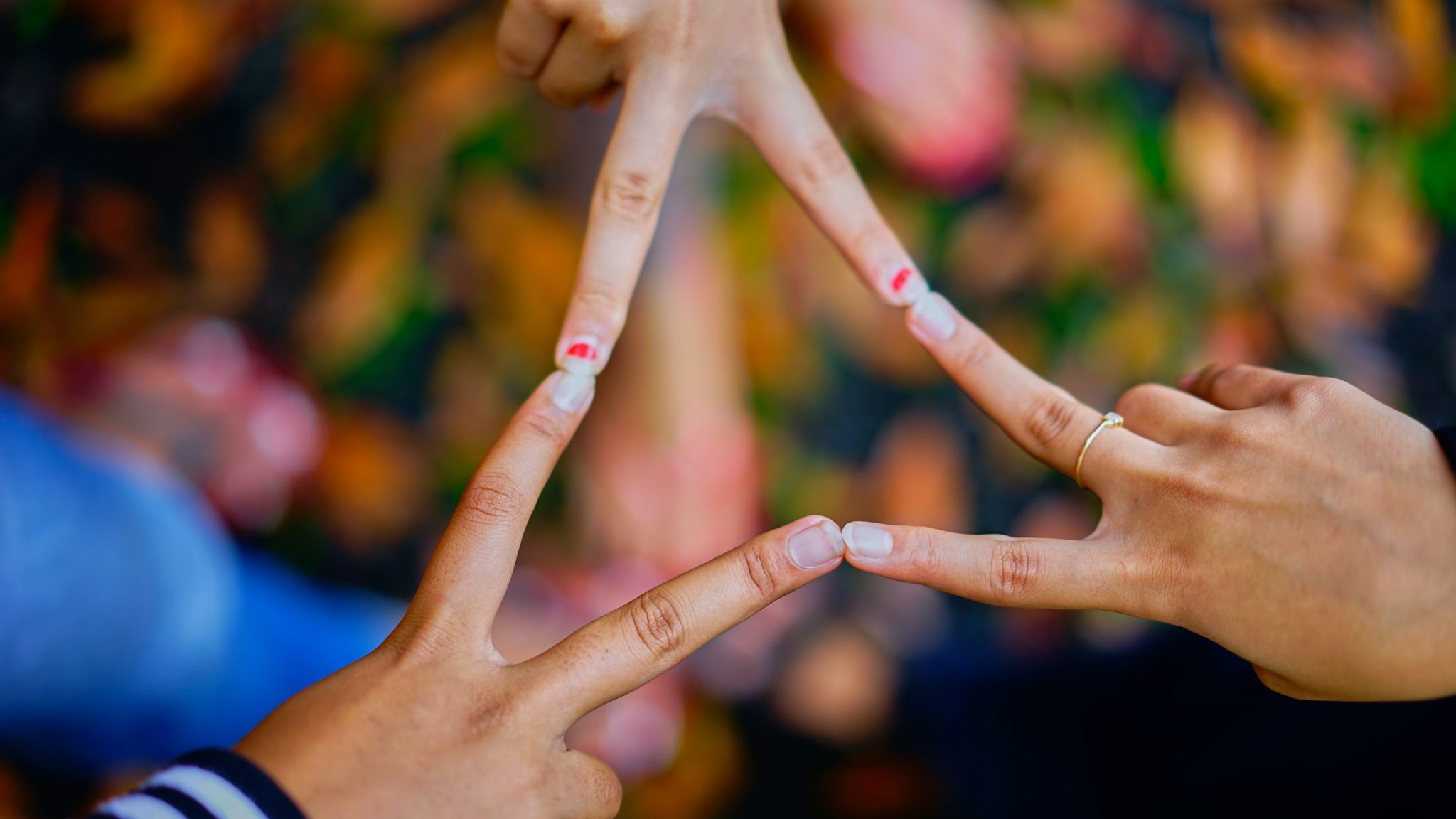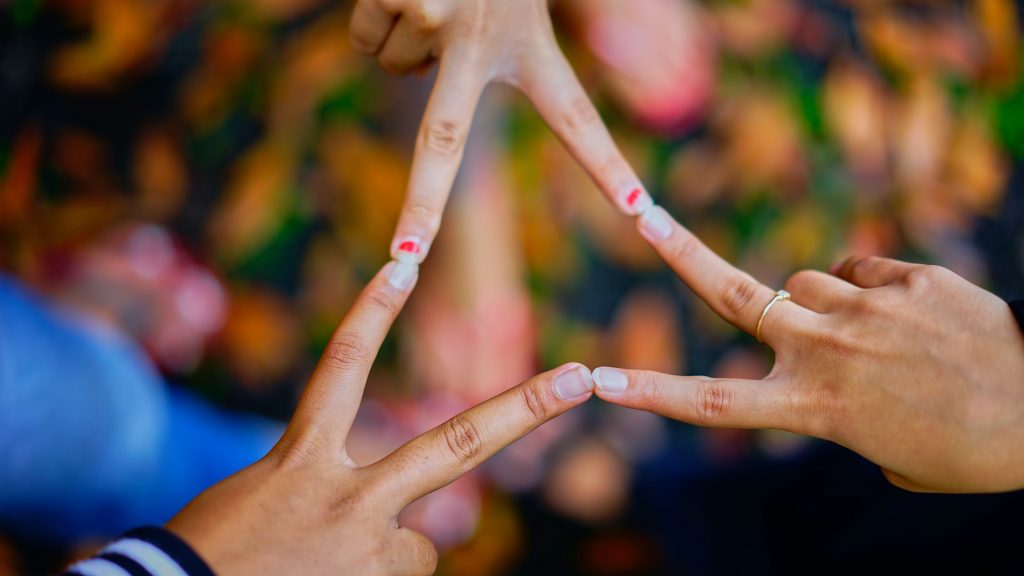 The necessity to accelerate Innovation is not unique to a particular industry. Incumbent companies in numerous industries are thoroughly cognizant of the competitive risks presented by the inadequacies of their Innovation chains. They are also aware of the capabilities of startups in quickly utilizing technologies.
This realization has given birth to the concept of Open Corporate Accelerators (OCA), which involves less investment than the conventional Corporate Accelerator model.
Traditional Corporate Accelerators are usually started by a solitary company for its own gain. In contrast, OCAs accept several sponsors and can entice a wider collection of more developed startups.
OCAs may comprise of academia, corporate sponsors, Original Equipment Manufacturers (OEMs), suppliers, and companies from various industries.
An OCA differs from a traditional CA in 4 key aspects:
Sponsors, individually, lose absolute control with regards to the program edifice and thematic focus of the platform, as is the case in Open Innovation programs.
Brand prominence is lost in an OCA model by individual sponsors since sponsorships are not exclusive.
OCAs are a way for sponsors to fill specific gaps in their product or processes rather than exploring generalized Innovation, the fit for which is unclear in the initial stages.
Exclusivity of the innovative solution is lost in an OCA due to mass participation of sponsors as well as solution providers.
Sponsors can follow 3 best practices to capitalize on the Innovation prospects presented in the OCA model.
Develop assurance internally for outside Innovation.
Willingly take up cooperation with competing companies (co-opetition).
Select areas to pursue.
OCA also diminishes the ambiguities associated with collaborations involving early-stage startups with unproven solutions; and it produces more successful implementations in less time.
Similar to conventional Corporate Accelerators, Open Corporate Accelerators also follow a 3-phase approach.
Search and Selection
Solution Conversion
Solution Assimilation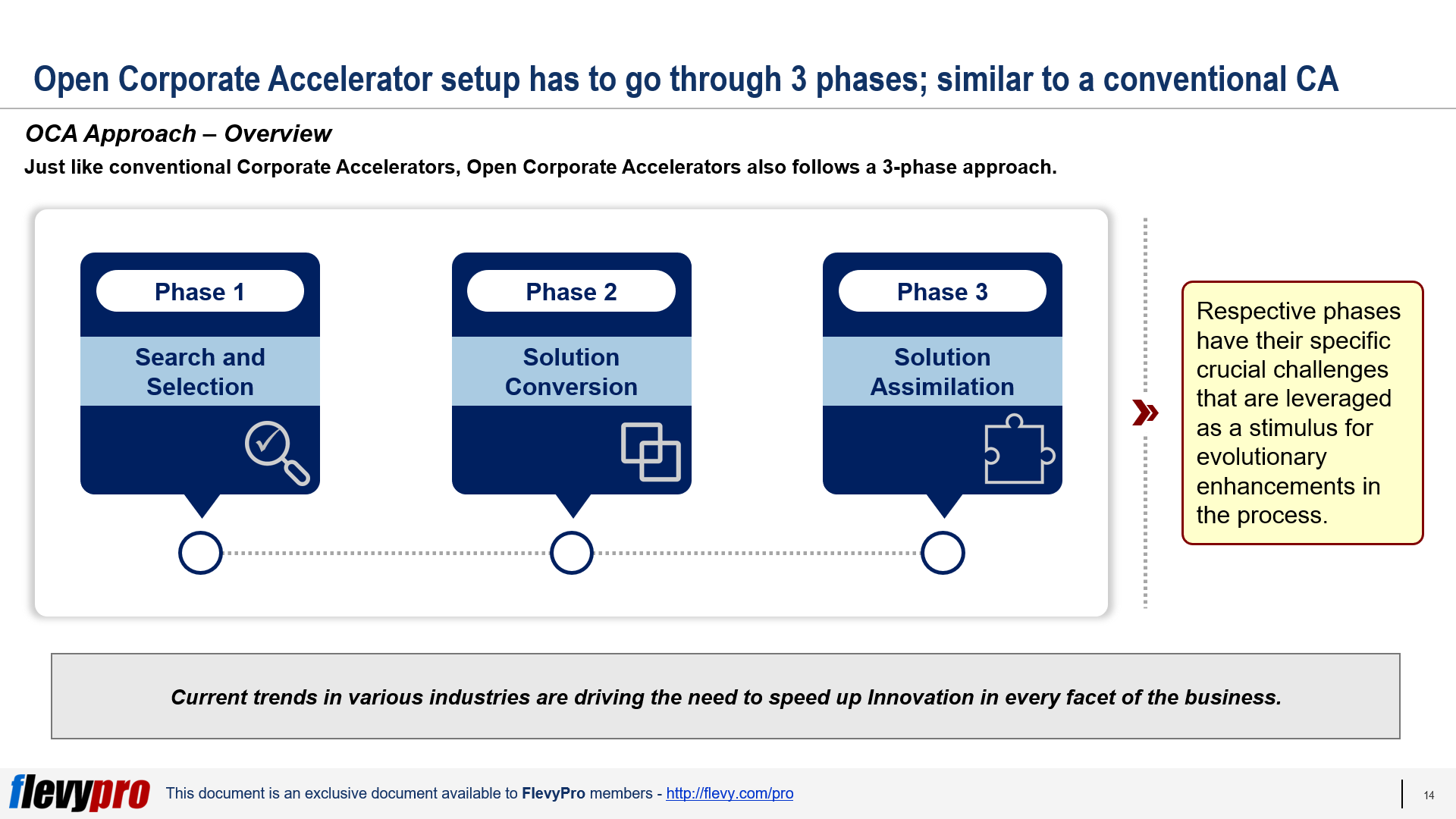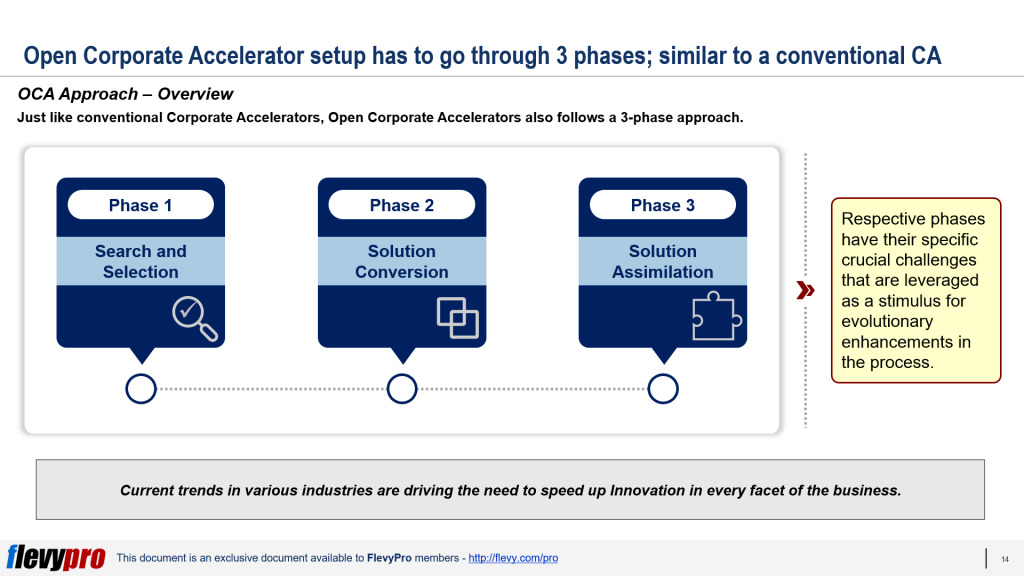 Let us delve a little deeper into the phases.
Search and Selection
Pairing startup technologies to BU requirements is a significant challenge in phase 1 of the OCA process.
This can be accomplished by holding recurring events dedicated to certain technologies, during the course of which startups interact with relevant BUs.
Solution Conversion
Major challenge of the 2nd phase of OCA process is demonstrating that a startup's solution can fulfil requirements of the sponsor precisely. Startups discover that fulfilling sponsors' development conditions is a demanding issue, particularly with regard to quality and time expectancies.
Such hurdles can be overcome by making startups and BUs design and handle Proof of Concept (POC) projects conjointly.
Solution Assimilation
Upscaling the solution is the defining challenge of the 3rd and final phase. Startups normally have many projects and are under great stress to marshal and schedule the resources needed to attain scale.
POC projects help quickly decide whether a solution is effective or not. Changeover from solution adaptation to assimilation is achieved effectively by ensuring that the startup's solution and team are well entrenched within the sponsor organization.
Interested in learning more about Open Corporate Accelerator (OCA)? You can download an editable PowerPoint on Open Corporate Accelerator (OCA) here on the Flevy documents marketplace.
Do You Find Value in This Framework?
You can download in-depth presentations on this and hundreds of similar business frameworks from the FlevyPro Library. FlevyPro is trusted and utilized by 1000s of management consultants and corporate executives. Here's what some have to say:
"My FlevyPro subscription provides me with the most popular frameworks and decks in demand in today's market. They not only augment my existing consulting and coaching offerings and delivery, but also keep me abreast of the latest trends, inspire new products and service offerings for my practice, and educate me in a fraction of the time and money of other solutions. I strongly recommend FlevyPro to any consultant serious about success."

– Bill Branson, Founder at Strategic Business Architects
"As a niche strategic consulting firm, Flevy and FlevyPro frameworks and documents are an on-going reference to help us structure our findings and recommendations to our clients as well as improve their clarity, strength, and visual power. For us, it is an invaluable resource to increase our impact and value."

– David Coloma, Consulting Area Manager at Cynertia Consulting
"FlevyPro has been a brilliant resource for me, as an independent growth consultant, to access a vast knowledge bank of presentations to support my work with clients. In terms of RoI, the value I received from the very first presentation I downloaded paid for my subscription many times over! The quality of the decks available allows me to punch way above my weight – it's like having the resources of a Big 4 consultancy at your fingertips at a microscopic fraction of the overhead."

– Roderick Cameron, Founding Partner at SGFE Ltd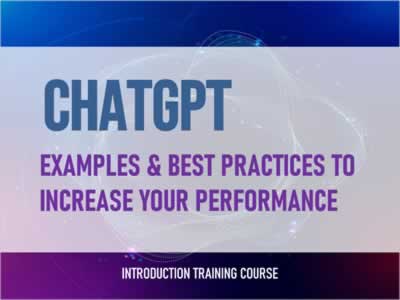 63-slide PowerPoint presentation
OpenAI ChatGPT has advanced language processing. It can write like a human and speak naturally. Texting, chatbots, and conversational history are some of its uses. This talk will show you how to use ChatGPT to improve your results in the above areas. We'll cover how to use ChatGPT to create
[read more]
Readers of This Article Are Interested in These Resources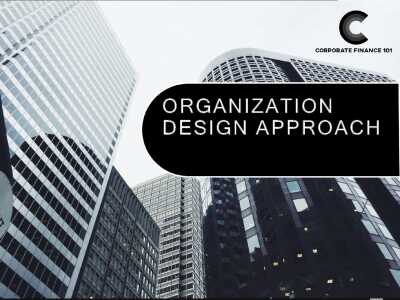 103-slide PowerPoint presentation
Recent McKinsey research surveyed a large set of global executives and suggests that many companies, these days, are in a nearly permanent state of organizational flux. A rise in efforts in Organizational Design is attributed to the accelerating pace of structural change generated by market
[read more]
79-slide PowerPoint presentation

407-slide PowerPoint presentation
About Mark Bridges
Mark Bridges is a Senior Director of Strategy at Flevy. Flevy is your go-to resource for best practices in business management, covering management topics from
Strategic Planning
to
Operational Excellence
to
Digital Transformation
(
view full list here
). Learn how the Fortune 100 and global consulting firms do it. Improve the growth and efficiency of your organization by leveraging Flevy's library of best practice methodologies and templates. Prior to Flevy, Mark worked as an Associate at McKinsey & Co. and holds an MBA from the Booth School of Business at the University of Chicago. You can
connect with Mark on LinkedIn here.
Top 10 Recommended Documents
173-slide PowerPoint presentation
63-slide PowerPoint presentation
103-slide PowerPoint presentation
79-slide PowerPoint presentation
407-slide PowerPoint presentation
135-slide PowerPoint presentation
Excel workbook
95-slide PowerPoint presentation
108-slide PowerPoint presentation
78-slide PowerPoint presentation