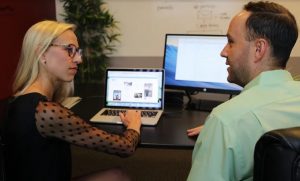 With so many different marketing elements needed to build a successful brand like Usessaywriters.com, it can be challenging for your internal talent not to become stretched thin. But by outsourcing specific marketing functions to a third-party specialist, you can alleviate the pressures on your current marketing team and see better results from the marketing strategies. Here are five marketing functions that you should consider outsourcing.
1. Website Design
Today, every business needs a website. However, because anyone can now use a website builder to create a functional site, many companies overlook the fact that they need a professional UX and UI designer to ensure the site is designed in a way that will attract new potential customers and bring back users again and again. By investing in hiring a professional UX/UI design agency, you will ensure your website is as professional-looking and usable as possible. Your website is crucial for marketing activities. Your website's design sets the brand identity that your company will be associated with for years to come, so it is more than worth outsourcing your website design.
2. Remarketing via Social Media
Remarketing is an effective way to reach warm leads and incentivize those potential customers to return to your website landing page, or your product or service. One of the best platforms to target prospective customers is Facebook. You can use tools and features provided by the site to reach your target demographic. However, Facebook retargeting can take up a lot of your time and energy. So, consider outsourcing this marketing function. Find someone who is proficient in both marketing and using Facebook. You will be able to find professional freelancers on platforms like LinkedIn and other freelance sites.
3. Search Engine Optimization
Online marketing activities must include search engine optimization features in your website's content and other online content. SEO allows your website and products or services to be found easily by users on search engines like Google. But to create high-quality SEO, it is best to hire a professional SEO marketing agency like Sure Oak who has an in-depth knowledge of things like Google algorithms and statistical analysis. Also, SEO best practices and techniques are constantly changing, so that is another reason to outsource this marketing task to a professional who is up-to-date with all the latest strategies and technologies.
4. Marketing Analytics
Every business needs to use marketing analytics to discover customer demographics and target the right customer profiles. But analytics can be used in many different ways. If you do not use marketing analytics to their full potential, your marketing activities will not be as successful as they could be. It can be costly and time-consuming to recruit and train in-house teams who specialize in marketing analytics, so consider using a specialty agency. A professional agency can provide you with the expertise needed to interpret your data and give data-driven insights on how best to use the analytics in your marketing strategies.
5. Content Marketing
Marketers will have expertise in things like identifying future trends, spotting future markets, and developing strategies to target key audiences. However, it takes a huge amount of time to implement strategic goals, so it can be beneficial to outsource specific tasks, like content marketing, to third-party professionals. Furthermore, outsourcing content-management tasks does not have to be overly expensive. There are various Software-as-a-Service content management platforms online that make large-scale content marketing available to businesses of all sizes.