Managing Disruption
Featured Best Practice on Disruption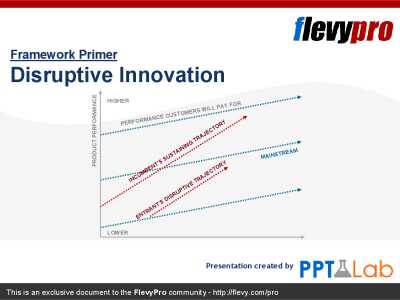 16-slide PowerPoint presentation
Disruptive Innovation, a concept pioneered by Clayton Christensen, describes a process by which a product or service takes root initially in simple applications at the bottom of a market and then relentlessly moves up market, eventually displacing established competitors. In his book, "The
[read more]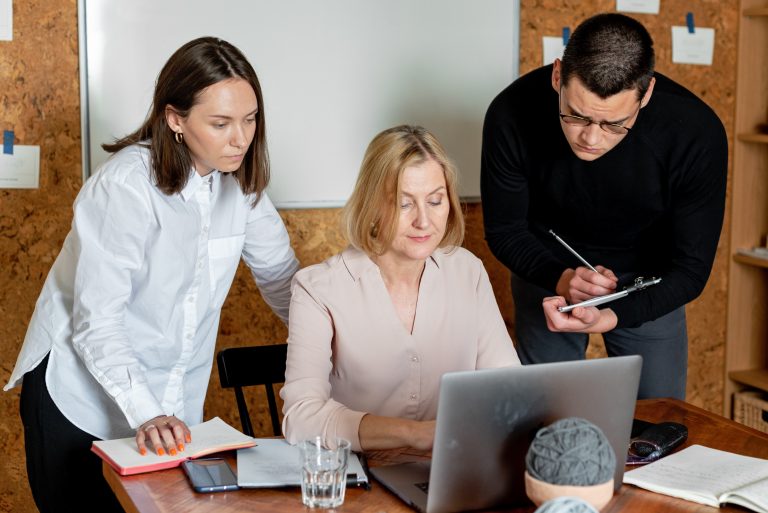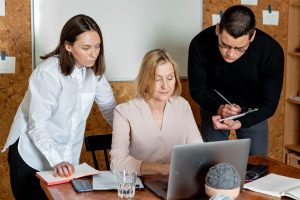 Recessions force leaders of almost all organizations, across the world, to contemplate about the impact of a profoundly Disruptive crisis.
Facing this crisis, some leaders flourish, causing their organizations to become stronger.  Some clearly stagger through.  Still others are mere spectators to their organizations' downfall.
Organizations that endure serious Disruptions are expected to emerge more robust, and more capable of foreseeing and preparing for the next such event.
Regardless of the reason for Disruption, leaders of organizations are ultimately responsible for Managing Disruption.  The organizational head has the most important role to play.
During times of Disruption, leaders of organizations who lead using the following 3-phase structured approach will be the most effective:
Anticipate & Prepare
Plan & Respond
Implement & Sustain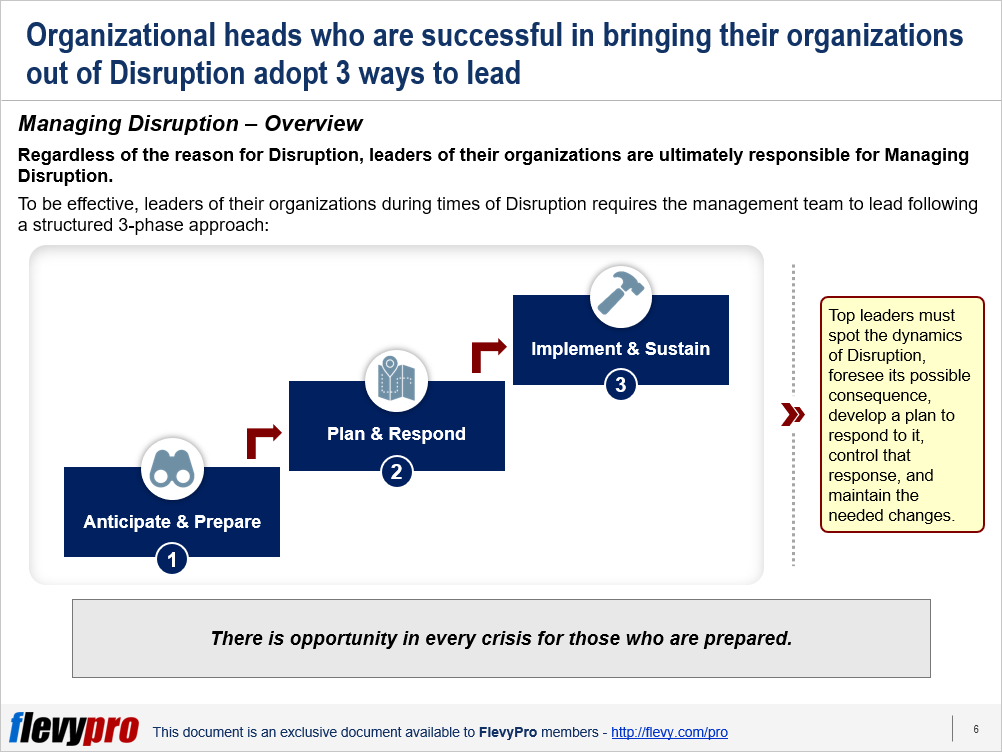 Top leaders must spot the dynamics of Disruption, foresee its possible consequence, develop a plan to respond to it, control that response, and maintain the needed changes.
Let us go a little further into the details of each phase. 
Anticipate & Prepare
This involves assessing the likelihood of—and the possible fallout of—an adverse event.  Preparing for it is the other part of this process that warrants keeping the extent of preparation proportionate to the type of, and probability of, the risk.
Predicting every Disruption is not possible but anticipating the varieties of Disruptions that may be especially damaging and preparing for them correspondingly is a possibility.
Clear distinction should be made between Risk Management and Disruption anticipation.  Risks against which organizations think they are hedged because of their competency and capabilities should be specially looked at.
Only the top boss of the organization can circumvent these limitations by learning to ask better questions on multiple tiers of the organization and looking forward instead of relying merely on past data.
Plan & Respond
Ensuring that there is an unmistakably defined objective and a persuasive motive for it, developing a workable and reliable plan for attaining that objective, and persistently and realistically pursuing it, is what this phase demands.
Forming a response to the Disruption is the responsibility of the head of the organization; leading from the front is critical for effectively managing a disruptive event.  Head of the organization should consult all stakeholders, without prejudice, with humility, and listen to all opinions with an open mind.
After careful consideration the leader should announce a response delineating clearly what actions are needed, by whom, and in what time frame.
Implement & Sustain
Swiftly implementing the changes through careful matching of top executive's capability to task is one part of the process, the more tedious and critical part is sustaining those changes so that they take root and become the way of doing things.
Organizations confronted with business crises, initiate suitable responses but all too often are incapable or reluctant to carry them to completion.  In such scenarios the issues that stymied the response continue to remain un-examined, and the organization becomes even more ill-prepared for the next crisis.
To implement change and sustain an organization during Disruption warrants viewing minutely both the Organizational Design and the Organizational Culture.
It is the organizational head's responsibility to ensure the structure and the culture are ready for the needed changes and set to sustain the new strategies and each other.
Interested in learning more about Managing Disruption?  You can download an editable PowerPoint on Managing Disruption here on the Flevy documents marketplace.
Do You Find Value in This Framework?
You can download in-depth presentations on this and hundreds of similar business frameworks from the FlevyPro Library.  FlevyPro is trusted and utilized by 1000s of management consultants and corporate executives.  Here's what some have to say:
"My FlevyPro subscription provides me with the most popular frameworks and decks in demand in today's market.  They not only augment my existing consulting and coaching offerings and delivery, but also keep me abreast of the latest trends, inspire new products and service offerings for my practice, and educate me in a fraction of the time and money of other solutions.  I strongly recommend FlevyPro to any consultant serious about success."

– Bill Branson, Founder at Strategic Business Architects
"As a niche strategic consulting firm, Flevy and FlevyPro frameworks and documents are an on-going reference to help us structure our findings and recommendations to our clients as well as improve their clarity, strength, and visual power.  For us, it is an invaluable resource to increase our impact and value."

– David Coloma, Consulting Area Manager at Cynertia Consulting
"FlevyPro has been a brilliant resource for me, as an independent growth consultant, to access a vast knowledge bank of presentations to support my work with clients.  In terms of RoI, the value I received from the very first presentation I downloaded paid for my subscription many times over!  The quality of the decks available allows me to punch way above my weight – it's like having the resources of a Big 4 consultancy at your fingertips at a microscopic fraction of the overhead."

– Roderick Cameron, Founding Partner at SGFE Ltd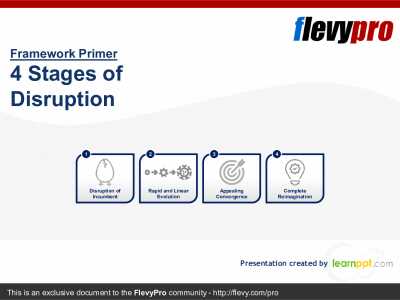 27-slide PowerPoint presentation
Organizations are constantly trying to innovate and, likewise, all industries will eventually be disrupted, as new products, businesses, and industries emerge. No industry is safe from Disruption. In a 2017 PwC survey of 1,379 CEOs around the world, 60% said their market has already changed or
[read more]
Readers of This Article Are Interested in These Resources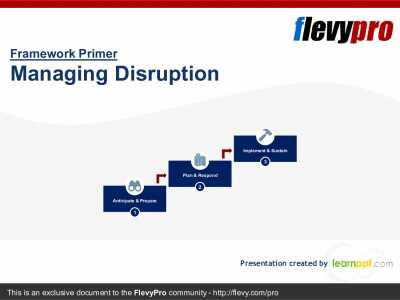 28-slide PowerPoint presentation
Recessions force leaders of almost all organizations, across the world, to contemplate about the impact of a profoundly Disruptive crisis. Facing this crisis, some leaders flourished, causing their organizations to become stronger. Some clearly staggered through. Still others were mere
[read more]
29-slide PowerPoint presentation

20-page PDF document
About Mark Bridges
Mark Bridges is a Senior Director of Strategy at Flevy. Flevy is your go-to resource for best practices in business management, covering management topics from
Strategic Planning
to
Operational Excellence
to
Digital Transformation
(
view full list here
). Learn how the Fortune 100 and global consulting firms do it. Improve the growth and efficiency of your organization by leveraging Flevy's library of best practice methodologies and templates. Prior to Flevy, Mark worked as an Associate at McKinsey & Co. and holds an MBA from the Booth School of Business at the University of Chicago. You can
connect with Mark on LinkedIn here.
Top 9 Recommended Documents on Disruption
16-slide PowerPoint presentation
27-slide PowerPoint presentation
28-slide PowerPoint presentation
29-slide PowerPoint presentation
20-page PDF document
Excel workbook
30-slide PowerPoint presentation
29-slide PowerPoint presentation
29-slide PowerPoint presentation

» View more resources Disruption here.
» View the Top 100 Best Practices on Flevy.