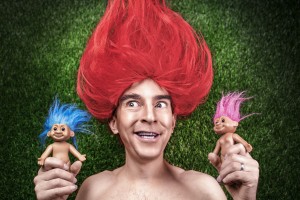 A couple of months ago, I spoke to an audience of business executives involved in the "performance marketing" business. If your business buys a digital ad on a publisher's website and you only pay when people click on the ad or take some other action, you are in the performance marketing business, according to the Interactive Advertising Bureau's most recent definition of the concept.
Performance marketing is more appropriate for some types of products and services than others. Insurance, for example, is a complex enough purchase that real investigation is required. A person shopping for a new home insurance policy will usually explore several different alternatives, and they'll need any insurance company they seriously consider to give them a quote, based on the particulars of the house or property they're planning to insure. So if an online news website sells display ads to an insurance company, it can charge the company based on the ad's actual performance, measured in terms of how many quotes are requested from visitors to its website.
Insurance, cars, education–these are the kinds of consumer products your marketing professor would call "considered purchases," usually marked by a consumer's careful fact finding and evaluation efforts. Similar deliberation accompanies the purchase of many services by purchased by small and medium businesses (SMBs). If you're selling a considered purchase to consumers or a product aimed at SMBs, then performance marketing is often a very efficient mechanism.
Of course, getting someone to click on your ad and then to request a quote, or to configure the product or service, is only the first step. In any sales process involving more than a commodity product, the potential buyer will often want some kind of personal interaction – perhaps to get some knowledgeable advice about a particular product attribute or service feature, or perhaps just to be reassured that the product or service is actually for real.
Without this kind of personal connection the sale is less likely to happen, but for digital marketers that creates a problem. The whole point of digital selling is to automate and streamline the transaction, and while personal interaction is helpful, it's also more costly.
A number of large enterprises, when they sell to small businesses, employ inside sales forces – people who interact by real-time chat, phone, or email with a prospect, but don't actually go out in the "field" to meet with them physically.  Large e-commerce companies such as Facebook, eBay, Apple, and Google all sell products and services to small and medium businesses, but the economics of these transactions won't support more than an inside sales approach, which can easily be managed either at a contact center or using at-home agents.
So with the rise of digital sales and performance marketing, the inside sales function has become a burgeoning field, with large e-commerce companies and others outsourcing all or part of it to any number of vendors. My own parent company, TeleTech, handles inside sales functions for quite a few large e-commerce vendors, selling anything from adwords and computer equipment to telecom services and tax advice. And the "performance" that marketers are willing to pay for will be based on each marketer's own business objectives. One of our big clients, for instance, paid us to sell its products to small businesses at a contracted rate that was based more on customer satisfaction than it was on actual sales volume!
One thing we've learned is that speed of response is critical to the success of any performance marketing effort, whether measured in terms of sales or the quality of the customer experience. Having the capability to chat with a prospect online, or to answer questions, or just to provide reassurance and affirmation, shows a prospect that "real people" are available to help them through the process.  And research shows that responding to a web-generated lead within 5 minutes, rather than 10 minutes or more, can generate nearly ten times the contact rate!
At the performance marketing conference I spoke to, one of the key areas of agreement was that despite the proliferation of chat windows, social media, and email messaging, the single most effective and cost-efficient follow-up tool in many cases is a simple outbound phone call. And some publishers are now actually making that initial call on behalf of their clients and charging them for it, in effect combining the performance marketing and inside sales effort into one offering.
So whether you're a marketer buying click-throughs or leads from the website publisher hosting your ad, or a publisher generating online quotes and inquiries for your clients, the performance marketing business model and the inside sales function are two processes being driven ever closer together by technology.
Because ultimately, the most efficient connection between a buyer and a seller is the human connection.