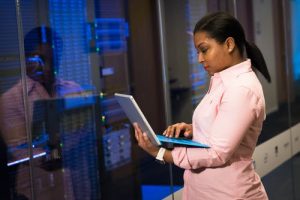 Conducting business in a modern way equals digitalization of all processes, operations, documents, and modes. The convenience coming from achieving objectives directly in the cloud instead of paper has been helpful to many companies, which use the wonders of modern technology on a daily basis.
At the same time, though, conducting a business solely in the digital environment is known to be quite dangerous with regards to cyberattacks. These days, hackers attack more often than ever and use more and more advanced techniques to steal sensitive data and personal information, and use it maliciously. In fact, cyber-attacks on big and small businesses are happening each day!
That's why it's now more important than ever to protect your business from hackers. To discover how to do it, follow our guide:
Run Regular Scans
When it comes to protecting your business from hackers, the most important thing is consistency. To easily detect any cyber threats, you should use vulnerability scanning services & consulting. Professional companies will help in the regular screening of potential threats and providing the necessary protection.
There are even such services that regularly scan the Internet for threats and send updates to your mailbox. This is a great tool for surveying your company's security, but it should not be used as a replacement for a professional expert.
Change Passwords
Usernames and weak passwords are the easiest way for hackers to get into your systems. To defend your business from cyber attackers, you should regularly change passwords, using multiple numbers, random symbols, and case-sensitive characters. Don't forget about training your employees not to share their passwords with anyone.
Organizations should use a password management platform that not only automates and synchronizes strong passwords across employee devices but also offers multifactor authentication and backup-and-restore capabilities.
Threats in the virtual world can damage your business financially and reputationally. A cyber attack can shut down your company for days — if not weeks — and cost you tens of thousands of dollars in lost productivity and sensitive data you never got back, plus fines. That's why it's critical to ensure your business is protected by a multi-layered cybersecurity solution.
Encrypt Customer Data
Typically it's the customer's information that puts at risk not only the client but also the whole company's image, leading to severe financial and legal consequences. Always ensure your customers' information is encrypted. If you're operating with financial data, you might use sites like PayPal to outsource your e-commerce. In this case, do your own due diligence.
One of the most common and successful attacks is ransomware. Don't get yourself into this bad habit of dishing out the ransom. There are many ways for attackers to get money from you without asking for it.
If you want to prevent being tricked into paying a money demand, a basic step is looking out for unusual domain extensions such as ".vps", ".pw", ".top" or funny misspelled versions of known names. Google will help in detecting whether the domain has been tampered with or created in a way that doesn't match the extension. It might be spoofing you into thinking it belongs to Google or the company you're making a payment to.
You should be aware of common tricks and spammers. They might use email addresses that look like they're from companies, but they're not, and they won't get results with their messages. In a website attack, these attacks might result in an HTML injection or URL hijacking.
DDoS is a common attack technique. DoS (Denial of Service) attacks is where an attacker tries to overload your website with requests to try and bring it down. This means the server stops responding to requests from legitimate users, so these users cannot see your content, making your site useless.
Choose the Right Internet Provider
While choosing the right ISP for your business, consider not only the price and speed of the Internet but also its built-in security features. While purchasing the service, don't forget to ask about the security procedures that the ISP can offer you. Another important feature you should be on the lookout for is cross-platform support. The service you choose should be able to support the platforms and networks of your business. For example, if you use two-way radio networks at your worksite, then your ISP should be able to provide a compatible service.
The provider should also be able to tell you if its network is firewalled or if it can offer other security applications.
If a data breach occurs, it's critical to have an ISP that can provide advanced incident investigation and response services. Data breaches can come in many different forms and be caused by many different things. On the other hand, you don't want to pay extra for this kind of thing. Consider some top recommendations of cybersecurity services that can provide these types of services in case your business is hacked.
The Bottom Line
When running a business in 2021, cybersecurity should be on top of your list of priorities. Without implementing the right measures, you can never be certain of the safety of your confidential data, as well as the personal information of your employees. A large enough breach can not only set you back months in terms of getting the work done but could also result in you facing multiple lawsuits for failing to protect your workers' private data. If you want to avoid all that and ensure the smooth running of your business, without any major hiccups along the way, you should consider enlisting the services of vulnerability experts.