How Do You Achieve Management Excellence?
Featured Best Practice on Organizational Excellence

9-page PDF document
This workshop provides valuable practical tips about how to improve organizational performance. Five tips for the learner are shared: engaging and involving employees, making the improvement journey enjoyable, building on the assessment of current state, learning from others and working with a
[read more]
In their book In Search of Excellence, McKinsey consultants Tom Peters and Robert Waterman found 8 common themes which they argued were responsible for the success of 14 identified companies of "excellence."  The framework is known as the 8 Attributes of Management Excellence.  The research and theorizing of this framework was based on the McKinsey 7-S Model, also authored by Peters and Waterman.
The 8 attributes are:
A Bias for Action
Close to the Customer
Autonomy and Entrepreneurship
Productivity through People
Hands-on, Value-driven
Stick to the Knitting
Simple Form, Lean Staff
Simultaneous Loose-Tight Properties
In an interview, Peters later also added a 9th attribute: Capabilities Concerning Ideas, Liberation, and Speed.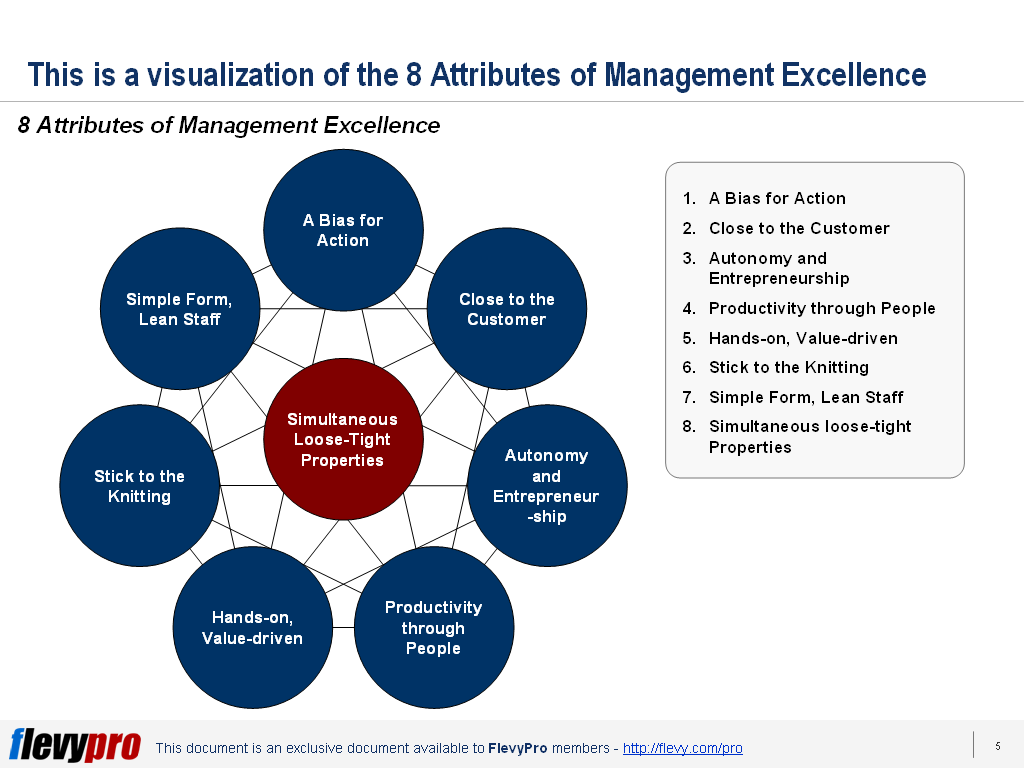 Let's quickly explain the 8 attributes with a bit more depth.
A Bias for Action
This characterizes a company that can get things done—i.e., one that adopts a "ready, shoot, aim" philosophy.   There is also a strong focus on communication.  The Bias for Action attribute increases knowledge, interests, and commitments.
Close to the Customer
Companies of excellence highly value customers–customer is truly king.  There is an obsession with quality, reliability, and customer service.  There is a constant emphasis on customer satisfaction.
Autonomy and Entrepreneurship
Risk taking, innovation, "bootlegging," and "championing" are highly encouraged in a company of excellence.  Failure is completely tolerated.  Employees are never penalized when they take a risk and things go south.  Successful product or program champions rise quickly up the ranks.
Productivity through People
The ideas and actions of the frontline workforce, customers, and suppliers are the main source of productivity gains.  We are enthusiastic and respectful toward others.  Employees are treated with utmost respect and dignity.  Likewise, employees feel a sense of job security and safety. Gains through productivity improvement are broadly shared across the organization with all employees.
Stick to the Knitting
"Never get into businesses you don't know thoroughly or know how to run." – Robert Wood Johnson, founder of Johnson & Johnson
Companies should always stick with what they know best.  The excellent companies expanded and diversified primarily internally, one small, manageable step at a time.  Thus, risk was contained and measured.
Hands-on, Value-driven
This attribute embodies the company philosophy and values of excellence companies.  Two common key values were
striving to be the best; and
delivering superior quality and service.
We should be clear on what our company stands for.  Leaders are seen as positive role models.  They are also highly visible across the organization.
Simple Form, Lean Staff
Organizations of excellence have simple, decentralized organizational structures.  People are know who they report to.  The structure is "flat" with minimal top-level, management staffing.  Also, organization realignments/restructures seldom occur in these companies.
Simultaneous Loose-Tight Properties
This last Attribute of Management Excellence is actually a summary of the other 7.  There is tight financial and strategic control, but decentralized authority  The key values of the organization are articulated and known.  All employees are charged with tightly adhering to these values, but are given leeway as to how the daily business is performed.
Does your organization embody these 8 Attributes of Management Excellence?
You can learn more about these management attributes and download an editable PowerPoint about the the 8 Attributes of Management Excellence here on the Flevy documents marketplace.

13-page PDF document
This workshop invites the learner to assess the current state of excellence in their organization. The workshop begins with an invitation to download a complementary copy of the Organizational Excellence Framework publication. This 240-page publication is a valuable resource that defines the
[read more]
Do You Want to Implement Business Best Practices?
You can download in-depth presentations on Organizational Excellence and 100s of management topics from the FlevyPro Library. FlevyPro is trusted and utilized by 1000s of management consultants and corporate executives.
For even more best practices available on Flevy, have a look at our top 100 lists:
These best practices are of the same as those leveraged by top-tier management consulting firms, like McKinsey, BCG, Bain, and Accenture. Improve the growth and efficiency of your organization by utilizing these best practice frameworks, templates, and tools. Most were developed by seasoned executives and consultants with over 20+ years of experience.
Readers of This Article Are Interested in These Resources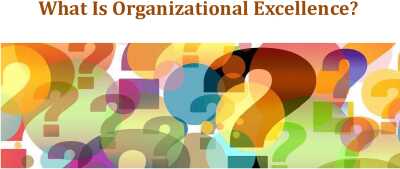 15-slide PowerPoint presentation
This workshop provides a high-level overview of organizational excellence. It begins with background on the development of excellence models and key research findings that have validated results for organizations across a balanced system of measurement. Then it introduces a new reference
[read more]
About David Tang
David Tang is an entrepreneur and management consultant. His current focus is
Flevy
, the marketplace for business best practices (e.g.
frameworks & methodologies
,
presentation templates
,
financial models
). Prior to Flevy, David worked as a management consultant for 8 years. His consulting experience spans corporate strategy, marketing, operations, change management, and IT; both domestic and international (EMEA + APAC). Industries served include Media & Entertainment, Telecommunications, Consumer Products/Retail, High-Tech, Life Sciences, and Business Services. You can connect with David
here on LinkedIn.