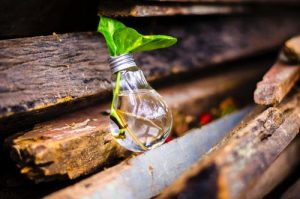 As core markets become saturated with new entrants and products, we find it more and more difficult to grow the core. In fact, the average growth rate in the core business is often less than half of the non-core areas. We find traditional approaches that have historically driven growth are reaching points of diminishing returns.
So, what can we do now? In the era of Digital Transformation, organizations are increasingly turning to an often under-leveraged tool to in their Strategy Development toolbox to spur growth, Business Model Innovation (BMI). In fact, BMI can drive "breakout growth" within our core business.
Before we dive deeper into BMI, let's take a look at traditional approaches to growth. It's important to understand how the traditional approaches differs from BMI to understand BMI's advantages. The traditional approach usually pulls on 1 of 3 growth levers —
Product Enhancements
New Product Introductions
Each of these levers have pitfalls that will eventually stunt its effectiveness. Let's uncover these pitfalls.
1. Product Enhancements
Over time, product enhancements become more incremental and less impactful to the customer. Once customers have derived most of the value from a service, experience, or outcome related to the product, there is little value to be gained with further enhancements. Thus, the incremental change becomes a "nice-to-have," not a "must have."
A simple example of this pitfall would be a razor blade company improving the product by adding another blade.
2. New Product Introductions
Product innovations always seem promising (in theory). The problem is they require adjustments to the supporting ecosystem, which organizations often fail to do. In fact, it is important to note that even breakthrough innovations—with drastically different Customer Value Propositions (CVP)—will likely fail if they aren't accompanied by the right operating model.
An example of this is when the sneakers company LA Gear (popular in the 80s and 90s) changed its CVP from "fashion" to "performance" to enter the basketball shoe market. However, the company didn't enhance its manufacturing capabilities and their shoes fell apart on TV!
3. Pricing Strategies
The pitfall here is "volume chasing." Volume chasing is the mistake of reducing prices–or other discounting approaches (e.g. rebates, Groupons, BOGO)–in the hope of driving increased sales volumes. Without the corresponding changes to other elements of the business model, price reductions alone will just quickly and unsustainably erode our margins. Premium offerings, traditional revenue models, and high cost structure can all limit our ability to reduce prices profitably.
Retailers are often prone to this. They discount products heavily, see an initial uplift in sales and store traffic, but ultimately suffer margin erosion.
Now, let's switch gears to Business Model Innovation. The 3 traditional growth levers typically involve changes to only 1 dimension of a business. On the other hand, BMI afford organizations greater degrees of freedom. BMI involves changes to a much broader set of dimensions.
There are 6 key business model elements at play through BMI, as depicted below in the BMI Framework.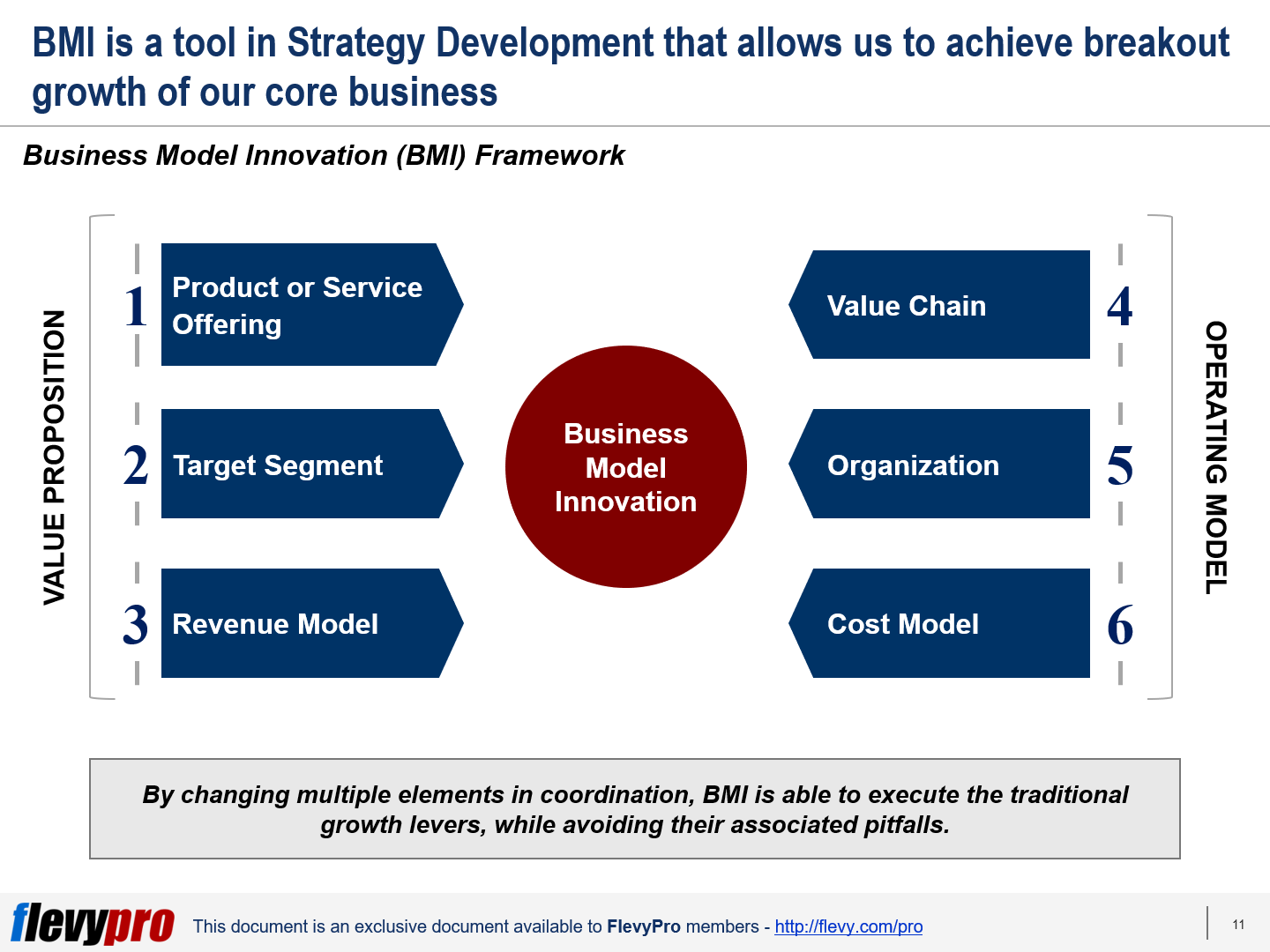 By changing multiple elements in coordination, BMI is able to execute the traditional growth levers, while avoiding their associated pitfalls.
Through BMI, we have 3 types strategies that emerge —
Support the Value Proposition with a New Operating Model
Redesign the Model to Capture Margins
Let's dive deeper into each BMI approach.
1. Redefine the Value Proposition
Instead of pursuing incremental changes (as is the case through product enhancements), we want to redefine our Value Proposition.
When we found that product innovation is leading to diminishing returns, this indicates that our customers' needs are not being completely satisfied. This means that the customers' unmet needs cannot be addressed simply by improving our products.
If customer value extends beyond the reach of conventional products, it may be time for us to redefine the Value Proposition in order to recognize that the product is not the main source of customer value. We can begin this process by evaluating the following questions —
What pain points result when a customer uses the product?
What objective is the customer trying to achieve by using our product?
By addressing these questions, we can reveal the new Value Proposition. It is oftentimes 1 of 3 BMI solutions.
2. Support the Value Proposition with a New Operating Model
Upgrading the Operating Model (including the Value Proposition) is critical, because it creates the appropriate support system to enable breakthrough Value Creation. In fact, the Operating Model is the foundation of the business. It should reinforce the new insight that is driving the entire Business Model Redesign.
3. Redesign the Model to Capture Margins
There are many organizations that have successfully lowered the price point, while maintaining or sometimes even increasing margins. To do this, these organizations recognize that it is a challenging situation that requires not merely just the price, but also changing other elements in the Business Model.
Reaching a lower price point may involve a new offering, Operating Model, Revenue Model–or perhaps a combination of the 3 elements. BMI can enable profitable Value Creation by redesigning the Business Model elements around the new price point.
These 3 BMI strategies actually lend themselves to 9 different BMI solutions. Interested in learning more? To learn more about the Business Model Innovation, its corresponding strategies and solutions, take a look at our framework presentation on BMI here.
This framework is part of the Strategy Development Stream.