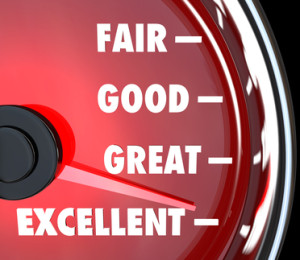 Gallup released its "State of the American Workplace" report, a comprehensive look at employee engagement and performance in the U.S. The study found that 30 percent of employees are engaged and inspired by their work, and at the other end, 20 percent are actively disengaged and uninspired. In the middle is the remainder: 50 million (50 percent) Americans who are not engaged by their work or their managers. They're just kind of there.
Gallup holds managers entirely responsible for an employee's level of engagement. The top 25 percent of teams (the best managed) have 50 percent fewer accidents and 41 percent fewer quality defects than the bottom 25 percent (the worst managed), and they incur far less in health care costs. With this in mind, we think that one of the most important decisions you can make in business is who you name manager. Good managers embolden your employees; bad managers hurt your bottom line. The good news? These four performance solutions can help at every level.
Health Care
Health care plays a vital role in a motivating a workforce. Research from Cornell University shows medical insurance has a great influence on an individual's task performance, which affects workplace safety and performance. Cover your staff—it indicates you care about their well-being and inspires them to be safer and perform better.
Company Culture
Companies tend to this issue the least, because it doesn't yield tangible results, but company culture is often the first link in a chain of subsequent performance defects. There isn't a single formula to tightening the family ties of your organization, and it's a big job—but you should be doing it, as it pays big dividends. Two examples to get you started:
Business cards used to be a necessity, exclusive to client-facers, but the more hats we wear professionally, the more we blur those lines. Equipping the most removed workers with brochures, catalogs and other business collateral keeps them feeling in the loop, and numerous sample and pricing options are available to managers who want everyone representing their brand to be able to network with others.
Yes, people should be having fun at work. But no one wants or needs more fake fun. Don't schedule another trivia contest or dress-down Wednesday—find ways to make the work itself more rewarding.
Telecommuting
Alongside a rise in cloud computing has risen an opportunity to extend the boundaries of work to the home. Letting staff dictate where they do (a portion of) their work desensitizes the pressures of that work and yields a 12 percent increase in overall efficiency, according to a Gensler study.
Positive Reinforcement
Commended employees will work harder for you, but sometimes we just forget to say it. Revive or revamp your employee recognition efforts to make sure your employees know their efforts are appreciated. A "thank you" backed up with something tangible like a gift certificate for a massage, lunch on the company or a gas card is a small but lasting bump to employee performance.
Check out this
Employee Performance Guide
for a basic introduction to performance management, the process, setting objectives, providing feedback, the performance discussion between manager and employee.