Editor's Note: Dr. Stephen Sweid is a pioneer of Breakthrough Strategy thinking.  He has published a series of training guides on the Breakthrough Strategy, which you can find on Flevy here.  Stephen has also been a guest on our podcast, Business Executive Interviews.  You can listen to his interview here.  Recently, Stephen has also published a comprehensive presentation on Multicultural Synergy.
* * * *
1. The passive mode of the current school education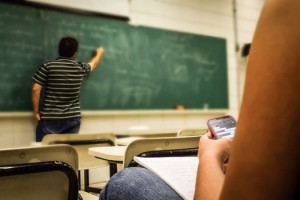 I have dealt with the education domain for many decades, in the academy and business, I have trained hundreds of people and companies, this on the international scope, and this is my experience. I do not exaggerate when I say I believe the current school systems everywhere in the world, public and private, represent a great waste of money and time for humanity. The current school system might have been good up to some 50 years ago, but is definitely obsolete for our time. So much has changed in the last thirty years and we are still practicing an ancient education system.
The current system is mainly about keeping the young people busy outside the home for so many hours per day! Putting young people for some 10 – 12 years in the school system in buildings, keeping them in a passive mode of just receiving for a long period of their lives, just getting prepared for the future, i.e. for the big day when they can join society, is in my opinion a serious human rights violation.
1.1. Little practical value is gained in the present school
Most of the things that are learned in school are of no practical value to the future life. Almost nothing will be used of what we learn at school except possibly in the narrow field of specialization later, if going to college or university. The school is here, and real life is there. There is a gigantic gap between school and real life. You are getting prepared for real life, but it is all in the future and not now.  All that is useful in life is taught outside the school: Swimming, bike riding, photography, martial art, cooking, driving license, dancing, carpentry, haircut, repair things at home, how to sew a shirt, how to repair a motor, how to repair a mobile, how to find a job, etc.
It is all about "pretend" at school. Nothing tangible is done. School is mainly about theory and pretend we are doing this and solving this problem, but never doing a real thing. When looking back, the school years are like a big empty hole in our memory and existence. Most successful people on the planet, including great scientists, were not that good at school.
1.2. Outdated learning methods still practiced
I have learned a lot through training, on the receiving and giving end. This is when you get involved in the real thing and you learn more than 10 times compared to class learning. Same goes for hi- tech research or work, when comparing learning process in hi tech industries and learning in the university doing a PhD. For instance. You will learn in one month in the industry as much as you do in the academia for a whole year? I am talking here of the average schools and universities knowing there are some exceptional institutions.
Imagine you have to learn to drive a car by reading about it only!! You will be learning for months and not be able to drive. There is so much theoretical learning in the schools with little practice and overlap with real life. Schools like universities tend to complicate things, and if a school would give a driving license it will be at least a one-year program instead of 2 – 3 weeks!
Although most schools do have practical work learning such as laboratories for chemistry or physics and other sciences, i.e. working on projects, the present situation is still very far from the desirable, whether in terms of learning or contributing.
2. The advent of the 4th industrial revolution
The fourth industrial revolution has just arrived. The AI is already here and we are still sending children to school! There are now so many disruptive mega projects in most industries, Airbnb, Uber, Trivago, Tesla, solar, virtual reality, Nano science, DNA engineering, robotics, but little is done in the education domain.
On a very small chip smaller than your finger tip you can have the biggest library ever: There is no need for memorizing anymore. You have all the information you need and all up to date on the internet. The whole knowledge is readily accessible.
The future is changing very quickly in our time and in fact the future is now, and we should be living the future and not preparing for it for many years when it would have already changed.
Young children are so apt at absorbing technology that they can easily handle games, smart phones, virtual reality, internet, drones and the rest.
A real reform of the school education is needed, and indeed a quantum leap.
3. Solution: Learning through direct engagement with reality
Things are changing so quickly that it is not feasible anymore to put people through a process of many years to get ready: Most of it would have changed by the time they go through this period. The future is changing very quickly in a disruptive manner. The future is now, and indeed the 4th industrial revolution.
Time is the most valuable element in life and should not be wasted. We want children to be part of reality and not just live a marginal life of "pretend" in everything. Children should couple right away at a very early age to the real world and not just pretend. Let children engage and contribute to progress right away with the real thing. There should be no more preparing for the future but learning through doing, and living the future right away, to be active participants of the 4th revolution. They will be coupled to every industry, leading edge but also traditional, and to every scientific domain.  Getting engaged is the best thing for learning and innovation. This is even better than experiential learning and practical work at school.
3.1  Learning and earning through 3 hours work per day
Pupils should learn through real working some 2 – 3 hours per day. The rest of the school day can be more theoretical but in a different way and should be related to what they are working on, together with other usual activities. They keep playing too. There is this learning and earning for some 2 -3 hours per day, and which should be fun and not stressful.
Because they are contributing to progress pupils should earn money through their daily 3-hour work. They share their earnings with their parents, family, and have a share to spend. A lot of it is saved possibly for the future. Because they can spend part of their earnings, they have the extra motivation to get engaged.
It is about parallel contributing and learning. It is experiential learning pushed to extreme. This way all sciences and math will be dealt with in the practical life.
The new learning is very focused on the practical and what you want to do and in a week- time you can learn a new occupation or industry. You don't need months and years to get ready. Emphasis in on ongoing change and transformation in life for the individual but also organizations. It is about ongoing learning and relearning, and changing specialty field many times.
NOTE: This working and learning system has not been tried before on a large scale as such, but the foundations have been proven all along, and in many settings, including children involvement and learning (See benefits and other justifications below).
3.2  Key benefits of the new system
Boost of IQ and Innovation: There is now a race between the humans and the AI (Artificial Intelligence), and this full integration of schools with the industry ought to give humanity a good lead over AI even in the short term, this despite the possibility of exponential growth of AI.  Young people have a much bigger capacity to absorb and adjust, and their IQ will progress rapidly. This direct engagement at a very early age with the real world at the frontiers of knowledge too, including AI, should make a very big difference to the intellectual capacity of society, and indeed their innovation capacity.
Much better in theory: This way pupils will be much more versed even in theory than the present level, reason being they will be dealing with the principles of things and relationships while working on relevant things and contributing.
Impact on economy: There is this large young segment of society that will be contributing a few hours per day to economy, and this will make a big impact on progress, especially in young societies. 
3.3. Other justifications for the feasibility of learning and earning system
Children can work with LEGO for long hours, hence working on something with fun for a few hours per day is not far from what children would like to do.
In the past children used to help in the family, so it is not new that children can perform useful tasks. If a child can use the mobile, computer and computer games, as they do today, then they can probably drive a car even. It is much better than the pure learning at school. Older school children can perform complex tasks.
There are countries where very young people do intern work in companies. In many countries there is voluntary work for young people, e.g. scouts.
With the use of new teaching and training methods one can learn a whole craft or trade and start applying and working after a very short period of a few weeks even. This is what is needed: To boil it down to what is needed to perform the job satisfactorily and get started, and learn from there.
Children will enjoy school much more if they can work and contribute, and earn spending money as well.
4. The How: Modus operandi of the learning and earning system
The 2 – 3 hours work should be all fun and enjoyment, and basically learning oriented. Learning and working should become completely interlinked. Learning goes parallel with what you are doing. Learning and working should go hand in hand in our era, with parallel comprehension boosters. Industries and schools will be integrated gradually. "Industries" imply all economic sectors and all sciences, including technology.
They can be working on the system level (if it is user friendly, e.g. computer or games …) or on the component level. Hence, they will be dealing with both dimensions.
Every year and class the level of work becomes more sophisticated, and pupils get more responsibilities, and will be dealing with more complex tasks.
Children might have some say as to what type of work involvement they would like to have. The pupils should have a range of choices of the type of work they want to involve in. There is the endless matrix of industries and levels (age and class).
There is huge diversity in the type of work performed hence a huge scope for learning. It can be also services, it can be programming etc. It can be farming. There is also chronological diversity, possibly working on the same products for not longer than a week, then there will be something else. There can be specialization in the last two years from 13 – 15 years old, e.g. specializing in a craft or vocation.
4.1  Logistics issues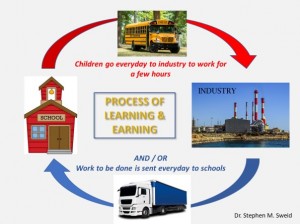 LOGISTICS: Work to be done is brought to the school through different means and work is performed in a very safe environment. The other possibility is to transport the pupils to the work place in factories, farms or other places, all in a safe environment, so that they do not harm themselves. Safety is paramount.
4.2  The user-friendly stance for contribution and safety
It should be all made very user- friendly for a specific age to allow children to contribute, even as 6 years old. This user-friendly stance is similar to the use of TV, computer or smart phone: You can use them all without the need to know how it has been constructed or how things fit together on the inside. You can drive a car without the need to be a mechanic.
With user- friendly- interface tools a child can contribute even to the improvement of leading edge technologies, e.g. 3D printing. This progresses from the easy level to more advanced levels, as the class advances. The user-friendly tools contribute also to the assurance of safety for the children: All tools and processes have to be extremely safe for the user.
Duration of work should allow the child to have enough practice to be good at it.
4.3 It is still all fun
I am not saying children should slave away, but that they should contribute. It will be a learning oriented productive working, and all just for a couple of hours per day, and is fun oriented. The rest of the school day is in the form of booster learning and fun, e.g. to comprehend what they are working on, and how it relates to the big picture of things, and how they can improve what they are working on, and the rest of the curriculum.
There can be mental and physical work.
4.4 Methodology: the suggested 5- step daily process
The suggested 5 – step process shown in the graph is to ensure learning and working are interlinked, including a feedback loop for innovation.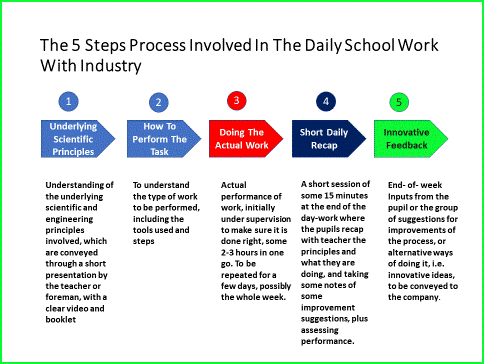 5. Challenges for the large-scale implementation
The challenge would be to create the endless learn-work programs for all school ages, up to possibly 15 years old, where children then leave school and can start their productive live. They can also go to a one- year university. The challenge is to get children to contribute also to the hi-tech end of each industry, especially of the 4th revolution.
A whole new mega industry will spring up in terms of providing the right work for the children at each age and class and industry and science.  There are million questions to ask. The initial challenge is possibly in kicking off the process with different pilot projects, and which will help in the refinement of the concept.