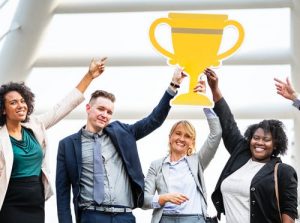 Omnichannel marketing is so much more than just a catchphrase.  Let's face it, the reality is that before a customer will most likely buy a product from an online store, he/she first needs to trust the brand.
With the right omnichannel strategies, you can offer your customers a smooth, coordinated experience. Omnichannel marketing can help to portray your brand as more trustworthy as this type of marketing strategy lets all the different channels work together to convey a uniform brand and voice.
How is omnichannel marketing different from multichannel marketing?
The main difference between omnichannel and multichannel marketing is that with omnichannel marketing customers are placed at the core of your strategy, while multichannel marketing instead places the brand at the core of the strategy. This means that with omnichannel marketing you will tweak your messages based on the interactions of your customers with the different channels, while if you opt for multichannel marketing you will simply send the same message to all of your customers irrespective of which channel that you are using.
In short, with the help of omnichannel marketing, your customers will receive personalised messages. These messages will be very closely connected to what they are searching for irrespective of on which channel they are browsing.
Is omnichannel marketing effective?
Recently Omnisend analysed billions of campaigns and the data revealed that customers' reaction to omnichannel marketing was significantly better. In fact, marketers who used more than two channels in their marketing campaigns were rewarded with almost 19% better engagement! Those who opted for only a single channel enjoyed just slightly over 5% engagement.
What is more, omnichannel marketing campaigns that used more than two channels also managed to earn close to a 300% higher purchase rate! Their customers also spent about 13% more on average too! In other words, these stats reveal that by using three or more channels you can look forward to better engagement, more purchases and more revenue.
That being said, if revenue is not your be-all and end-all and you actually care about your customers, you will be happy to know that the retention rate for omnichannel marketing campaigns is also much better. Marketing campaigns that used more than two channels boasted almost a 100% higher retention rate. This proves to show that your customers will value the touch of personalisation that omnichannel marketing can offer them.
After all, repeat customers are the best! Not only do they typically spend more money, but they will also market your brand for you by word of mouth. Now, considering that omnichannel marketing can help you to get more repeat customers, this is a strategy that your business surely cannot afford to ignore.
How to implement omnichannel marketing
It does not matter if you are just a small e-commerce brand, you too can benefit from launching an omnichannel marketing strategy. With the help of the following four practical tips, you can implement omnichannel marketing easily and use it effectively.
Ensure that your entire team is in agreement
By making sure that everyone is on board, you are creating the right conditions that will make it possible for your strategy to be a success. You cannot afford that your team members operate in isolation from each other as this is contrary to what omnichannel marketing is all about.
After all, this strategy calls for the different channels to work together in order to improve the experience for your customers. Thus, it would only make sense for your team to do the same.
Scrutinise the data to get to know your customers better
It is key that you try to learn as much as you can about your target audience. In order to analyse and improve the customer experience, make a point of it to use all your channels yourself and actually buy a product via the website too. Even better, get outsiders to help you assess the customer experience too.
Once, you have interacted with your different channels directly, be sure to ask your customers to complete a survey so that you can gather their feedback too. If you find that customers are reluctant to complete the survey, you can offer them a type of incentive for taking the time to complete a survey.
At the end of the day, do not forget that your business depends on its customers which means that they should be your prime concern. Therefore, take the time to listen to their responses that they have shared in the survey. If they have identified an issue that needs attention, be sure to fix the problem.
Target your messages correctly
Personalisation plays a key role in omnichannel marketing. To help you ensure that your messages are targeted correctly, you can use the data that you have collected and then segment your customers into a couple of smaller groups based on similar characteristics such as shopping habits, age, demographics and relationship status.
By doing this, you will be able to write a more effective personal message that can be sent at the most appropriate time with triggers. At the end of the day, you want to ensure that you at all times send relevant messages which will improve the response rate amongst your customers.
Evaluate and measure continuously
If you do not see the results that you were hoping for immediately, you can rest assured as you will be able to improve your omnichannel marketing as time passes by using testing to gather and scrutinise more data. This means that you will have to test things like your subject lines, emails, graphics frequently to figure out which group responds the best to which types of messages. The good news is that you will ultimately find the right recipe!
This might sound like more work, but when you consider that nowadays customers are actually expecting an omnichannel experience, it will be worth it. What is more, the majority of customers not only buy more, but are also willing to pay more if the customer experience is better.