"When it comes to communicating, the CIO is both a storyteller and educator." Chris Manriquez, VP for IT and CIO, California State University, Dominguez Hills.
CIOs must be both a storyteller and an educator. Aside from this, they must also be a strategist. The majority of CIOs might speak the language of technology fluently, but they struggle to communicate effectively with other business areas. A 30-minute presentation on cloud computing or blockchain is simply part of the job, but when it comes to working with business executives or presenting to the Board of Directors, the tendency toward detail-oriented technical conversations and presentations can leave both parties frustrated. Even CIOs who come from business backgrounds get bogged down in the details of technology when communicating at the executive level.
CIOs need to use specific techniques when closing the communications gap between the IT organization and other business areas. IT is critical to the future of the enterprise in how it supports the bigger strategies at play during Strategy Development.
The Changing Face of Business and Its Impact on CIOs Today
Information Technology (IT) is changing how businesses operate from the technology core to the strategic direction.  In fact, digital business is driving a need for more strategic engagement with the Board and Executives with technology now being both a business enabler and a business driver as well.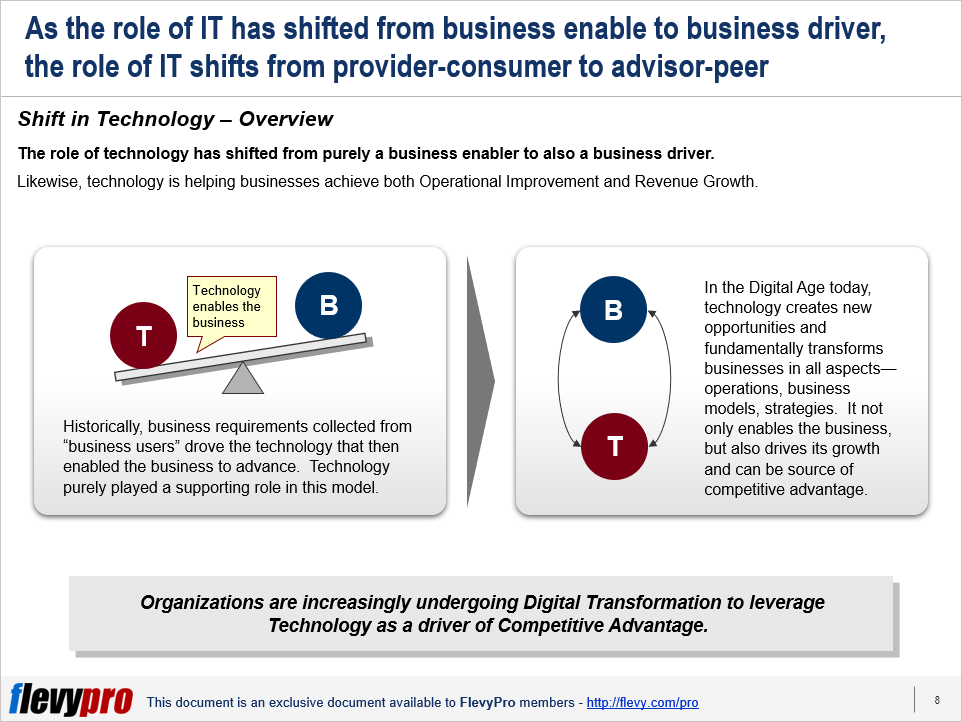 With the shift in technology, Boards of today have now realized how critical information and technology are to success. In fact, they have become increasingly interested in hearing the enterprise's strategic story direct from the CIO.
This is the challenge that CIOs are facing now.  As technology becomes more integral to the business strategy, CIOs will be called on to present to the Board with increasing frequency. Boards do not want to hear about the inner workings of qubits and algorithms. The Board wants to know how technology will push the enterprise forward and how to balance any risk.
The Growing Pressure on CIOs
With the shift in technology coupled with the increasing demand of business and the Board, the CIOs are now under growing pressure to improve how they communicate with the Board. CIOs must be more aware of how they frame their conversations so that they can better relate to the Board what the Board is expecting to hear.
With the growing pressure on CIOs when it comes to communication, CIOs must wear the hat of the business leader responsible for the information and technology investment. They must also be able to develop the story of shareholder value for the Board, and nothing more.
At this point, CIOs must be able to demonstrate business acumen during presentations and add value to the decisions made during discussions.
A Purview on Value Disciplines Model: An Aid in Formulating Valuating Strategy
CIOs must understand how to create a strategy that showcases how Information Technology will support bigger business goals.  A context must be created for the enterprise and that context must be used to articulate the contribution of IT to the business capabilities that will drive business success.
To improve structured communication, one powerful method is to use business frameworks.  One strategy framework that can help CIOs tell a business story of success is the Value Disciplines Model.
The Value Disciplines Model was created by Michael Treacy and Fred Wiersema, authors of "The Discipline of Market Leaders." According to Treacy and Wiersema, there are 3 value discipline strategies that organizations can implement in order to create added value and distinctive character relative to its competitors. These 3 value disciplines strategies are Customer Intimacy, Operational Excellence, and Product Leadership.
The Value Disciplines Model highlights these 3 strategies which can serve as a lens in focusing on strategic decisions. This is where creating success starts.
Interested in gaining more understanding of Effective Communication for CIOs? You can learn more and download an editable PowerPoint about Effective Communication for CIOs here on the Flevy documents marketplace.
Do You Find Value in This Framework?
You can download in-depth presentations on this and hundreds of similar business frameworks from the FlevyPro Library. FlevyPro is trusted and utilized by 1000s of management consultants and corporate executives. Here's what some have to say:
"My FlevyPro subscription provides me with the most popular frameworks and decks in demand in today's market. They not only augment my existing consulting and coaching offerings and delivery, but also keep me abreast of the latest trends, inspire new products and service offerings for my practice, and educate me in a fraction of the time and money of other solutions. I strongly recommend FlevyPro to any consultant serious about success."

– Bill Branson, Founder at Strategic Business Architects
"As a niche strategic consulting firm, Flevy and FlevyPro frameworks and documents are an on-going reference to help us structure our findings and recommendations to our clients as well as improve their clarity, strength, and visual power. For us, it is an invaluable resource to increase our impact and value."

– David Coloma, Consulting Area Manager at Cynertia Consulting
"As a small business owner, the resource material available from FlevyPro has proven to be invaluable. The ability to search for material on demand based our project events and client requirements was great for me and proved very beneficial to my clients. Importantly, being able to easily edit and tailor the material for specific purposes helped us to make presentations, knowledge sharing, and toolkit development, which formed part of the overall program collateral. While FlevyPro contains resource material that any consultancy, project or delivery firm must have, it is an essential part of a small firm or independent consultant's toolbox."

– Michael Duff, Managing Director at Change Strategy (UK)
"FlevyPro has been a brilliant resource for me, as an independent growth consultant, to access a vast knowledge bank of presentations to support my work with clients. In terms of RoI, the value I received from the very first presentation I downloaded paid for my subscription many times over! The quality of the decks available allows me to punch way above my weight – it's like having the resources of a Big 4 consultancy at your fingertips at a microscopic fraction of the overhead."

– Roderick Cameron, Founding Partner at SGFE Ltd
"Several times a month, I browse FlevyPro for presentations relevant to the job challenge I have (I am a consultant). When the subject requires it, I explore further and buy from the Flevy Marketplace. On all occasions, I read them, analyze them. I take the most relevant and applicable ideas for my work; and, of course, all this translates to my and my clients' benefits."

– Omar Hernán Montes Parra, CEO at Quantum SFE