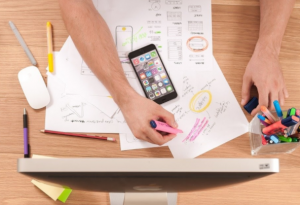 Are you trying to boost sales and get more people to notice your business, but to no success? Maybe it's time you take a look at the design you're using in the relationship with your online customers. 
A well-designed page can be quite a driver for success, but only if it meets the expectations of your viewers. Many small business owners seem to forget that, it's not enough to have a website. You also need to keep upgrading it and update the design to fit modern trends. 
As such, in today's article, we are going to highlight why design matters and why it's crucial to stay on top of it. 
Good Design is About Communication
We live in a customer-centric culture, so before you can create a great website, that supports your efforts, you must understand your target audience. 
What do your possible customers like?
What attracts them to a product or service?
Is there a specific need (of their) your site can solve?
Are they more inclined towards a classic approach or do they love innovation and modern technologies?
These and many others are questions that need to be answered before you can even think about creating a design. According to Parachute Design, good web design needs to be tailored to a business's specific industry. After all, you can't use the same concepts and graphic elements for people who look for baby clothes and people who want fitness equipment. 
It Establishes Trust & Flow
Would you trust an old-looking website with your credit card information? 
In fact, for many new users, it's enough to see an element out of place and the trust is gone. Not to mention that people rarely buy from new websites without receiving a direct recommendation from a trustworthy person or reading reliable reviews from other users. 
So, quality design is not only about a pleasant visual interface. It also has to make sure all the processes work flawlessly and that users don't get confused while browsing the pages. That's why corporations invest heavily in usability testing and quality assurance before they launch a product online.
It Lets Your Business Shine
Competition is fierce nowadays, regardless of niche and industry. Companies of all sizes fight each other over their audience's attention, which makes it difficult for little guys to stand out. Still, not all hope is lost!
You still have the chance to wow your target audience with well-thought and carefully-crafted design. Online users love creativity and uniqueness, so you can color outside the lines of your industry to attract attention. And this doesn't apply just to web design – great design can be replicated on social media, in your blog posts, and even in the print world, on materials like cards and flyers!
However, it's important to keep your possible customers in mind and make sure you don't overdo it. After all, good design is also about balance. It allows you to be unique and daring, but it does require moderation. 
Wrap Up
Users' trust, efficient communication, and attention from your target audience – these are only some of the elements that good design can provide for your business. If you practice regular maintenance and updates, you'll also notice an increase in loyal customers and even better ratings and positioning in SERPs.
Of course, it's not all about design, but everything starts with the first impression users make of your business!