Advances in technology and communication, combined with the explosive growth in data information, have given rise to a more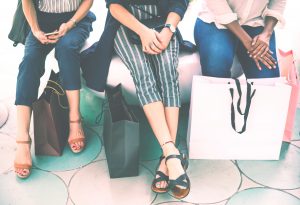 empowered global consumer. Recent economic and political events highlight the need for companies to understand how consumers view the world and the most important attributes for their purchasing decisions.
Responding effectively to rapidly changing consumer needs has become one of the top strategic agenda items of organizations, alongside regulatory change and talent management. The value of customer-centricity has become direly important today. Customer attitudes and behavior can determine how customers view and interact with the industry, as well as their expectation for the future.
Organizations who respond best to what customers want now are most likely to succeed. A clear understanding of customer needs and behaviors across the organization will help drive profitable growth strategies and provide the confidence to invest in opportunities at a time when staying within budget is extremely difficult.
Customer-centricity and the New Customer
What is Customer-centricity? Customer-centricity is creating a positive Customer Experience at the point of sale and post-sale. And, today, this has become essentially important to all organizations.  More and more organizations are adopting Customer-centric Design principles and seeking to become a Customer-centric Organization.
Consumers today are more demanding. Expectations are higher in terms of convenience, flexibility, and personal interactions. They are more diverse as more women are mainstreamed into the workforce. They are more hedonistic – it is all about me. And lastly, they are more sophisticated.
With the evolving customer demands and expectations making a dramatic change in business operating models, organizations have no way to go but become customer-centric. Starting the transformation towards Customer-centricity requires the need to focus on essential principles that will redefine relationships with customers and transform business models.
The 5 Core Principles to Customer-centricity
The 5 core principles of Customer-centricity govern the new strategic paradigm towards Customer-centricity.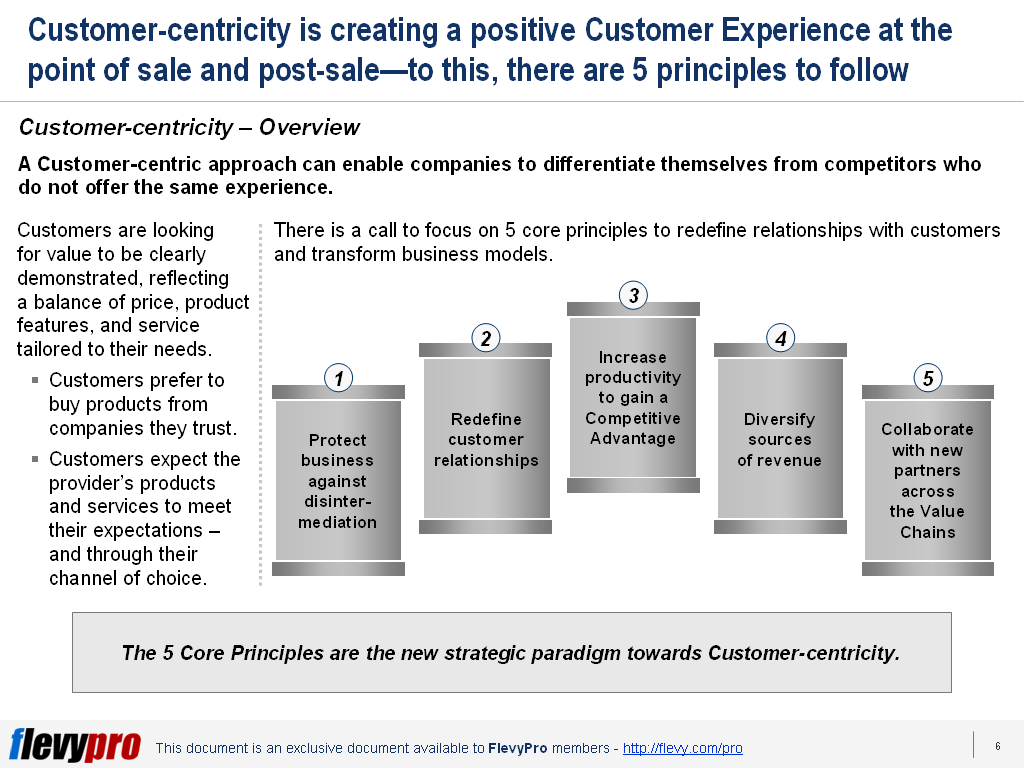 Protect business against disintermediation
The first core principle ensures current and future consumer needs are delivered and the connection with the end customer is not severed.
Redefine customer relationships
The second principle makes sure that a product-centric business changes course and gives importance to customer interaction.
 Increase productivity to gain a Competitive Advantage
The third principle leads organizations to look at productivity with a dual lens rather than on a very limited scale.  This can be a basis for a Competitive Advantage for the organization.
Diversify sources of revenue
The fourth principle leads companies to be more strategic in terms of revenue sourcing rather than being fixated on hard and soft pricing cycles.
Collaborate with new partners across the value chains
The fifth principle emphasizes the importance of partnerships in today global business environment.
These 5 core principles serve as a guide for organizations as they go through each step towards Customer-centricity. However, Customer-centricity is never achieved in just an instance. These 5 core principles is just the beginning.
Customer-centricity is achieved by building an operating model around a deep understanding of its customers – what customers value and what they contribute to the profitability of the company.
Interested in gaining more understanding of Customer-centricity? You can learn more and download an editable PowerPoint Customer-centricity Primer here on the Flevy documents marketplace.
Do You Find Value in This Framework?
You can download in-depth presentations on this and hundreds of similar business frameworks from the FlevyPro Library. FlevyPro is trusted and utilized by 1000s of management consultants and corporate executives. Here's what some have to say:
"My FlevyPro subscription provides me with the most popular frameworks and decks in demand in today's market. They not only augment my existing consulting and coaching offerings and delivery, but also keep me abreast of the latest trends, inspire new products and service offerings for my practice, and educate me in a fraction of the time and money of other solutions. I strongly recommend FlevyPro to any consultant serious about success."

– Bill Branson, Founder at Strategic Business Architects
"As a niche strategic consulting firm, Flevy and FlevyPro frameworks and documents are an on-going reference to help us structure our findings and recommendations to our clients as well as improve their clarity, strength, and visual power. For us, it is an invaluable resource to increase our impact and value."

– David Coloma, Consulting Area Manager at Cynertia Consulting
"As a small business owner, the resource material available from FlevyPro has proven to be invaluable. The ability to search for material on demand based our project events and client requirements was great for me and proved very beneficial to my clients. Importantly, being able to easily edit and tailor the material for specific purposes helped us to make presentations, knowledge sharing, and toolkit development, which formed part of the overall program collateral. While FlevyPro contains resource material that any consultancy, project or delivery firm must have, it is an essential part of a small firm or independent consultant's toolbox."

– Michael Duff, Managing Director at Change Strategy (UK)
"FlevyPro has been a brilliant resource for me, as an independent growth consultant, to access a vast knowledge bank of presentations to support my work with clients. In terms of RoI, the value I received from the very first presentation I downloaded paid for my subscription many times over! The quality of the decks available allows me to punch way above my weight – it's like having the resources of a Big 4 consultancy at your fingertips at a microscopic fraction of the overhead."

– Roderick Cameron, Founding Partner at SGFE Ltd
"Several times a month, I browse FlevyPro for presentations relevant to the job challenge I have (I am a consultant). When the subject requires it, I explore further and buy from the Flevy Marketplace. On all occasions, I read them, analyze them. I take the most relevant and applicable ideas for my work; and, of course, all this translates to my and my clients' benefits."

– Omar Hernán Montes Parra, CEO at Quantum SFE