Editor's note: This is part of 30-day challenge series written by Hanane Anouna.   You can follow along and read the full series here.

* * * *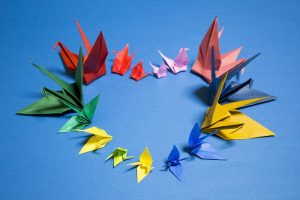 What are you good at? What do you love? What does the world need? What can you be paid for? Answering these questions will help you find your Ikigai.
When you do what you love, what you are passionate about, and what motivates you to wake up every morning, you will live happier and longer, the Japanese Ikigai philosophy.
What Is Ikigai and Its Origins?
Ikigai is a Japanese word: iki refers to life, and gai means "purpose."
It is about your sense of purpose or reason to live.
The Ikigai differs from one person to another, and it is a hidden talent deep inside each one of us, and finding it requires a patient search, but once you find out about your Ikigai, pursuing it everyday will bring meaning to your life.
The Japanese conducted a survey in 1994, on people of ages between 40 and 79, which took over a period of seven years. They found that a lack of Ikigai had an impact on cardio-vascular health and many other things. People who are the happiest and healthiest know their why, and how to pursue it.
The Okinawa people from the Ryukyu islands, who reside in one of the blue zones, live longer and healthier compared to the rest of the world. The island contains the world's longest living people, who believe that in addition to their healthy diet, simple life, it is the Ikigai behind their reason to live.
Ten Rules to Ikigai
The book "Ikigai: the Japanese secret of a long and happy life" by Hector Garcia and Francesc Miralels highlighted 10 rules of Ikigai.
Take it slow: the Okinawa community takes time to enjoy their lives, and whatever they are doing and whoever they are talking to on a daily basis. When it is a conscious choice, it can lead into a great level of happiness.
Don't fill your stomach: The Okinawa has a special diet that is based mainly on healthy meals. They rarely eat sugar and usually half of the quantity of salt. They consume every day around 1900 calories which is less than the average recommended.
Being mindful about what they eat is the reason behind their good health.
Surround yourself with good friends: These people meet, and share their lives every day always for a purpose to assist each other. The Moai community was formed to combine all the resources of the entire village for common purposes.
Research proved that friends can affect your health in a positive way and it does not depend on having tones of them but only those who care and are willing to help.
Smile. Okinawa community are very cheerful and having good time, which is the secret of having a long life.

It takes 46 muscles to frown and only 17 to smile. Smiling can be contagious and can lower your heart rate and reduces your blood pressure. Smiling can make you positive and raise your self-esteem.
Reconnect with nature: People from this community spend most of their time in nature, which help them connect more.Living in nature has a great impact on our brains, and emotions; It can calm our nervous system and make us feel relaxed and happy.
Unfortunately, it is not always easy for a lot of people especially those living in crowded spaces or enclosed in boxes working like crazy the whole day.
Give thanks: People of Okinawa gives thanks to every single thing in their lives. Positive psychology proved that gratitude have a direct impact on our positivity and well-being as we focus on what we have and not what we don't have.
Live in the moment: No past, no future, only now. Focusing on the present moment can be a great way to increase focus, and decrease your level of stress. It proved to have a tremendous impact on our clarity of thoughts, creativity and the quality of decision making.
Exercise: People from this community are over 80 and 90 years old. They don't go to the gym but their minds and bodies are active on a daily basis, about things that give them a meaning.
Never retire: they all feel needed and they all contribute to something for the others. That's why they live longer and happier.
Find your Ikigai.
4 Steps to Find Your Ikigai
Your life is more than finding a job and spending the rest of your life waiting for a salary at the end of each month.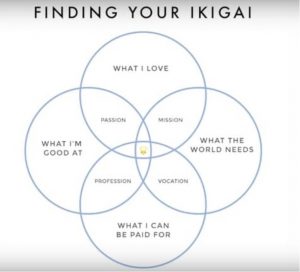 Step 1: What you love (you passion)
What are you great at? What makes you happy and busy all the time? What aspects of your life that bring joy and excitement to your heart and make you feel alive? what activities that make you lose truck of time? It can be art, design, cooking, psychology, sharing knowledge.
Step 2: What you are good at (your vocation)
What unique skills do you have that come most naturally to you? what do you excel at? It can be speaking in public, teaching, writing, photography, etc.
Step 3: What the world needs (your mission)
Sometimes, people focus on the idea and the project but not if this idea or service reflect a real need. Today, the world needs a better education, more compassion, sustainability and respect of others, empathy, and humility, services with human touch, etc.
Step 4: What you can get paid for (your profession)
What service, value or offering do you bring, or could you bring that create an added value to others? Something people need and are happy to pay you for? It can be photography, teaching, consulting, or writing, etc.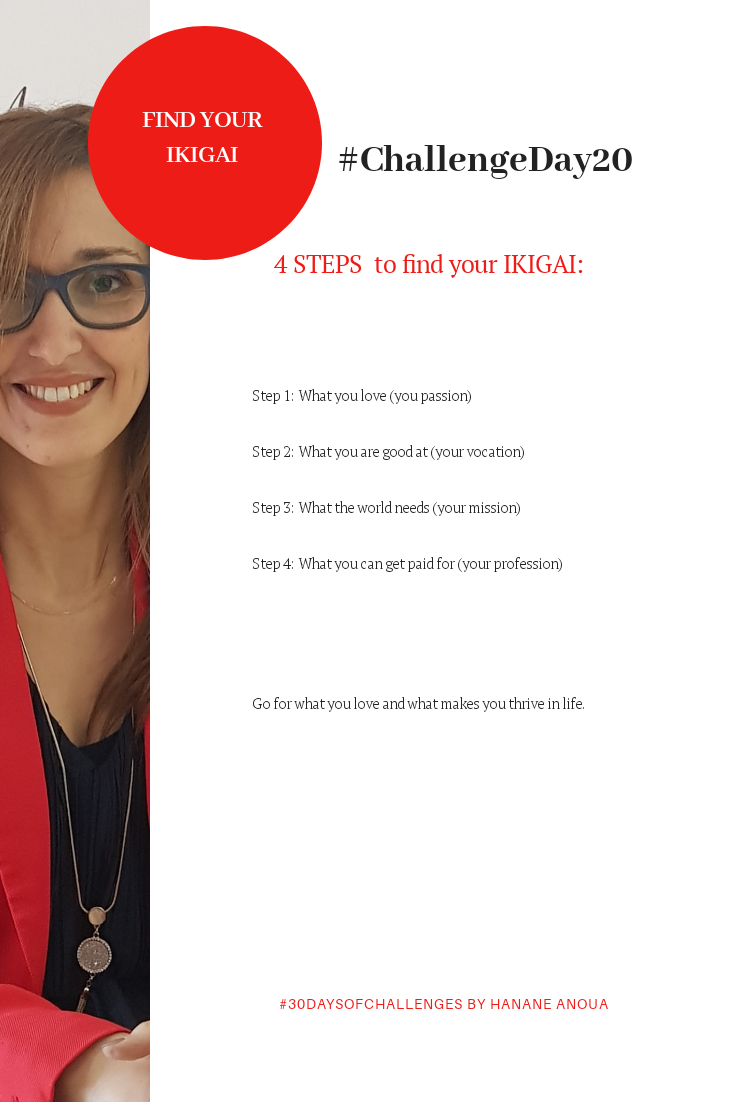 Your Ikigai lies in the center of the four overlapping circles.
My Ikigai is teaching and writing about psychology and related fields to raise awareness and optimism all over the world.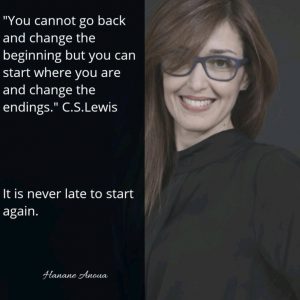 Find your Ikigai, and keep your heart fully alive and you will never retire.
To live better, to be more, and to achieve more, you will need to dare to take new choices and step over your comfort zone .
Dare change: Don't pick up a job that you don't like. Don't go for choices just to fit in and please others.
Dare to try new experiences, take initiatives and embrace new challenges.
Dare to go over your limits as the only limit is your mind. Stop listening to those who are unwilling to change and improve.
Dare to think differently and stop consuming whatever comes across your way.
Dare to be the person you are indeed and not the person others expect from you.
Dare to move into action and limit your reactions.
Dare to love differently and unconditionally. The world needs more love, compassion and care.