Building Blocks of Behavioral Strategy: How to De-Bias Your Decision Making Process
Featured Best Practice on Consumer Behavior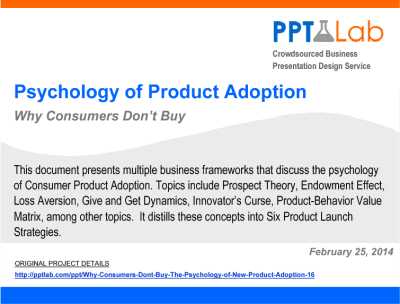 46-slide PowerPoint presentation
Some innovations are truly spectacular, but consumers are slow or just refuse to adopt. In fact, over 70% of all new products fail in the marketplace--and innovative, new products fail at an even higher rate. Why is this the case? And, how do companies overcome this? This document discusses
[read more]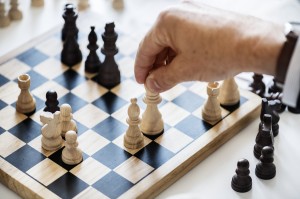 While making critical decisions, not many strategists are conscious of the impact that cognitive biases have on business decisions.  These biases are part of human behavior, and can be referred to as "systematic human tendencies to deviate from rational calculations."
In strategic decision making, leaders need to recognize their own biases, as these biases influence important strategic decisions made by the smartest managers in the best companies.  Understanding these biases is also foundational to behavioral economics. Two broad categories of biases cause the people to drift from rational decision-making:
Emotional Biases
Cognitive Biases
Emotional biases entail taking action on feelings instead of fact, or making emotionally driven decisions rather than logical ones—i.e., a person's inclination to believe in something that has a positive emotional effect or that gives a pleasant feeling, even if evidence contradicts it.  Cognitive biases, on the other hand, arise due to incomplete information or the inability to analyze the available data.  These preconceived notions can be categorized as either Belief Persistence or Processing Errors.  Belief Persistence occurs when individuals try to shun the conflict in mind that occurs when facts contradict their existing beliefs.  Processing errors occur due to failure in organizing and analyzing data properly.
The awareness and the ability to manage cognitive biases assists the decision makers in making more logical decisions.  The following are the 9 most common Cognitive Biases that occur most frequently and have the largest impact on business decisions:
Conservatism Bias
Base Rate Neglect
Confirmation Bias
Sample Size Neglect
Hindsight Bias
Anchoring and Adjustment
Mental Accounting
Availability Bias
Framing Bias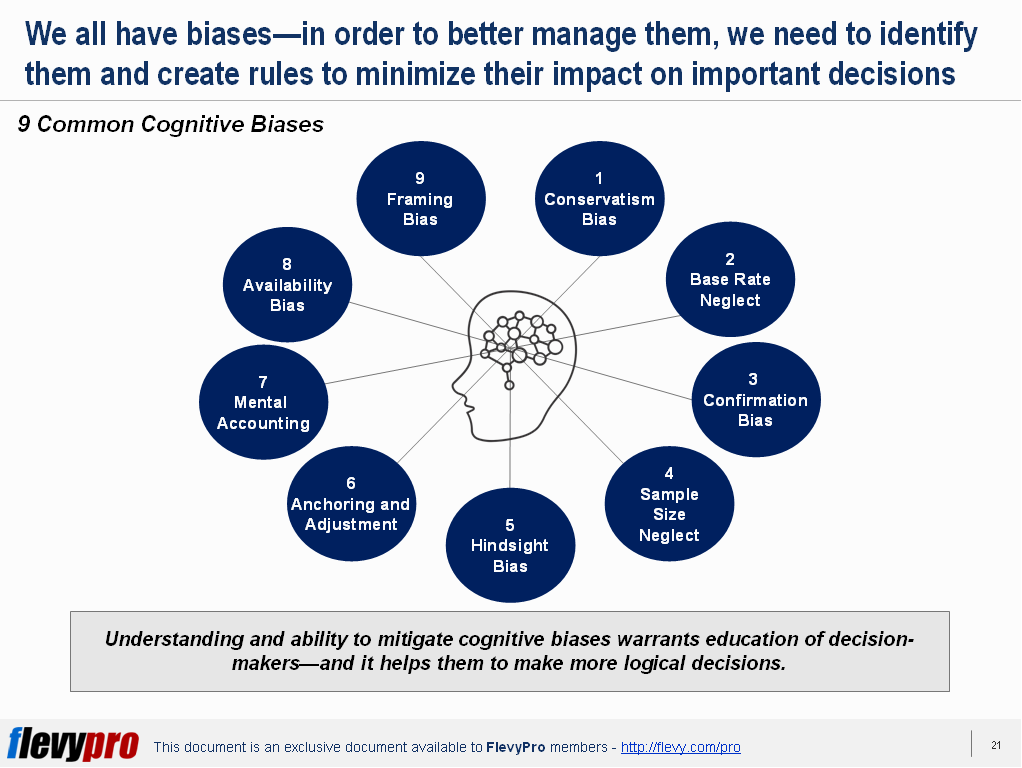 Conservatism Bias: This happens when people give more importance to pre-existing (archived) information over new data. New information should be cautiously evaluated to determine its value prior to reaching a business decision.
Base Rate Neglect:  The exact opposite of conservatism bias, in Base Rate Neglect people prefer new information over original information.  For instance, if given related general information and specific data, the mind tends to ignore the former and favor the latter.
Confirmation Bias:  This occurs when we fail to search impartially for evidence—overweigh evidence consistent with our existing beliefs while ignore the one that is against a favored belief.  
Sample Size Neglect:  An error that occurs when an individual infers too much from a very small sample size or information.  In order to make meaningful statistical inference from a data set, the sample size must be large enough to be significant. 
Hindsight Bias:  The tendency of people to overrate their ability to forecast an outcome that could not possibly have been predicted.  This occurs when people identify actual outcomes as expected, but only after the fact.  
Anchoring and Adjustment:  An error caused when a specific target number or value is used as a starting point—the anchor—and then adjustments are made until an acceptable value is reached.  
Mental Accounting:  A set of cognitive operations used by individuals to arrange and keep track of financial activities.  They earmark certain funds for certain goals and keep them separate.  Individuals are likely to make illogical decisions in their spending and investment behavior. 
Availability Bias:  The phenomenon where decision makers give preference to information and events that are more recent.  Availability bias distorts perceived future probabilities based on notable past events.  
Framing Bias:  A tendency to process the same information differently depending on how it is presented.  Individuals make a certain decision if an option is presented in terms of loss, but decide otherwise if the same option is stated in terms of profit.
Experienced executives are able to discern biases and make allowances for those—by applying a discount factor—to adjust for someone's over-optimism or seek neutral opinion to avoid biased suggestions.  But, at times, these adjustments are also inaccurate.  These biases in corporate decisions are a product of behavior, training, culture, and human nature.
A global McKinsey study conducted in 2009 about the quality of executive judgment and decision making revealed that out of the 2,207 executives only 28% considered the quality of strategic decision making in their organizations to be satisfactory.  About 60% of the participants believed that bad decisions were just as likely as good ones, while rest of the 12% thought that good decisions were rare in their companies.
Sound judgment and strategic decision making necessitates 3 key elements:
Gathering facts and analysis
Perceptions and judgments of executives (company or industry variables)
A thorough decision making process
Better strategic decisions necessitate attempts at limiting our biases as well as establishing a decision making process that can challenge various biases and minimize their effect.  The process for strategic decision making requires an understanding of the 5 Building Blocks of Behavioral Strategy to help nullify biases:
Counter Pattern Recognition Biases by Reframing the Perspective
Counter Action-oriented Biases by Recognizing Uncertainty
Counter Stability Biases by Changing Things Up
Counter Interest Biases by Making Them Explicit
Counter Social Biases by Depersonalizing Discussions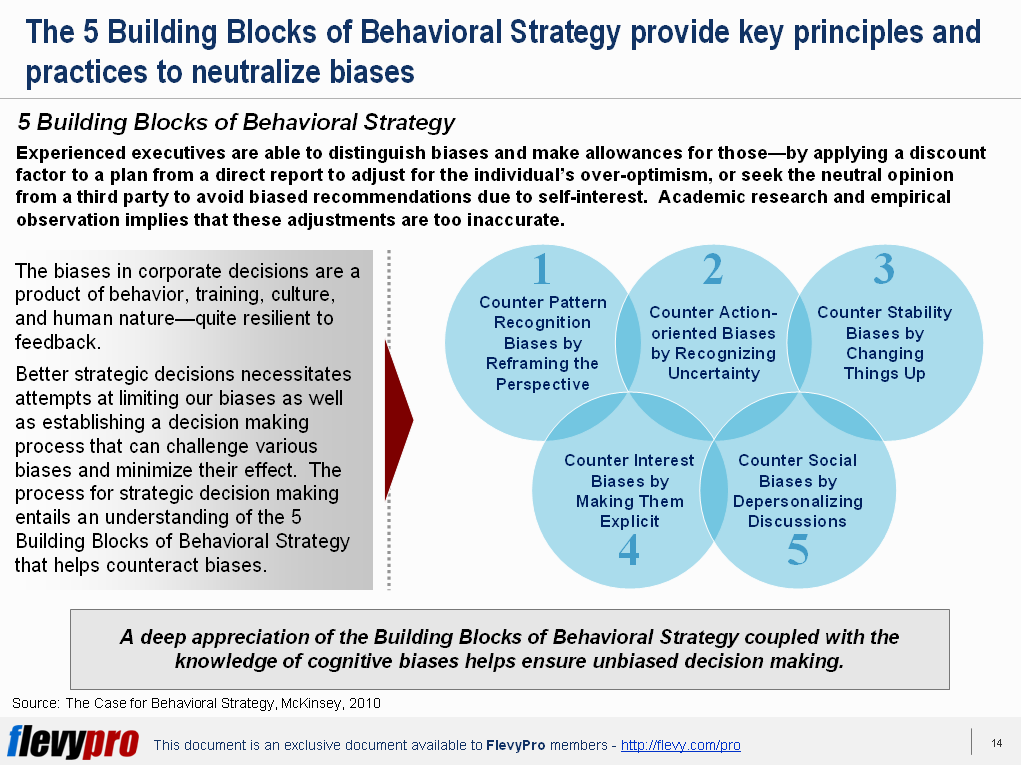 Interested in knowing more about how these 5 Building Blocks of Behavioral Strategy provide useful practices to neutralize biases and help ensure unbiased decision making?  You can learn more and download an editable PowerPoint about the Building Blocks of Behavioral Strategy here on the Flevy documents marketplace.
Do You Find Value in This Framework?
You can download in-depth presentations on this and hundreds of similar business frameworks from the FlevyPro Library. FlevyPro is trusted and utilized by 1000s of management consultants and corporate executives. Here's what some have to say:
"My FlevyPro subscription provides me with the most popular frameworks and decks in demand in today's market. They not only augment my existing consulting and coaching offerings and delivery, but also keep me abreast of the latest trends, inspire new products and service offerings for my practice, and educate me in a fraction of the time and money of other solutions. I strongly recommend FlevyPro to any consultant serious about success."

– Bill Branson, Founder at Strategic Business Architects
"As a niche strategic consulting firm, Flevy and FlevyPro frameworks and documents are an on-going reference to help us structure our findings and recommendations to our clients as well as improve their clarity, strength, and visual power. For us, it is an invaluable resource to increase our impact and value."

– David Coloma, Consulting Area Manager at Cynertia Consulting
"As a small business owner, the resource material available from FlevyPro has proven to be invaluable. The ability to search for material on demand based our project events and client requirements was great for me and proved very beneficial to my clients. Importantly, being able to easily edit and tailor the material for specific purposes helped us to make presentations, knowledge sharing, and toolkit development, which formed part of the overall program collateral. While FlevyPro contains resource material that any consultancy, project or delivery firm must have, it is an essential part of a small firm or independent consultant's toolbox."

– Michael Duff, Managing Director at Change Strategy (UK)
"FlevyPro has been a brilliant resource for me, as an independent growth consultant, to access a vast knowledge bank of presentations to support my work with clients. In terms of RoI, the value I received from the very first presentation I downloaded paid for my subscription many times over! The quality of the decks available allows me to punch way above my weight – it's like having the resources of a Big 4 consultancy at your fingertips at a microscopic fraction of the overhead."

– Roderick Cameron, Founding Partner at SGFE Ltd
"Several times a month, I browse FlevyPro for presentations relevant to the job challenge I have (I am a consultant). When the subject requires it, I explore further and buy from the Flevy Marketplace. On all occasions, I read them, analyze them. I take the most relevant and applicable ideas for my work; and, of course, all this translates to my and my clients' benefits."

– Omar Hernán Montes Parra, CEO at Quantum SFE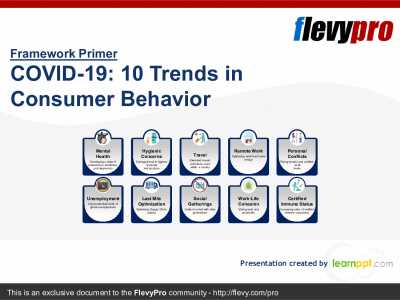 22-slide PowerPoint presentation
COVID-19 has taken the world by a storm. Financial markets, manufacturing, services, and tourism have been hit hard. In fact, it has also changed the way we work, communicate, interact, and shop more than any other disruption in the decade. As a result, there have been key changes in Consumer
[read more]
Readers of This Article Are Interested in These Resources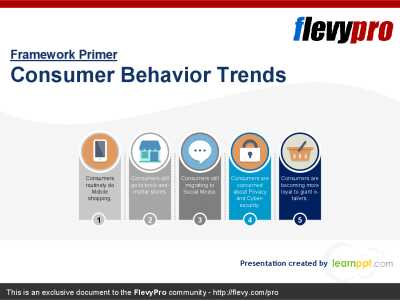 19-slide PowerPoint presentation
Molded by emerging technologies, the shopping behavior of consumers is changing rapidly. Mobile shopping is on the rise. Social Media is increasing in its influence. It may surprise some, but brick-and-mortar is not dead. Based on global annual surveys of 22,000 respondents across 27
[read more]
About Mark Bridges
Mark Bridges is a Senior Director of Strategy at Flevy. Flevy is your go-to resource for best practices in business management, covering management topics from
Strategic Planning
to
Operational Excellence
to
Digital Transformation
(
view full list here
). Learn how the Fortune 100 and global consulting firms do it. Improve the growth and efficiency of your organization by leveraging Flevy's library of best practice methodologies and templates. Prior to Flevy, Mark worked as an Associate at McKinsey & Co. and holds an MBA from the Booth School of Business at the University of Chicago. You can
connect with Mark on LinkedIn here.