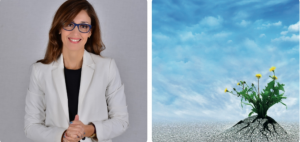 Our well being nowadays does not depend only on the acquisitions, the achievements and the positions we attain, but it will also depend on our level of resilience and our capacity to rise again when faced with great challenges.
Let me first define what resilience is all about, and how important to embrace it to be able to live a happy, and fulfilled life. Resilience, from my perspective, is like the candle that will enlighten your life when everything is obscure and dark. It is about developing a mindset that can perceive failure as a great opportunity of success, a loss of opportunity as a new chance of revival, and mistakes as guidelines to redirect our paths. The aim of resilience is to learn to flourish and thrive in the present using our past experiences, and keep hope and optimism to tackle the future.
Resilience when coupled with faith becomes even more powerful as it will give you the confidence to keep moving even in the absence of results. Resilience is an inner resource that we can all develop and improve. I learned about resilience even before studying positive psychology, the science of well being and happiness.  Today, I am teaching resilience and conducting seminars to those in need to overcome their hurdles or simply develop more optimism.
The debate was raised by great thinkers like Socrates, Aristotle and Plato. Dr. Seligman, the founder of positive psychology, came after and shared different views on the subject. But sometimes our intuitions and instincts, even in the absence of scientific references, can guide us to find ways to be resilient.  We simply need to develop observation and wisdom. There is a panel of scientific tools and methods that tackle resilience but in my article I will limit it more to my own experience.
The question that is often asked to me is "Do we need to suffer, to be in pain or go through big challenges in life to develop resilience?" A lot of countries will invest tremendous amount of money on their military equipments even if they are not going through war. Parents will always have a small pharmacy at home that encompasses urgencies even if no one is sick. This implies that we don't learn about resilience only if we are suffering or having difficulties. We all need to be aware of what resilience means and how we can develop the muscles of being resilient as life challenges don't inform us in advance or take our permissions. Once faced with these challenges, we will need to adopt the right attitude.
Obviously, people who are going through difficulties, crisis, and tough life experiences can develop it faster as they have to handle the difficulties on a daily basis. They will need to bounce back when things go wrong, see clear when everything is ambiguous, and step forward when life challenges push them backward. They will have to make themselves happy when they are in pain. They may also need to smile even when they are hurting from inside.
Resilience is a subject very dear to me as it is the main thing that enabled me to turn my difficulties and life hurdles into learnings. When I look back, everything makes sense as my confusions of the past are my strengths today.
Here are 5 tips to consider to develop more resilience.
1. Develop mind control
You cannot develop mind control if you keep allowing your mind to wander. You cannot control your emotions if you often feel dispersed.  Look at a football game and observe how the audience is focusing on the game and how the player is focusing the goal despite the disruption. This is exactly what we need to develop as focus is the key. Every day, we have between 60 000 and 80 000 thoughts to handle and 80% are repeated, negative thoughts. If we don't do anything to control them, then they will control us. That's why many people are easily trapped in negativity and even in depression.
When you develop mind control, you will enable your mind to disregard all disruptions around and keep moving to reach the goal. But now you need to ask yourself this question: do you really know what your goal in life is?
2. Turn your pain into gain
You may be at the present moment in pain because of certain life issues. You may be struggling with finding a job or with your finances. You may be going through divorce and you have to handle all the inconveniences. You may have even a chronic disease and you will have to go through physical challenges. And so what? If you are already in hurt, why would you add more hurt to yourself? If you are in pain, why would you accept more pain? would you change anything when adopting resistance?
Today, if I am writing this article, it is because two years ago, I could not get a job even after a series of successful interviews with an organization in the press release distribution for Africa and the Middle East. I received this email after a confirmation and a welcome on board, "Hanane, we are sorry, there has been a change in decision and we will need to hire a native speaker, concept creator, and a writer." The same day, I decided to start writing and since then I never stopped. I end up being the CEO of my own company.
The question that I asked myself after, was this a coincidence? or a bad experience that turned into a great peace of luck to me? It is for this reason, some frustrations and pain can be beneficial to us as we simply need to pause, and think how to turn them into gains.
Turning your pain into gain is not a matter of capacity as we are all have enough inner resources to do it. It is a matter of courage, perseverance, and willingness to dare to do things differently and consistently. It is about our ability to look at the positive side of our challenges.  
3. Always look at the positive side
There is always a positive side of everything no matter what is the experience. It is even a skill that you can develop as it will depend on the frequency you are in. When you connect yourself into a channel that reports bad news, murders, rapes, etc, then you will remain in that frequency maybe for hours. If you are connected to a channel that shares more of adventures, fun games, and happy life stories, you are more likely to develop a positive approach to life experiences. Looking at the positive side for me is a decision and a choice that we can nurture every day. How?
You will have first to identify the kind of mindset you have because if your mind is formatted to criticize and blame others, then maybe you need to pause more and think. Consciousness a great step to many changes. If you have a mindset that is more flexible, but sometimes, you find it difficult to see the positive side of things, then the issue is a matter of embracing the right habits that can improve your vision and then your results. These habits will depend on what you read, the kind of people you are with, the channels and videos you watch, the discussions you nurture, and the content you read every day. Use filters and direct you thoughts and choices to what most fits you and in line with your goals.
4. Develop more gratitude
Gratitude is an attribute that I learned from my dear father, may his soul rests in peace, and today I try to transmit to my wonderful daughters. We are used before going to bed to take few minutes and list all the simplest things we are grateful for. My eldest used to tell me, "I am grateful for learning to be grateful," very empowering to me indeed.
Being grateful may seem easy and evident to many people but it is still a challenging one for millions as they did not learn that happiness is not about acquisitions and belongings but love and caring. Gratitude is the essence of having more and developing more. When your mind is focused on scarcity, then you will develop more scarcity in your life. When you are grateful everyday for what you already have, you will end up having more than expected.
5. Help others achieve their goals
You develop more resilience when you are exposed to the difficulties and the pain of others. You develop more gratitude when you learn about their own challenges. Helping others achieving their goals will make you even more resilient and grateful.
You may be wondering what about if we need help ourselves? Being in difficulty or in need of help does not mean that you cannot help others. Never underestimate the power of giving as it may be a great source of inner joy that can provide you with great strength to overcome yours.
The best things in my life came from the tough challenges I had to go through. I always stopped at every challenge to ask myself: what has to teach me, and what is the message behind it instead of playing the victim. When you are open to see the beauty in everything, you get more beauty that will enlighten your heart and give you courage to keep going.