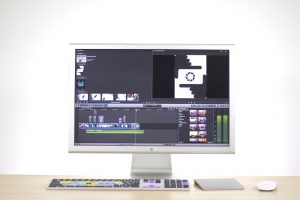 Digitization helps boost revenue, enhance customer loyalty, and reduce costs.  Top digital companies not only improve customer journeys, they consistently revisit and streamline them.  A rigorous approach to Digital Transformation, referred to as the "Digital Factory," demands a collaborative culture, agility, and controlled risk-taking.
A Digital Factory integrates the capabilities, processes, and inputs to yield quality deliverables.  These deliverables are mostly journeys—a string of interfaces to accomplish an activity; for instance, a new method to resolve issues with customers service or a new lending process.  The Digital Factory adopts new workflows to develop innovative products—utilizing leading practices like Design Thinking, Zero-based Process Reengineering, and Agile software development.
The working of a Digital Factory is governed by guidelines and standard operating procedures that outline the required objectives, controls, processes, and decision-making authorities.  How well a business implements a Digital Factory approach can make the difference between small improvements and real Business Transformation.
The Digital Factory approach galvanizes the business, motivates the people, and encourages innovation.  Such an environment attracts the best talent internally as well as externally, and delivers the required outcomes.  A Digital Factory assists in developing a new product or customer experience within a short time span and this impetus can then be channelized to scale up digitization across the organization over time.
However, achieving this requires setting up a Digital Culture that exemplifies the new working model, systems, and behaviors.  Developing a culture that supports the Digital Factory approach necessitates implementing the following key imperatives:
Adopt the VC Mindset
Get Creative to Attract Digital Talent
Build Working Team Squads
Create a Collaborative Workspace
Foster an Agile Culture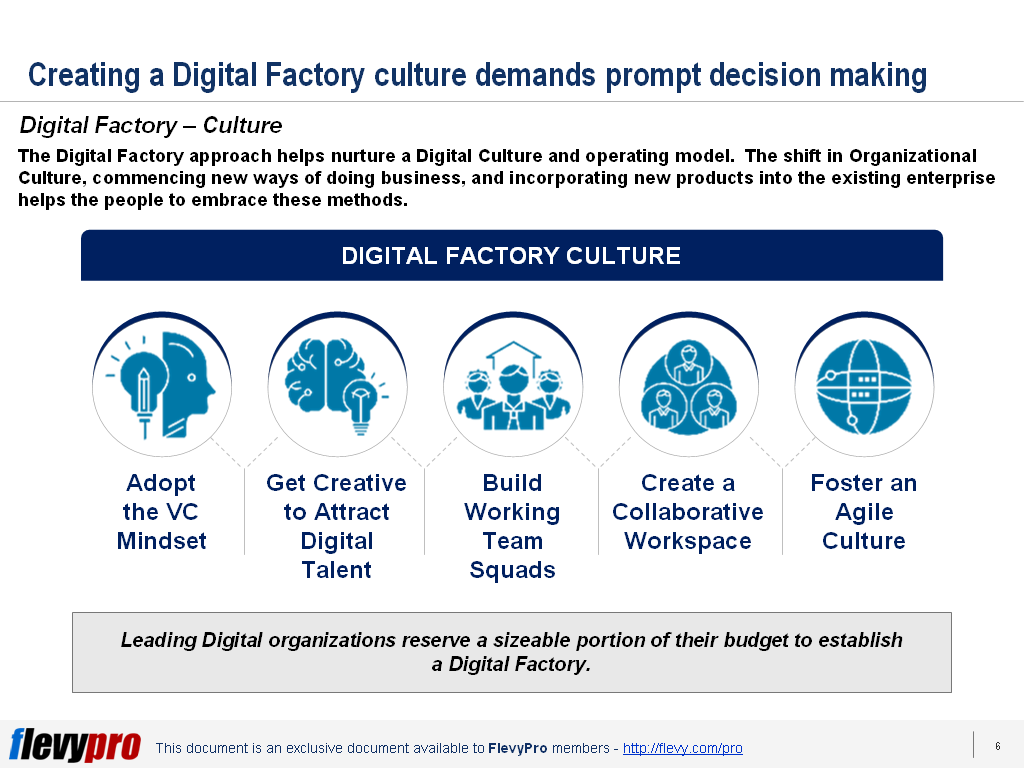 Now, let's take a deeper dive into the first 3 initiatives.
Adopt the VC Mindset
Just like venture capitalists, a Digital Factory culture warrants setting up clear-cut goals and indicators, and making quick and robust judgments.  Leading digital companies reserve a sizeable portion of their budget to establish a digital factory and dedicate separate office space for the unit.  For the Digital Factory to be successful, the investment decision to fund a product (e.g., a customer journey) should hinge on the effectiveness of the idea, a basic business case (not too detailed), and steady progress as per the approved project objectives.
Get Creative to Attract Digital Talent
To work effectively, a Digital Factory needs people with high-demand skills—e.g., Customer-centric Design (CCD), mobile app design, agile development, and data analytics.  People with these capabilities aren't easy to attract.  To tackle this issue, organizations should develop a stable value proposition and exhibit a creative, agile, and entrepreneurial environment to the incumbents for them to prefer it over traditional firms.  Another way to do it is to hire "influentials" from the digital community to help source other key talent through their references.
Build Working Team Squads
A digital factory culture warrants deploying small squads of around 8 to 12 people to work on a project.  This dedicated, cross-disciplinary working team belongs to the digital factory but works with the business owners on a specific project.  The squad comprises people with expertise in user experience design, software development, IT architecture, and scrum.  The squad needs to have access to other teams in the company and can be complemented with professionals from other trades.
Digital Factory Management Practices
A Digital Factory approach and culture does not work on their own.  Implementing such a culture calls for defining and executing certain management routines, systems, and practices to embed the culture deeply into the organizational DNA.  These management practices include:
Build with Purpose
Invest to Drive Impact
Develop a Change Plan to Integrate New Products
Adopt KPIs for Digital Adoption
Find Multi-disciplinary Leaders
Interested in learning more about the management practices critical for embedding a Digital Factory approach into the company?  You can download an editable PowerPoint on Digital Factory here on the Flevy documents marketplace.
Do You Find Value in This Framework?
You can download in-depth presentations on this and hundreds of similar business frameworks from the FlevyPro Library. FlevyPro is trusted and utilized by 1000s of management consultants and corporate executives. Here's what some have to say:
"My FlevyPro subscription provides me with the most popular frameworks and decks in demand in today's market. They not only augment my existing consulting and coaching offerings and delivery, but also keep me abreast of the latest trends, inspire new products and service offerings for my practice, and educate me in a fraction of the time and money of other solutions. I strongly recommend FlevyPro to any consultant serious about success."

– Bill Branson, Founder at Strategic Business Architects
"As a niche strategic consulting firm, Flevy and FlevyPro frameworks and documents are an on-going reference to help us structure our findings and recommendations to our clients as well as improve their clarity, strength, and visual power. For us, it is an invaluable resource to increase our impact and value."

– David Coloma, Consulting Area Manager at Cynertia Consulting
"As a small business owner, the resource material available from FlevyPro has proven to be invaluable. The ability to search for material on demand based our project events and client requirements was great for me and proved very beneficial to my clients. Importantly, being able to easily edit and tailor the material for specific purposes helped us to make presentations, knowledge sharing, and toolkit development, which formed part of the overall program collateral. While FlevyPro contains resource material that any consultancy, project or delivery firm must have, it is an essential part of a small firm or independent consultant's toolbox."

– Michael Duff, Managing Director at Change Strategy (UK)
"FlevyPro has been a brilliant resource for me, as an independent growth consultant, to access a vast knowledge bank of presentations to support my work with clients. In terms of RoI, the value I received from the very first presentation I downloaded paid for my subscription many times over! The quality of the decks available allows me to punch way above my weight – it's like having the resources of a Big 4 consultancy at your fingertips at a microscopic fraction of the overhead."

– Roderick Cameron, Founding Partner at SGFE Ltd
"Several times a month, I browse FlevyPro for presentations relevant to the job challenge I have (I am a consultant). When the subject requires it, I explore further and buy from the Flevy Marketplace. On all occasions, I read them, analyze them. I take the most relevant and applicable ideas for my work; and, of course, all this translates to my and my clients' benefits."

– Omar Hernán Montes Parra, CEO at Quantum SFE