4 Best Practices for Interviewing Sales Candidates
Featured Best Practice on Sales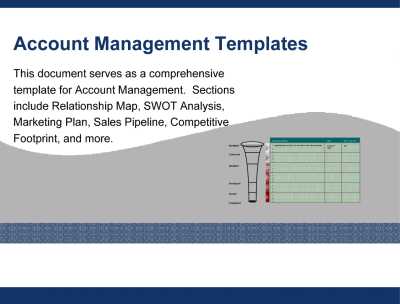 19-slide PowerPoint presentation
This document serves as a comprehensive set of templates for Key Account Management. Sections include Relationship Map, SWOT Analysis, Marketing Plan, Sales Pipeline, Competitive Footprint, and more. The templates are the same used by Fortune 100 companies when performing Strategic
[read more]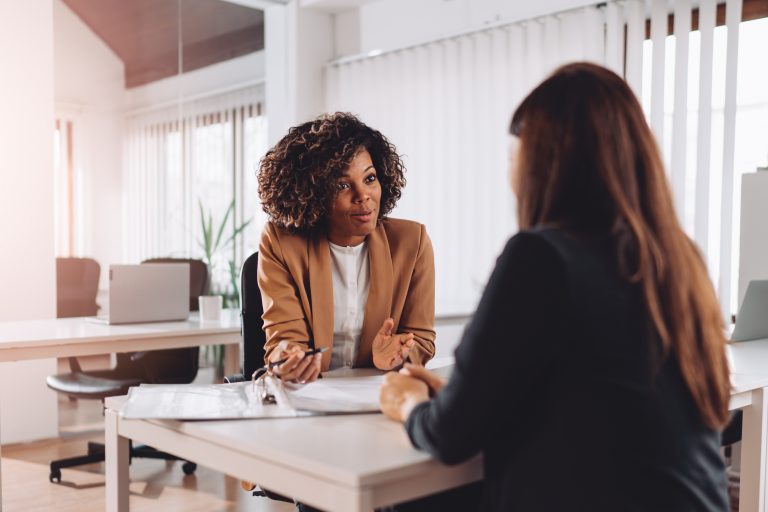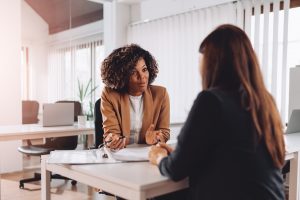 Interviewing sales candidates is often a tough ordeal. Many applicants can easily sell themselves, but their winning approach doesn't always translate well into actual sales when they start working. Sales candidates often seem engaged during interviews, but what's your guarantee that they'll continue to possess the same level of effort when they work? How can you determine if that applicant can meet your company's sales goals?
As a recruiter, your role is to uncover essential information, behaviors, and skills that will help you determine if a sales candidate can contribute to the success of the company. After you've narrowed down your pool of applicants, you have to be thorough as an evaluator during the interview.
Here are a few practices that you should observe when interviewing sales candidates to increase your chances of hiring the best talents:
1. Determine What Competencies Your Company Is Looking For
It'll be easier for you to find the best sales candidates if you know what competencies you're looking for. By setting competency benchmarks early on, you can evaluate applicants through their CVs and only schedule interviews with qualified candidates.
You'll need different competencies from applicants, depending on the sales role you want to fill. Do you want to hire a someone who can work long hours? Are you looking for a sales rep with excellent interpersonal skills and can easily foster healthy relationships with clients? Perhaps, you're looking for someone with strong leadership skills who can manage an entire sales team.
Once you've determined the specific competencies you're looking for, you can customize your interview questions and maximize sales assessment tools. These will save you tons of resources in finding the perfect sales candidate who can thrive in your company's sales environment.
2. Ensure That Your Questions Are Conversational
To find the best sales candidates, refrain from asking structured questions during the interview. These questions are often intimidating and create very little to zero rapport. Structured questions also give you little information about the candidate, making it challenging to assess skills.
Strive to ask conversational questions during the interview. In this way, candidates will feel more candid and open and provide you with more authentic answers. This will give you a better idea of whether an applicant is suitable for the sales position you're looking for.
However, you need to control the talkativeness of some candidates to ensure that you get the best results from conversational interviews. Sales candidates are often talkative, and being unprepared to 'control' them will make the interview unproductive.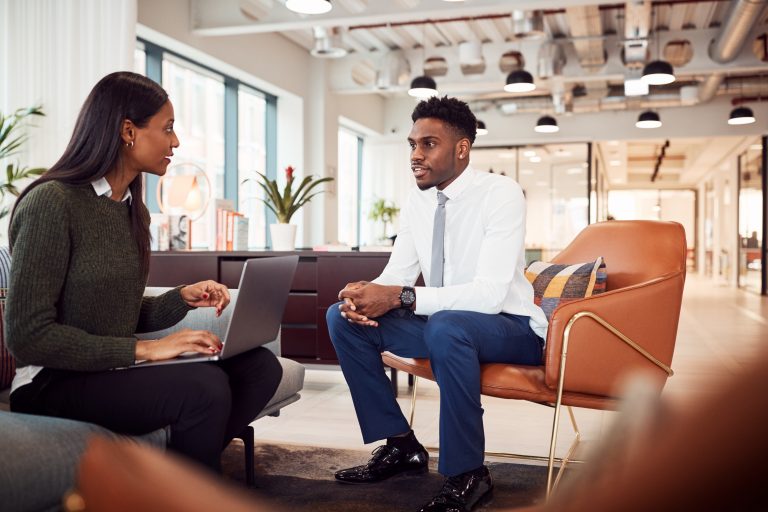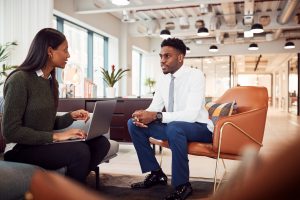 Follow these tips to easily and effectively control talkative candidates:
Inform the candidates about the length of the interview: Start the interview by letting the candidates know how long the interview is. This way, they can answer questions that fit within the given framework.
Explain the process: It also helps to let the candidates know how the interview will go. Ideally, you should let them know that they can ask questions only after you have asked all of the interview questions.
State the expected length of answers: If possible, start your questions with, 'In three sentences, how would you describe yourself,' or, 'In less than a minute, explain what your best quality is and why.' This will encourage candidates to make a point with their answers fast. Plus, this will also help you determine whether a candidate can follow instructions.
3. Ask about Real-World Challenges
When you ask vague or broad questions, expect the candidate to give you vague or broad answers. Instead of asking them, 'Can you do this?', highlight some of the challenges your sales team often experiences and ask how the candidate can handle the situation.
For example, if your sales team doesn't always meet monthly quotas due to the public's lack of brand awareness, ask candidates about possible solutions. You can also ask candidates whether they've been in the same situation before and what the outcomes were when they implemented their suggested solutions.
Providing enough context to the applicant will also give you specific answers. However, don't expect flawless solutions or answers at this point. Instead, use this question to determine if the candidate can think creatively and strategically in a short period.
4. Ask for a Game Plan
Successful sales candidates already have a plan for driving a company to its success, so make sure to ask during the interview. Generally, you should ask candidates about their 30-day plans to achieve job success. Asking about their 60-day plans is also reasonable.
Knowing the game plan of the candidates will enable you to assess if their long-term plans match the culture and environment of the company. Asking this question will also help you determine if the candidates can remain productive long-term and if see themselves starting a career in the company.
Focus on Competencies
Finding a sales candidate with the right education, background, and skills is just the start of the process. To ensure that you'll actually hire someone with the competencies required in your company, ask the right interview questions.
Don't settle for sales candidates who lack the competencies your company needs. Keep in mind that education, background, and skills can be acquired on the job, but competencies should be innate as these are harder to learn and develop.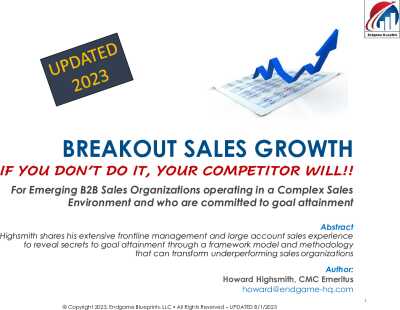 95-slide PowerPoint presentation
Producing aggressive sales growth in an ever changing and increasingly complex sales environment has challenges that can certainly keep one up at night. I know, I didn't get my nickname The Greyfox--i.e. early grey hair for nothing! My approach to creating an aggressive growth strategy is
[read more]
Do You Want to Implement Business Best Practices?
You can download in-depth presentations on Sales and 100s of management topics from the FlevyPro Library. FlevyPro is trusted and utilized by 1000s of management consultants and corporate executives.
For even more best practices available on Flevy, have a look at our top 100 lists:
These best practices are of the same as those leveraged by top-tier management consulting firms, like McKinsey, BCG, Bain, and Accenture. Improve the growth and efficiency of your organization by utilizing these best practice frameworks, templates, and tools. Most were developed by seasoned executives and consultants with over 20+ years of experience.
Readers of This Article Are Interested in These Resources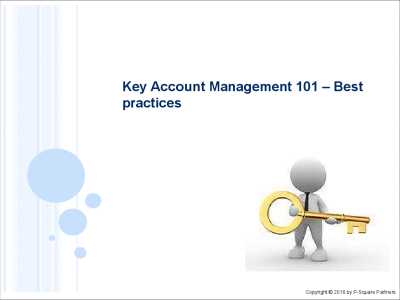 47-slide PowerPoint presentation
This document provides a step-by-step, detailed approach to designing a Key Account Management program, including: - selecting and segmenting key accounts - defining team structure, roles & responsibilities, activities, resource allocation, and team charter guidelines - account plan and review
[read more]
44-slide PowerPoint presentation

15-slide PowerPoint presentation
About Shane Avron
Shane Avron is a freelance writer, specializing in business, general management, enterprise software, and digital technologies. In addition to Flevy, Shane's articles have appeared in Huffington Post, Forbes Magazine, among other business journals.
Top 10 Recommended Documents on Sales
19-slide PowerPoint presentation
95-slide PowerPoint presentation
47-slide PowerPoint presentation
44-slide PowerPoint presentation
15-slide PowerPoint presentation
131-slide PowerPoint presentation
15-slide PowerPoint presentation
14-slide PowerPoint presentation
Excel workbook
Excel workbook

» View more resources Sales here.
» View the Top 100 Best Practices on Flevy.