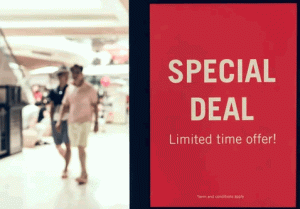 Marketing is one of the most important aspects of a business, due to how it can help boost your audience base and connect you with more customers. Good marketing is essential for business growth, and because of that, many businesses are putting in a lot of time, money and resources to ensure that they nail their marketing to help improve their chances of long-term success.
Most businesses are engaging heavily with digital and social media marketing and email marketing, as well as more traditional avenues like radio, print and video marketing, however, there are various other forms of marketing that many companies are sleeping on that when used can give your business an interesting avenue to reach customers as well as give you a competitive edge. Here are three unique types of marketing your business should try.
SMS marketing
SMS marketing is the practice of sending text messages to registered customers to provide updates, offer coupons and promote new products. The reason to do this is to help improve engagement and encourage customers to make conversions with your business. Using SMS marketing is beneficial as it's a really direct way of reaching customers. As most people these days have a mobile device with them throughout the day, an SMS marketing messaging is usually responded to within 5 minutes of being sent, meaning you can get really quick results via doing this.
Using Agency SMS Messaging Software can also be useful in conducting surveys so that businesses can learn how to improve their service. This is because you get a high response rate from SMS and a quick response too, making it a great way to collect data promptly.
Voice marketing
Voice marketing is a newly emerged type of marketing technique and is one that's set to become far more important as the years go on. It's currently not a widely utilized marketing strategy, however, this means that businesses have an opportunity to gain an advantage if they utilize it correctly.
Voice marketing revolves around utilizing the technology in personal assistant aids such as the Amazon Alexa, Google Home and Siri, to make sure your websites, product or services are the ones being suggested when these are asked to perform a search. To market for voice, you need to optimize your content for voice search, which is actually pretty similar to optimizing for organic search. Additionally, you can also gain further leverage in this domain by creating a Google action or Alexa skill, which can boost your brands awareness.
Guerrilla marketing
Guerrilla marketing is a creative type of marketing used to help improve word of mouth and is generally implemented to create a buzz. The main way to conduct guerrilla marketing is to place bold and clever brand activations in high-traffic physical locations. This can help brands reach customers in a fun, exciting and crucially cost-effective way, meaning you can grow brand awareness. Major examples of guerilla marketing include installations in outdoor, urban areas, targeting high-traffic locations such as train stations, and even promotions at live events such as festivals.