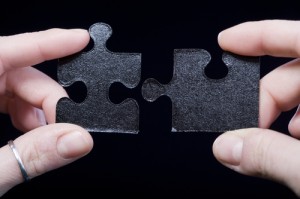 You've no doubt heard about using partnerships to further your business, but perhaps you dismissed it as something only the big brands can do. That's not the case — in fact, businesses of all sizes are in an ideal position to engage in strategic partnerships and reap big rewards.
Consider a union like the one between Levi's and Water.org. These two brands came together for a common purpose: to raise awareness of water issues and bring clean water to people around the world. While each brand had something valuable to offer this mission by itself, the campaign only reached its maximum potential when the two companies paired up.
Here's what you need to know about forming marketing partnerships and how to see impressive results in your business.
Define Your Goal
The first step in any marketing initiative is to figure out what you're trying to accomplish. If you're having trouble attracting new clients, maybe your goal is to increase traffic to your website. In this scenario, consider reaching out to a complementary company to talk about partnership ideas.
Perhaps you could offer to refer your customers to your partner or give existing customers a discount on your services. And in exchange, you ask your partner to promote your company to their customers. They could do this by writing a blog post about the benefits of your products or services (and mentioning your business as an endorsed provider), sharing your name via social media or introducing a joint offering to new customers.
If you have a different goal (like seeing more website traffic convert by thoroughly conveying your value), your tactics would change. You might instead focus on partnering with a with whom you can create a compelling, educational video for visitors. You don't need a fancy agency to produce this, either. iPhones make it easy for you and your partner to create high-quality videos, which you can both then promote to your followers.
Choose With Care
Once you know what your objective is, the next step is deciding who your ideal partner(s) might be. Even if there's a business that might seem complementary to your own, dig deeper. For instance, a prenatal yoga instructor might think teaming up with a company that hosts birthing classes is a natural fit. But you should take the time to find out if the company's philosophies match up with your own.
If your mission is to lead women through their pregnancies as naturally as possible, you would be doing your clientele a disservice if the birthing classes you linked up with held an opposing ideology. Instead, seek a person or organization that's also interested in working with women as naturally as they can in pregnancy and birth. It's imperative that your vision and core principles align with those of any businesses and leaders with whom you partner.
Map out the Details
Once you've determined the businesses that might make a good fit, it's time to get specific. Before you approach the business owner, you should have a solid idea of how such an alliance might work. Think about your goal and about ideas like sharing your mailing lists with one another, creating a joint social media campaign or bundling some products or services.
A great example of this last idea is when TapInfluence, an influencer marketing platform, partnered with FitFluential, a network of influencers for the fitness industry. By joining forces, each company strengthened its individual value to customers and amplified its collective reach.
Give thought to how you would work out the budget of such arrangements. Establish clear expectations (in writing) of what each partner is supposed to contribute. If you follow these steps and let your creativity run wild, you'll find yourself experiencing growth and achieving your goals through partnership marketing. Be intentional, and be rewarded.