Here is an opportunity to assess your organization against global best practices and receive a feedback report!
Did you know that excellence models have captured the principles and best management practices of high performing organizations and that research over the past 25 years has validated the positive relationship of implementing these models and organizational performance?
As you read this article, you might be asking yourself "To what extent do we have a culture that is characterized by these principles?" "To what extent have we deployed these best management practices?" "What do we need to do to address gaps?"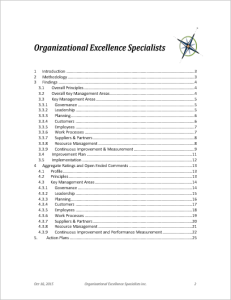 Now is your chance to find out! The Organizational Excellence Technical Committee (OETC) has launched the first global assessment on the current state of organizational excellence. The assessment uses a new assessment tool that allows the leader to do a quick self-assessment against these principles and best management practices and receive a feedback report. Those interested in examining the assessment tool are invited to download a complimentary copy of the Organizational Excellence Framework (OEF Publication) here.
Two versions of the feedback report are available. It is your choice:
No charge – complete the assessment on this page. A summary of the aggregate results will be posted on the open LinkedIn site for OETC. so that you can compare your results to other organizations by size, industry sector, and geographical region. You can join the OETC site on this page.
OR
Small fee – pay between $100 CDN and $200 CDN depending on organization size and complete the assessment here. A "confidential" report for your organization will be sent to your inbox. The report will share the self-assessment results and provide an action-oriented improvement plan for you to address low rated practices. And, yes, you can also join the OETC site to view the aggregate results.
Before you get started, you might have a few questions that need to be answered such as:
How long will the assessment take? Depending on organization size, the assessment should take between 15 to 30 minutes to complete.
How secure is my organizational data? Individual organization results will remain strictly confidential and only aggregate data will be reported.
Why should I complete the assessment? This research aims to provide a number of benefits for organizations and economies around the globe such as:

Making organizations aware of best management practices that will help to improve their  performance
Providing dashboard results that show the extent to which best management practices are deployed by industry sector and geographical region
Identifying gaps to be addressed
Encouraging organizations to benchmark their performance internally and externally
Enabling all countries to participate, in a more competitive and sustainable way in the global economy
And should you have any additional questions, please do not hesitate to contact the author directly.